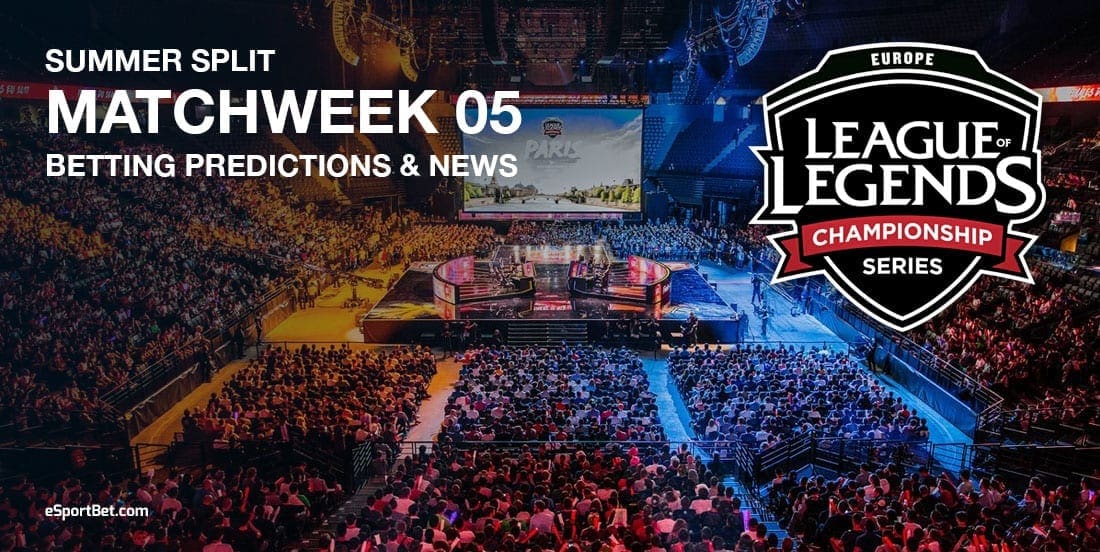 by in
Day two continues with another five great games in the EU LCS, as always our expert Kosta is here to break down the action.
ALSO READ: MORE ESPORTS PREDICTIONS
LOL GUIDE: HOW TO BET ON LEAGUE OF LEGENDS

Splyce vs. Team Vitality
These two teams, which were so closely matched during the Spring Split, are living a whole different story in Summer. Vitality are just one win away from the #2 spot, and Splyce have been a disappointment for their fans so far, as they're sitting out of the top 6.
The Snakes are having a very weird split so far. They sometimes pop off and smash some of the stronger teams, and then lose to opponents considered much worse, or play an absolute clown fiesta against Giants like they did this week. Vitality are the likely winners here simply because their early game is very good, and Splyce like to play 5v5 teamfights when behind – however, Vitality are perhaps the best team in the league at avoiding large fights. This stylistic advantage, along with their consistency, gives them an edge over Splyce.
Betting prediction: Team Vitality to win, paying -138.89 at BetOnline.
Giants Gaming vs. H2k-Gaming
Europe is perhaps the best region to watch matches between bottom teams. These games tend to be incredibly entertaining, and Giants and H2k are surely teams that will try super hard to get a much needed win.
Giants have had somewhat of a resurgence recently, taking an unlikely win against G2 and coming very close to beating Splyce in the very next game. The much criticised Steeelback is finally playing more aggressive and dealing more damage, and Djoko's Kindred has turned out to be a pretty decent way to win teamfights. H2k have showed that they can finally play a decent early game, but aside from Selfie and partly promisq, all their players are still in terrible form. Giants should have a small advantage here, due to their better play showing that they can contest even stronger teams than H2k.
Betting prediction: Giants Gaming to win, paying -151.52 at BetOnline.
FC Schalke 04 Esports vs. Unicorns of Love
Schalke and UOL have had a very similar start to the season, going 2-4 in the first three weeks. But that's where their similarities end: Schalke hasn't lost a game since, while UOL went 1-2 and had to start a rookie player to fill for their ill ADC Samux.
The Royal Blues have a three-game winning streak on their record, but the numbers don't show the quality of their play. Their wins have been quite shaky, usually after a weak early game, and they rely on clutch teamfights later on to turn the tables and take the driving seat in the match. UOL have looked both good and bad with their new ADC, but overall it's still a big disadvantage that one of their most reliable player is out of the squad. Exileh vs. Nukeduck in the mid lane will be an exciting matchup, which might even decide the game, but as Schalke have more than one player who can carry them, they are the favourites here.
Betting prediction: FC Schalke 04 Esports to win, paying -175.44 at BetOnline.
Team ROCCAT vs. G2 Esports
It's been a rough week for the quadruple EU LCS champs. Two defeats in a row can't feel good, and next on their schedule is the epitome of consistency: Roccat. The Cats are looking okay as always, and a victory against their favourite opponents would be an insane boost in confidence for them.
G2 went 0-2 as the players looked completely disconnected from each other in the unexpected loss to Giants. With classic ADC champions coming back into the meta, Hjarnan's weaknesses are again coming into light. He's having a hard time in lane, and Jankos too isn't as efficient early on, failing to live up to his nickname "the First Blood King". Roccat might actually take this with their synergy and excellent macro play. Of course the match is G2 favoured, but Roccat have a higher chance of winning than it may seem.
Betting prediction: G2 Esports to win, paying -277.78 at BetOnline.
Misfits Gaming vs. Fnatic
The most interesting match of the day will finish off Week 5. Fnatic's unpredictability can surprise everyone, including themselves: the boys in orange and black always look like they can beat anyone and lose to anyone. A battle against the undefeated Misfits will be an ultimate test for their improvised squad, and it might be what convinces them to start Rekkles after a while.
Misfits are the favourites in every match they play in as they are just on a completely another level compared to their opposition. They haven't even been really challenged yet, winning all their games convincingly, and if any team has the pure individual quality to match them, it's the reigning European champions. It'll be interesting to see if the disorganised Fnatic can find a way to outperform Misfits, especially on a macro level, but MSF have a bigger chance of taking the win.
Betting prediction: Misfits Gaming to win, paying -200 at BetOnline.
Highest-rated EU LCS betting options

Best esports betting sites for your country

To keep up with the latest esports news and tips be sure to like the eSportbet facebook page and join our Discord server.