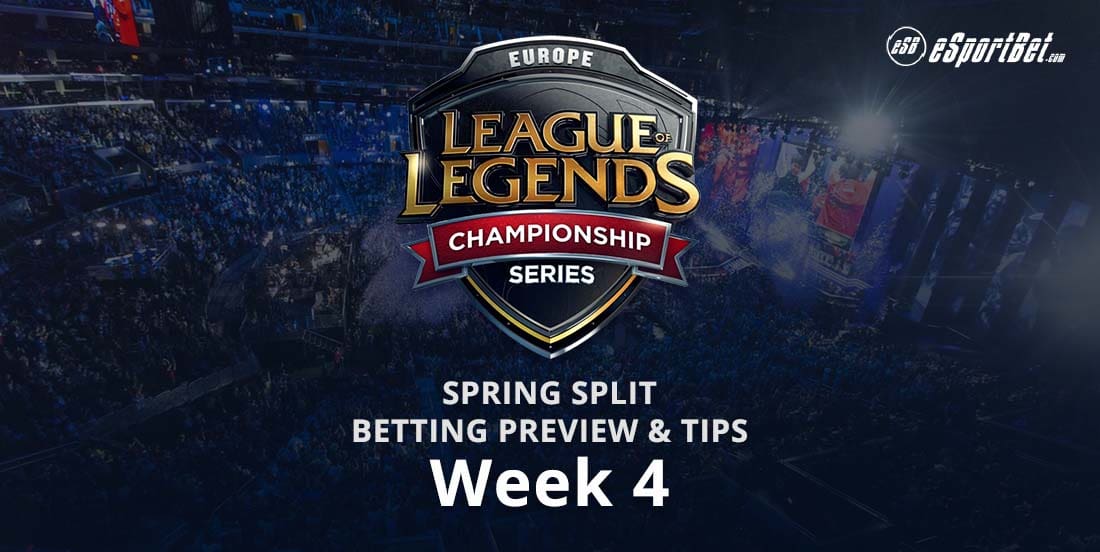 by in
Team Vitality remains top-dog and H2K finds themselves at the bottom of the pack heading into Week 4 of the European League of Legends Championship Series (EU LCS).
Another lucrative four-fold payout was snatched out of our reach last week after H2K spectacularly choked to Unicorns of Love, the worst team in the League. Thankfully, our favourites – Giants, Misfits and Vitality soldiered on with solid form.
Here are our top picks for Week 4 of the EU LCS Spring Split.
EU LCS Spring Split, Week 4 Accumulator of the Week with Betway Esports
Splyce to beat H2K – 1.30
Team Vitality to beat ROCCAT – 1.55
Giants to beat Misfits – 2.30
Schalke 04 to beat G2 – 2.05
Betway.com fourfold accumulator pays 9.50

H2K Gaming vs. Splyce
Game 1, Friday, February 2, 5pm GMT / 6pm CET
H2K played some terrible LoL last weekend, steamrolled by the previously winless Unicorns of Love and humiliated by G2 the following afternoon with only one kill to their team's name.
The group need to rethink their ability to properly use game-scaling to their advantage, given the fast and decisive manner in which both of their previous opponents swept them to prevent any chance of a late-game rush.
Meanwhile, Splyce upset the superior Team Vitality with smarter positioning but wasted their farming and hypercarry advantages against G2.
So long as mid-laner Yasin 'Nisqy' Dincer Kasper and top-laner Andrei 'Odoamme' Pascu are less conservative in the opening minutes, we think Splyce can learn their lesson in time for a bounce back against the new bottom-of-the-barrel team.
Splyce to beat H2K Gaming – 1.30 at Betway.com
ROCCAT vs. Team Vitality
Game 2, Friday, February 2, 6pm GMT / 7pm CET
Team Vitality continue to destroy the competition with better macro play, unwavering defense and smart teamfight baiting to catch cocky opponents off-guard and remain on top of the standings at 5 -1. An easy pick, then.
Jungler Erberk 'Gilius' Demir was the star of last week, using smartly timed ults with Sejuani to bring back the match against Schalke 04 under their control while the rest of the squad picked off objectives and built up their gold lead for a final, decisive push.
As we predicted, ROCCAT show no signs of adjusting their overly aggressive plays for higher-ranked opponents like Vitality, and suffered snowball losses to Fnactic and Giants as a result – and we're not too confident they won't repeat the same mistakes here in their desperation for a win.
Team Vitality to beat ROCCAT – 1.55 at Betway.com
Giants vs. Misfits
Game 3, Friday, February 2, 7pm GMT / 8pm CET
The Giants continue to focus on objective play and the long-game to great effect, as demonstrated with their comeback win over ROCCAT last weekend.
Mid laner Felix 'Betsy' Edling led the Giants with his dominant Azir and an overwhelming hyper carry, while AD carry Pierre 'Steeelback' Medjaldi's smart positioning was crucial in shutting out ROCCAT from a late-game Baron secure.
Misfits leaned a little too hard on AD carry Steven 'Hans sama' Liv last week, who carried the overly passive team to victory over Fnatic with his ridiculously high damage output.
However, they arguably only got the lead after Fnatic fumbled on a critical teamfight push, and displayed a lack of coordination in where to press their opponent even with a 6,000 gold lead.
Expect a back-and-forth struggle given the way these two have been fighting the past few weekends, but the Giants will know how to close.
Giants to beat Misfits – 2.30 at Betway.com
G2 vs. Schalke 04
Game 5, Friday, February 2, 9pm GMT / 10pm CET
Both G2 and Schalke have struggled to find their place in the EU LCS Spring Split – this match will determine who ascends from the middle of the pack and gets a real chance at top 3.
G2 returned to form with their dismantling of Splyce last weekend, smartly calling their Elder Dragon bluff while mid laner Luka 'Perkz' Perković performed some crucial clutch sleeps for easy teamfights and a slow and steady close.
Schalke have significantly improved on the teamfighting front and in securing the right picks throughout the game, with mid-laner Erlend 'Nukeduck' Holm continuing to deal out consistent damage as Galio and top-laner Milo 'Pride' Wehnes exerting constant pressure as Kha'Zix.
We're backing Schalke 04 for another bounce back given their better team composition, especially if Nukeduck can continue to keep the mid-lane down on lock.
Schalke 04 to beat G2 – 2.05 at Betway.com