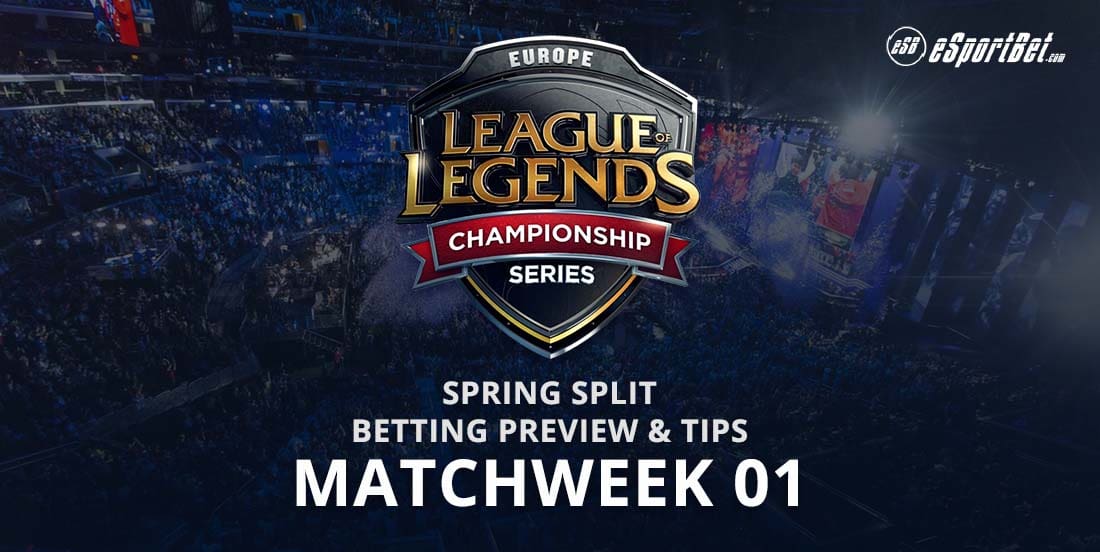 by in
The 2018 European League of Legends Championship Series (EU LCS) is about to kick off its fifth season with a revamped structure and action-packed Spring Split and we've got all the best bets tips and value bets right here.
The EU LCS spring tournament will see 10 teams duke it out for top spot in Europe, and will feature four of the best teams from the previous LCS summer season, winners of the EU LCS Summer playoffs and winners of the EU LCS Spring Promotion. The team that takes home the crown for the Spring Split will get invited to the 2018 Mid Season Invitational, sandwiched between the Spring and Summer Split later this year, for an additional shot at glory.
With major changes to the EU League this year – which includes the removal of mid-year promotion/relegation and the return to a single league, double round robin Bo1 (Best of 1) tournament format – it will be easier than ever for hardcore fans and curious newbies to jump in and start rooting for their favourite professional League of Legends esport teams.
Nearly every single team in the 2018 EU LCS Spring Split could prove to be potential dark horses, making our week-to-week betting opportunities all the more interesting. With the exception of Fnatic, every team has had massive roster shake-ups that will make the playing field a lot less predictable. With the tournament changing back to one game played per match, we fully expect there to be plenty of upsets and new strategies accustomed to steam-rolling the competition in a shorter period of time rather than the long and often agonising Bo3 events we endured last year.
Here are our best picks for Week 1 of the 2018 League of Legends EU LCS Spring Split.
EU LCS Spring Split Accumulator of the Week
Misfits to beat G2 Esports – 1.90
Unicorns of Love to beat Giants Gaming – 1.50
Schalke 04 to beat ROCCAT – 1.45
Splyce to beat Fnatic – 2.95
Betway.com fourfold accumulator pays 12.19
G2 Esports vs. Misfits
This year's EU LCS looks like a head-scratcher, but G2 Esports is one of the easier teams to place higher on the list based on their consistent performance last season. Last year their roster thoroughly dominated the Misfits in the EU LCS Summer Split and Summer Playoffs, securing second and first place respectively with straight 2 – 0 and 3 – 0 wins. They only dropped one game to the Misfits in the EU Spring Split before returning to domination and securing the Spring Playoffs with only one match loss to Team ROCCAT. Fitting, then, that the opening match is the most interesting rivarly.
However, those days of glory might just remain in the past, as the old G2 have moved onto other teams with the exception of mid-laner Luka 'Perkz' Perkovic. While the new roster built around him looks promising – particularly jungler Marcin 'Jankos' Jankowski, one of the best pro LoL players in the EU without an EU LCS title – their inexperience and shorter time together as a team is unfortunately hard to overlook.
The Misfits are Europe's LoL sweethearts going into the EU LCS. After suffering a heart-breaking defeat to SK Telecom T1 at last year's World Championships and the loss of two of its star players, Lee 'IgNar' Dong-geun Tristan 'PowerOfEvil' Schrage, the team has re-organised itself with some strong new talent. Coach Hussain Moosvi will build on their undeniable progress to top 5 LoL team last year with the newly signed Chres 'Sencux' Laursen and Mihael 'Mikyx' Mehle, two former Splyce team-mates with great on-field synergy who will provide additional back-up for the dream-team duo of Barney 'Alphari' Morris and Nubar 'Maxlore' Sarafian, arguably two of the best top-laners and junglers in the EU region who many won't argue got the Misfits to the World Championships with their carry plays.
If the Misfits can find a way to put Sencux's individual talent as an assassin and splitpush to better effect for the team this season, we see them shaping up to finally have their year. With the switch back to Bo1 and a decent mix of old and new players, the Misfits' hard-hitting playstyle will make them one of the teams to most likely establish an early lead.
Misfits to beat G2 Esports – 1.90
Unicorns of Love vs. Giants Gaming
Unicorns of Love (UoL) have, like other teams in the EU LCS 2018, suffered a few big losses in the form of veterans Zdravets 'Hylissang' Galabov and Tamás 'Vizicsacsi' Kiss to other stronger teams which may hurt their chances at playoffs contention. There's still some solid promise here, though, with Matti 'WhiteKnight' Sormunen and Jonas 'Kold' Andersen both proven top-laners and junglers, respectively. Samuel "Samux" Fernández Fort is widely considered to be one of the best AD'ers in the league who got caught to UOL's general under-performance last Split, but we see him most likely getting a proper chance to shine this season.
The Giants have lost the promising line-up that got them through the EU LCS 2018 Spring Promotion to Team Vitality, only retaining top-laner Kim "Ruin" Hyeong-min from their pre-Challenger Series roster, who isn't a standout himself. Charly 'Djoko' Guillard, Felix 'Betsy' Edling and Pierre 'Steelback' Medjaldi have EU LCS experience but little individual distinction, and with no synergy on display compared to the other newly-formed teams, there's good reason why the Giants are predicted to be at the bottom of the EU LCS ladder this season.
UoL to beat Giants Gaming – 1.50
Schalke 04 vs ROCCAT
Schalke 04, the esports division of the German football club of the same name, return to the EU LCS after their embarrassing performance in the 2017 Spring Promotion tournament led them to be relegated. All of their roster subsequently abandoned ship, but judging by their substantially reinvigorated roster and management staff, Schalke 04 have made significant investments to become a formidable opponent once more.
For starters, their new line-up all have at least one Split worth of experience under their belt, which was put to good use when they went undefeated in the 2017 Challengers Series, smashing every single opponent 2 – 0 and setting the record of becoming the first ever European team to go undefeated throughout an entire season of the LoL Championship Series.
AD player Elias 'Upset' Lipp is the rookie to watch this season; while his trash-talking ways leave a lot to be desired, the raw talent on display in their scrims is undeniably promising, and the more experienced duo of Erlend Våtevik "Nukeduck" Holm and Oskar "Vander" Bogdan will keep him properly focused should their synergy click as we predict. Former LCS support and Riot Games commentator Mitch 'Krepo' Voorspoels, now on sub/support is one not to over-look, either.
On the opposite end of the field is ROCCAT, who dumped their more promising 2017 roster for a mix of semi-decent players who may or may not perform well together. Jonas "Memento" Elmarghichi is perhaps their most promising re-acquirement, returning after nearly two years to face his former Shalke alumni. Kim 'Profit' Jun-hyung from SKT and Ninjas in Pyjamas is a potential Korean superstar in the making, though he could bring some potential communication issues between the team's crazily diverse roster.
Despite prior mis-steps in the EU LCS, Schalke 04's roster are a lot stronger in our eyes, and ROCCAT have a lot more to prove with their mish-mash of so-and-so players before we start backing them.
Schalke 04 to beat ROCCAT – 1.45
Fnatic vs. Splyce
Unlike every other team going into the 2018 EU LCS Spring Split, Fnatic retained the majority of their roster with just one new support player in the form of Zdravets 'Hylissang' Galabov, previously of Unicorns of Love. Hylissang is notable for his Thresh play and active shot-calling, and will provide the much needed experience and leadership they required in support, despite Jesse 'Jeziz' Le's decent comeback as player rather than coach last year (Jeziz will sub this season).
Fnatic top-laner Paul 'sOAZ' Boyer and the four seasons under his belt also help the team look as solid a line-up as it ever was, though we're not sure if one new player alone will help stabilise their overall inconsistency, as seen in last year's Spring Split. sOAZ himself has admitted in recent interviews the team has struggled with synergy and getting along, pointing to these behind-the-scenes troubles as the reason for their poor results last season.
Splyce is arguably the new potential EU super team to beat, based on raw talent alone. Head coach Peter Dun has built a team of European superstars and brought them together to form a deadly new combo to dominate Dun's side lane control-focused approach. Mid-laner Yasin 'Nisqy' Dincer Kasper and support Raymond 'KaSing' Tsang are two extremely strong players from the NA LCS and European Challenger Series that will help bolster AD Kasper 'Kobbe' Kobberup, the final Splyce from last season who is underrated and who we can see getting the limelight he deserves with the new support formed around him. KaSing in particular is an amazing support and shot-caller we hope continues to perform.
As a collective, Splyce are already stronger than the team that beat Fnatic this time last year, and we think they will provide the first round upset excitement we all crave in this year's much-needed revamped EU LCS format.