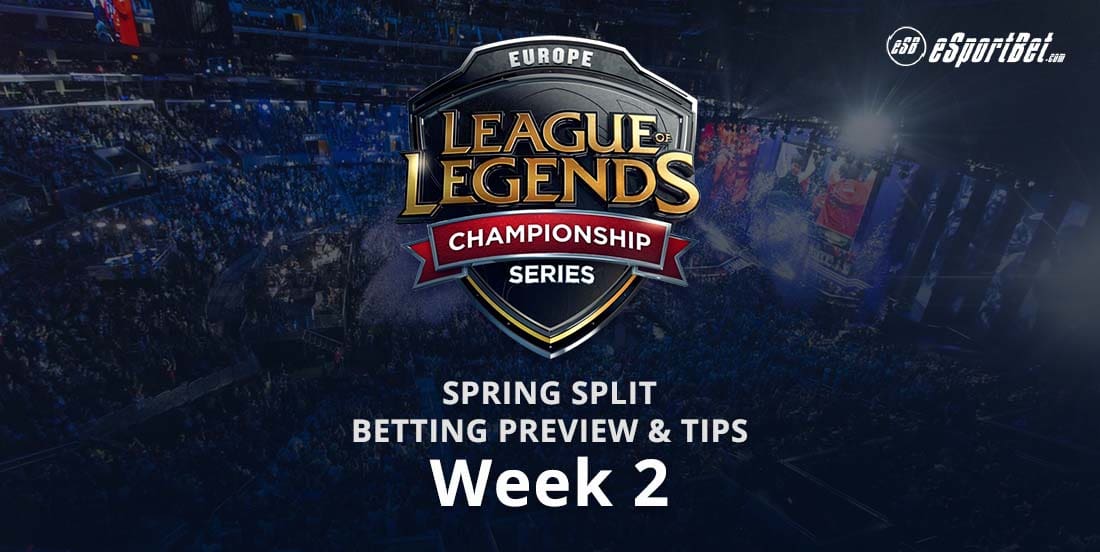 by in
We're heading into Week 2 of the European League of Legends Championship Series (EU LCS) and it's safe to say this year's change to Bo1 (Best of 1) has levelled the playing field and demanded better flexibility in strategy.
Every team got their nose bloodied, save for the rejuvenated roster of Vitality, while our favourites Misfits, Schalke 04 and Splyce had some rocky starts.
Some spectacular upsets, impressive split-pushing and aggressive zoning from all parties, then, and Week 2 looks to bring more amazing plays as the teams find their groove and settle in.
Here are our top picks for Week 2 of the EU LCS Spring Split.
EU LCS Spring Split, Week 2 Accumulator of the Week with Betway Esports
Splyce to beat ROCCAT – 1.55
Misfits to beat H2K – 1.35
Vitality to beat Fnatic – 2.75
Schalke 04 to beat Unicorns of Love – 1.40
Betway.com fourfold accumulator pays 8.05
Splyce vs. ROCCAT
Splyce's crew suffered an early setback last week against Fnatic with poor coordination and map control, but their second match against UoL proved they know how to play the long-game.
Andrei 'Odoamme' Pascu will have to work on evading gankers a little better, but mid-laner Yasin 'Nisqy' Dincer Kasper and support Raymond 'KaSing' Tsang held the line as consistently as we expected and should continue to impress and help secure another win here.
ROCCAT let Schalke 04's Ryze tear them apart in a discouraging scramble for plays and even with the G2 win, it's made us less confident in their own ability for an extended comeback tour.
Splyce to beat ROCCAT – 1.55 at Betway.com
Misfits vs. H2K
Methodical is the best word to describe the Misfits' dismantling of Schalke 04 last week.
Top-laner Barney 'Alphari' Morris and jungler Nubar 'Maxlore' Sarafian lived up to our expectations as the Misfits dream-team duo, and we reckon they can easily keep up the pain against H2K.
Alphari was brilliant as a roaming Gangplank and his 7/0/8 KDA was well deserved, while Maxlore's active ganking and lane management will keep the group one step ahead.
H2K were aggro on the barons and while it worked the first time, their top-lane needs some work if they wish to avoid another lopsided team-fight massacre that Vitality was serving up in droves.
Misfits to beat H2K – 1.35 at Betway.com
Vitality vs. Fnatic
Vitality's roster returned to the 2018 season refreshed and it showed in their rapid-fire domination of the mid-lane and its towers against Giants Gaming.
Their slower, more methodical dismantling of H2K's top-lane last week also have us confident in their ability to switch things up with the veteran roster of Fnatic this Saturday.
In contrast, Fnatic were quick on the objectives but showed questionable lane management last week. The aggro approach worked on Splyce because they lacked nuance themselves, but Vitality have shown they're a whole other ball game.
Vitality to beat Fnatic – 2.75 at Betway.com
Schalke 04 vs. Unicorns of Love
The Schalke 04 rookie to watch, Elias 'Upset' Lipp, called in sick, but mid-laner Erlend Våtevik 'Nukeduck' Holm showed proven experience is more than enough to secure the Rift.
Nukeduck's near solo steamrolling of ROCCAT last week with Ryze was incredible, as was Upset's support fill-in Oskar 'VandeR' Bogdan, who turned around a 3v5 engagement with a triple kill and set the tone for the rest of the weekend.
Other than some early split-pushing from Fabian 'Exileh' Schubert which was well executed, Unicorn of Love were on the back-foot the entire opening weekend.
The 04 mistakenly let the Misfits get the long-game foothold, but we don't think UoL's current track record gives any indication they'll be able to do the same here.
Schalke 04 to beat Unicorns of Love – 1.40 at Betway.com