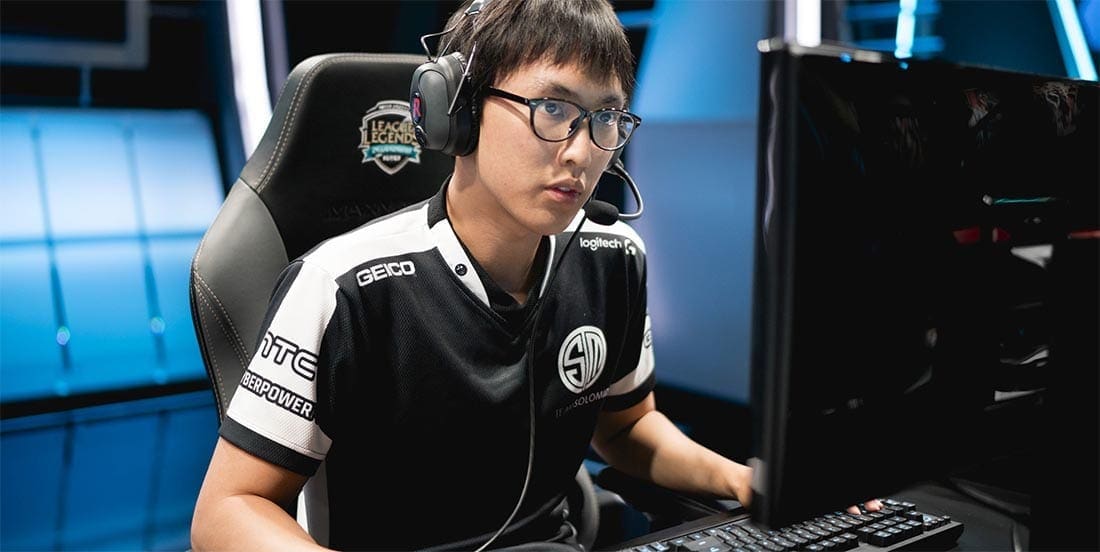 by in
Yiliang Peter "Doublelift" Peng, one of the most success League of Legends esports players in North America, has announced his return to Team SoloMid after spending the last two seasons at Team Liquid.
A possible return to TSM has been talked about ever since Team Liquid revealed they were open to negotiations for the sale of their star ADC, with whom they won four consecutive League of Legends Championship Series (LCS) playoffs and made four appearances at the LoL World Championship. During that time, Doublelift and TL also defeated the reigning world champions, Invictus Gaming, in the semi-finals of the 2019 Mid-Season Invitational to become only the second North American team to reach the MSI grand finals.
With Doublelift, Team Liquid enjoyed one of the most successful periods in the organisation's history. This year, however, has been a disaster thus far, as TL finished the LoL Championship Series (LCS) 2020 Spring Split in ninth place with a 7-11 record.
While Team Liquid did not provide any detailed explanation for Doublelift's departure, it is public knowledge that he and Team Liquid's owner, Steve "LiQuiD112" Arhancet, parted ways on good terms. However, many in the broader LoL esports community want a few important questions answered.
Since Doublelift is dating Leena Xu, who is the president of TSM, several prominent figures in the esports industry have asked whether this move constitutes a flagrant breach of integrity protocols. Christopher "MonteCristo" Kjell Mykles, a former Overwatch caster who turned to freelancing in January, summed up all the concerns with one Tweet:
Some have even accused Doublelift of intentionally underperforming in the LCS 2020 Spring Split in order to force a move to Team SoloMid. However, those claims ignore the fact that the player could have triggered a release clause in his contract at any time.
"If Leena wasn't on TSM, would I join TSM? Absolutely, yes," said Doublelift in his vlog.
"I joined because the roster is really good, because the organisation is super hyped, and my past relationships with Bjergsen [Søren "Bjergsen" Bjerg] and Bio [Vincent "Biofrost" Wang]. I think if you removed Leena from the equation, my decision making would be the exact same."
In the same vlog, Doublelift explained everything that led to his departure from Team Liquid, including Mads "Broxah" Brock-Pedersen's visa issues, internal struggles and disagreements with the team's leadership.
It all started after Team Liquid failed to deliver at the 2019 LoL Worlds, at which point the team started to talk about parting ways with their jungler, Jake "Xmithie" Puchero. Reportedly, Doublelift was the only player on the team who did not want Xmithie to leave, since he had established a great relationship with the Filipino jungler over two-and-a-half years.
Liquid's performance at Worlds was humiliatingly bad, and Doublelift was adamant that the whole team, and not just Xmithie, were to blame. His voice was not heard, however, and Liquid decided to sell Xmithie and acquire Broxah.
Doublelift also talked about his lack of motivation during the LCS Spring Split, for which he apologised once again, and addressed the many factors behind his lack of drive. He pointed to a lack of feedback from his teammates and coaches, and he also claimed he was told "not to make any calls and instead only feed information" during matches.
Supposedly, the only two members of the Team Liquid setup who supported Doublelift during this difficult time were Broxah and Arhancet. That made the 26-year-old LoL veteran realise his relationship with the roster was damaged beyond repair and it was time to start looking at other options.
Doublelift has now reunited with Bjergsen, with whom he played in 2016 when TSM finished third-fourth at the Intel Extreme Masters (IEM) Season 10 World Championship and won the LCS 2016 Summer Split. In 2017, the trio of Doublelift, Bjergsen and Biofrost won Rift Rivals as well as the LCS Summer Split and the resulting playoffs.