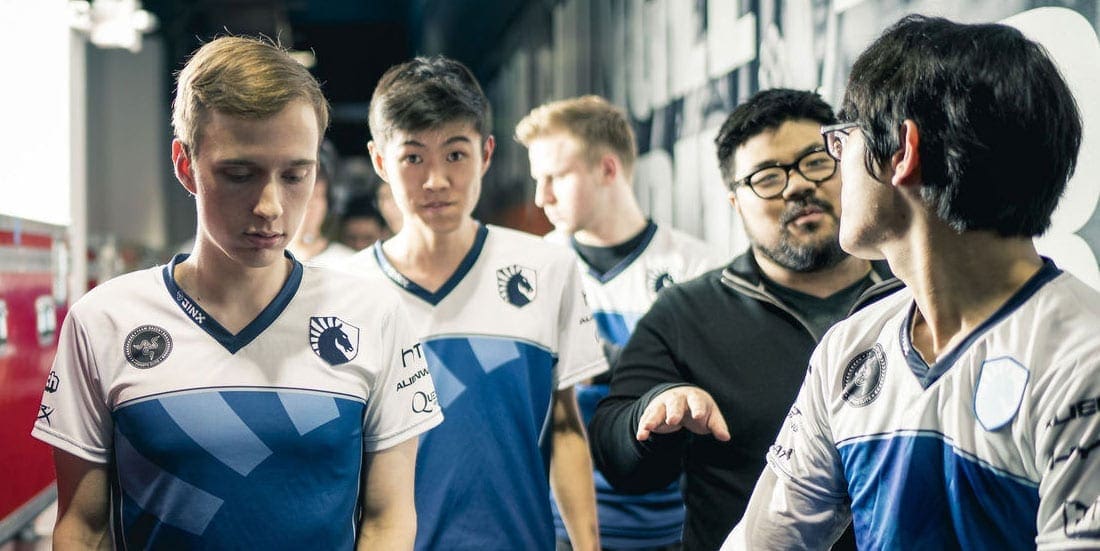 by in
The reigning LCS champions Team Liquid have run into a massive issue ahead of the 2020 season, as both of their junglers and head coach are still without an approved visa, meaning they are unable to join up with the team at their headquarters in Los Angeles, California.
The news of Team Liquid's visa issues surfaced on Thursday, when the organization's co-owner Steve "LiQuiD112" Arhancet posted a Tweet, claiming junglers Mads "Broxah" Brock-Pedersen, Shern "Shernfire" Cherng Tai and their head coach Jang "Cain" Nu-ri are unable to join the team for their pre-season practice due to delays in processing their visas.
Without two of their junglers, and the head coach, Team Liquid's roster is experiencing severe difficulties in their pre-season preparations as they do not have back-up jungler at their disposal to field for their skirmish matches which are crucial for teams' success in the upcoming season.
What is perhaps the most concerning, however, is that Broxah who left Fnatic to join up with the North American organization in November, will not have an opportunity to settle in his new home, which raises a lot of questions whether the North American squad and the European import will have enough time to gel together in order to contest for the LCS title.
In the announcement, Steve Arhancet also stated that there is no guarantee either of the three members will have their visa issues sorted by the start of the season, which if proven to be true, would spell out disaster for Team Liquid and their ambitions to win their fifth successive LCS title.
The recent news caused a massive outburst in the LoL community, with many storied esports personalities expressing their support and offering a helping hand to Steve Arhancet and Team Liquid.
While LEC commentator Indiana "Froskurinn" Black took this chance to make a comical proposition for Team Liquid to bring her in as a replacement due to her "wicked Fiddlestick jungle route," her co-worker Aaron "Medic" Chamberlain offered Team Liquid his expertise on Jarvan.
"Having played Jarvan once on the LCS stage, I'm pretty sure I'm ready. Sub me in coach," said Medic.
While the two LEC personalities contributed a healthy dose of humour to lighten the mood, Ovilee May, an LCS broadcast host, Riot Games interviewer and a vivid fan of Team Liquid claimed she is ready to sort thing out for Team Liquid, if they're prepared to send her to Washington D.C.
Julian "Tarzaned" Farokhian also took this chance to make Team Liquid aware he is ready to step in and help.
While Tarzaned does not have any experience playing in the LCS, and was never officially a top-tier professional League of Legends player, he is widely known as a highly-skilled jungle main, who has reached Rank 1 in NA SoloQ in Season 6, 8 and 9. He is also known for his impressive feat in South Korean's SoloQ, where he reached top 50 in a span of one week.
Making his existence known was also Christian "IWDominate" Rivera, former Team Liquid player, coach and currently a streamer for Team Liquid, who made it clear he would be ready to step out of retirement to help his former team.
"Alright boys, it's time to dust off the ol' mouse n keyboard," said IWDominate.
His post, while not proving anything, had many LoL fans on the edge of their seats as they would all be excited to see one of the biggest names in LoL scene return to the Rift.
His Tweet alone amassed 1.6k likes, suggesting he has the community's support if he decides to return to the competitive scene he left in July 2016, however, as of today, there are no announcements whether IWDominate will put on Team Liquid's jersey once more.
How will Team Liquid's saga end is at this point anyone's guess, but if Steve Arhancet's words are to go by, they could be in for a tough start of the season.
Visa issues, while nothing new in the esports scene, have already been addressed by Germany earlier last month when Germany's government announced a new esports visa, that will solve that exact problem, by making the process of acquiring visa significantly quicker for all esports players who meet the requirements.
As of today, Germany are the only country with a dedicated esports visa but considering the ongoing issues esports players and teams have to deal with each year, it's safe to assume the United States will sooner or later follow suit and introduce their own esports visa in a bid to help the North American esports scene grow and develop without such incidents.