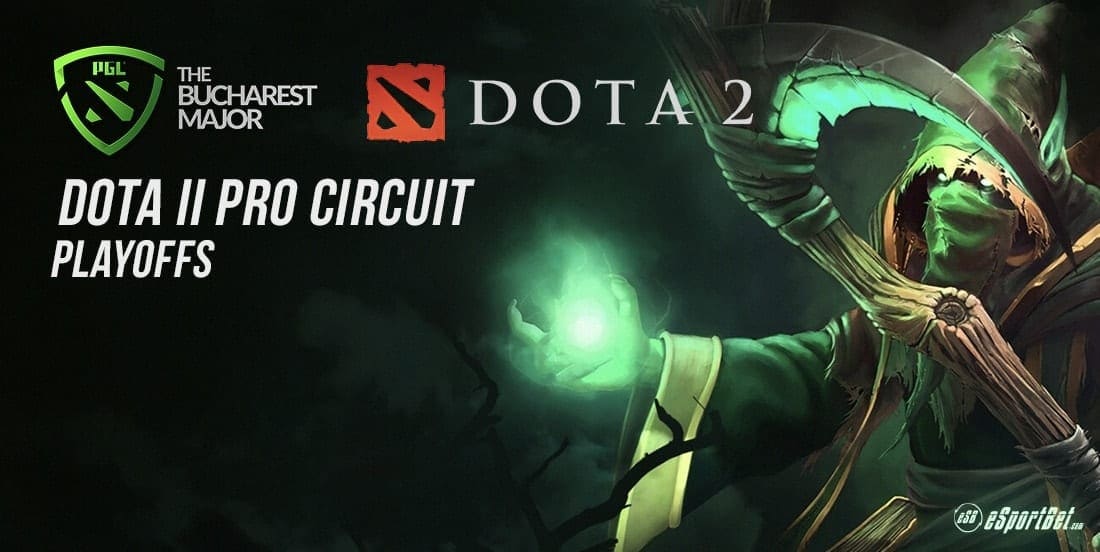 by in
The Bucharest Major is the 4th Major of the Dota Pro Circuit. The tournament's Group Stage finished on March 7 and we're about to enter the playoffs. Just half of the initial 16 teams are left and they'll be competing for a total prize pool of one million dollars and 1500 qualification points.
The Bucharest Major Playoffs Stage is scheduled to take place between March 9-11 and will be played in a standard, single-elimination bracket format. With the exception of the Finals (Bo5), every match is a Bo3 series.
Dota 2 Bucharest Major team analysis 2018

Virtus.pro
The organization's decision to replace Lil with RodjER has turned out to be a great idea. After that move, Virtus.pro won ESL One Katowice 2018 and reached the number 1 spot in the Dota Pro Circuit rankings.
Going into the Bucharest Major Playoffs, Virtus.pro is without a doubt one of the main contenders for winning the event. However, they still have to prove themselves against the other top teams.
During the Group Stage, VP lost their first match against OpTic Gaming but after that loss they got 3 consecutive wins against LFY, Na'Vi and TNC. As you can see, none of these opponents is a very strong team, so VP's victories don't mean much for now. They may do well against a world-class team like Liquid or Secret, but they may also get crushed.
Newbee
Newbee is playing well at the moment but not spectacular. They can crush almost anyone outside of top 4, but they struggle and often get beaten by the world's best teams. So in a tournament like this, where the odds of meeting many strong opponents, their chance of success is minimal.
Newbee already lost once against Evil Geniuses in the Group Stage, and they will face Team Secret in the Quarterfinals.
Team Secret
Puppey and his team seem to have managed to put their ESL One Katowice 2018 nightmare behind them and focus on this new opportunity. Their performance so far at the Bucharest Major has been really good. They qualified for the Playoffs with a record of 3W – 1L.
Team Secret lost to VGJ.Thunder but defeated compLexity Gaming, PaiN Gaming and OpTic Gaming. The loss is significant and you'll understand why by reading the team analysis for VGJ.Thunder. At the same time, the victories are relatively insignificant, as they came against modest opponents. Team Secret's only strong opponent so far has been VGJ.Thunder, and they lost that game quite decisively.
Team Liquid
Team Liquid's roster doesn't play too well at the moment. Their gameplay is riddled with mistakes and a general lack of synchronization, and even KuroKy messes up much more often than usual in the drafting phase.
Team Liquid almost didn't make it and qualified for the Playoffs largely thanks to the individual talents within the team. The teamplay as a whole was a complete mess in most of the Group Stage matches. Their record at the end of this stage was 3W – 2L. They won against LFY, Vici Gaming and OG, but lost against compLexity Gaming and Evil Geniuses.
Because all of these matches were Bo1, the loss against Evil Geniuses is understandable. But when Liquid loses to compLexity Gaming, you know something's gone wrong.
Evil Geniuses
Ten weeks after their major roster changes, Evil Geniuses finally looks like a team that's capable to win against any opponent, although they still start from an underdog position whenever they play against a top 4 opponent from the Dota Pro Circuit rankings.
Evil Geniuses' performance in the Group Stage was immaculate: 3 consecutive victories against PaiN Gaming, Team Liquid and Newbee and not a single loss.
All this considered, you might think that EG might be set to win the entire event, but I'm afraid that things are slightly more complicated than that, and that their run could easily end in the Quarterfinals.
OpTic Gaming
Former captain of Evil Geniuses, 3 times on the podium and TI champion with the team in 2015, ppd is now the captain of OpTic Gaming. Initially, nobody gave him a chance to succeed at the international level with this team but look at him now! OpTic Gaming is in the Playoffs of a Major and looking to prove itself in front of the whole world.
OpTic Gaming qualified for the Playoffs with a record of 3 wins (against Virtus.Pro, OG and compLexity Gaming) and 2 losses (against TNC Pro Team and Team Secret). Overall, they play pretty well but unfortunately they're facing Virtus.pro again in the Quarterfinals, and this time it's going to be a Bo3 series. So unless they manage to consistently pick the right strategy and outplay the CIS giants, they have no chance to succeed.
VGJ.Thunder
VGJ.Thunder is the dark horse of this tournament and the team that's most likely to win it. If you want to get a better understanding of who these guys are, go back to The International 2017. There was one team in that tournament that completely dominated the Group Stage and proved itself to be in a class of its own. They didn't win, but they certainly impressed people with their performances. That team was LGD.Forever Young, and the captain of that team was ddc. Unfortunately for LFY, they've had a terrible 2017-2018 season so far and as a result, some of the key players left. One of them is ddc, who joined VGJ.Thunder. He's now in the same team with another Chinese legend, namely Sylar. This guy, like ppd, has been 3 times on the podium at The International and is an exceptional player.
When a roster like VGJ.Thunder's is formed, it usually develops a unique way playing that is very hard to defeat or decipher. I'm pretty confident that in the months to come, this team will dominate the professional scene and get plenty of top results, starting with the Bucharest Major.
VGJ.Thunder qualified for the Playoffs with a record of 3 victories and 0 defeats. They crushed Vici Gaming, Team Secret and TNC Pro Team and will play TNC again in the Quarterfinals.
TNC Pro Team
TNC is struggling at the moment and they don't stand much of a chance in their Quarterfinals match against VGJ.Thunder. Their only notable performance this season was that 2nd place finish at MDL Macau, but none of the top teams attended that tournament. It was a battle between them and OG and the Europeans won that fight.
TNC qualified for the Playoffs with a record of 3 wins and 2 losses. They defeated Mineski, OpTic Gaming and Natus Vincere, and lost against VGJ.Thunder and Virtus.pro.
Betting tips for the Quarterfinals
VGJ.Thunder vs. TNC Pro Team
TNC Pro Team already lost against VGJ.Thunder in the Group Stage and it was a pretty convincing loss too. The Chinese team looks unstoppable at the moment, so I can't imagine a much weaker team like TNC putting an end to their run. Given that the match will be a Bo3 series, TNC would have to play the best Dota of their lives to get past this opponent. And even then, VGJ.Thunder has to stumble and commit a lot of foolish mistakes. Which I doubt they will.
Bovada puts the odds at -375 / +230 or around 1.27 – 3.30 in favor of VGJ.Thunder. The actual chance of success for the Chinese team is around 95% here, so these odds are absolutely fabulous and constitute a great betting opportunity.
Best bet: VGJ.Thunder to win: $1.27 at Bovada
Newbee vs. Team Secret
Team Secret is playing really well at the moment and every player in the team is doing an excellent job. Puppey's drafts and strategies are consistently strong, so it's not easy to beat Secret these days. At the same time, Newbee has been on the decline ever since they beat Team Liquid in the Finals of ESL One Genting 2018. Their gameplay doesn't look very sharp so I don't believe they have what it takes to beat Team Secret in its actual form and formation.
Bovada still gives Newbee a lot of respect and puts the odds only slightly in Team Secret's favor (-165 / +115 or around 1.61 – 2.15). But if you watched both of these teams' games at their last few tournaments, you know that Team Secret is much stronger than Newbee at the moment and has a chance of success of at least 75% in this match.
Best bet: Team Secret to win: $1.61 at Bovada
Evil Geniuses vs. Team Liquid
In the Group Stage, EG looked much stronger than Liquid and even won a direct match against them. Keep in mind however that Liquid may have kept most of its best strategies secret, assuming that it would get to the Playoffs anyway and not really trying too hard to win. In a Bo3 match, the likelihood of EG repeating their Group Stage performance and beating Liquid again is actually very small. In its free day between the two stages of the Bucharest Major, Team Liquid has surely studied EG's playstyle and prepared something that exploits all of its weaknesses.
Bovada puts the odds at -175 / + 120 or around 1.57 – 2.20 in favor of Team Liquid, anticipating a victory for the TI 7 champions.
Best bet: Team Liquid to win: $1.57 at Bovada
Virtus.pro vs. OpTic Gaming
Just like Evil Geniuses, OpTic Gaming faces an opponent it managed to beat in the Group Stage. And the situation is identical. Unless OpTic Gaming is really that good that it can beat Virtus.pro in a Bo3, they won't get past this formidable team. Virtus.pro won the ESL One Katowice 2018 Major less than 2 weeks ago and are currently sitting at number 1 in the Dota Pro Circuit rankings. OpTic Gaming would have to play flawlessly to have a chance to win here.
Bovada puts the odds at -400 / +250 or around 1.25 – 3.50 in favor of Virtus.pro, and this is basically free money to be made.
Best bet: Virtus.pro to win: $1.25 at Bovada
Best bookies for Dota 2
EsportBet.com has scoured the Internet for the best betting sites for Dota 2. The below table is geo-targeted to only show sites available to your country. Learn how to live stream Dota 2 Bucharest right here.

Best esports betting sites for your country