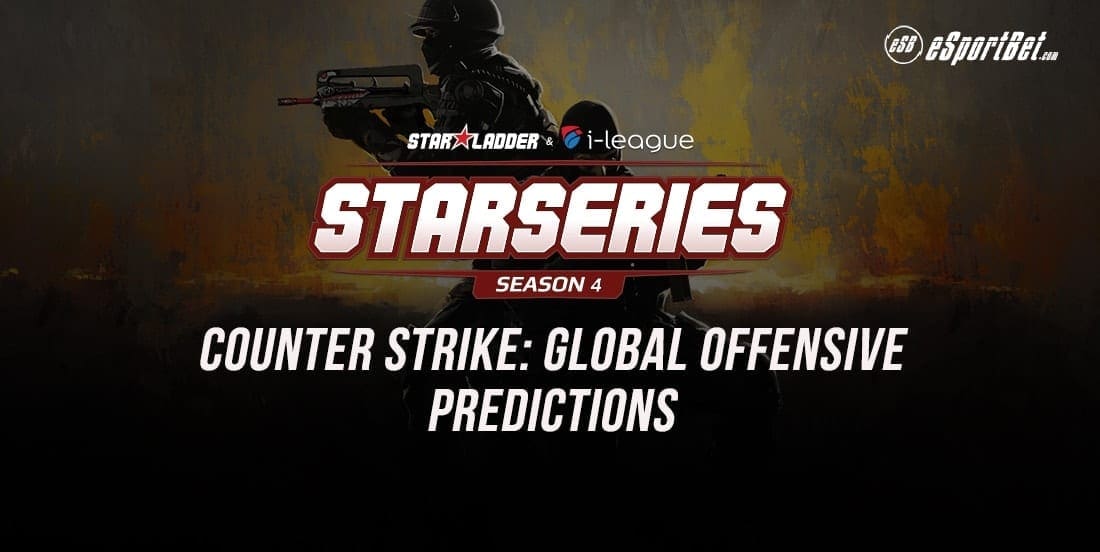 by in
The group stage of StarLadder & i-League StarSeries Season 4 is over and half of the initial 16 teams have been eliminated from the tournament. The other eight teams will be competing in the playoffs for a share of the remaining $265,000 prize pool.
The first stage of the event went almost according to plan, with teams like FaZe Clan, G2 Esports and SK Gaming qualifying without too many problems. But we also had some major upsets. In particular, Fnatic and Cloud9, who both had poor performances and did not manage to make the cut.
The teams that qualified for the StarLadder & i-League StarSeries Season 4 playoffs are FaZe Clan, G2 Esports, SK Gaming, Natus Vincere, Renegades, Astralis, mousesports and Team Liquid.
They will be competing in a single elimination bracket format between February 23rd and February 25th. Every match will be a Bo3 series.

Betting predictions for the Round of 8
SK Gaming vs. Team Liquid
These two teams met each other before very recently, in the Losers' Final at cs_summit 2. That match ended with a surprising victory in favor of Team Liquid, who then went on to win the entire event. However, SK Gaming had very little practice with their new lineup at that time, after boltz had just replaced felps. Given the new situation and SK Gaming's performance so far throughout StarLadder & i-League StarSeries Season 4, I fully expect them to beat Team Liquid this time.
Both of these teams performed well during the group stage and advanced to the playoffs with a 3W – 1L score. SK Gaming defeated MVP PK, Cloud9 and Natus Vincere but lost against mousesports, while Team Liquid defeated Renegades, Virtus.pro and mousesports, but lost against Astralis.
Betting: Bovada puts the odds at 1.36 – 2.80 in favor of SK Gaming, so you get very good returns for a highly probable result.
Tip: SK Gaming to win: -277.78 at BetOnline
FaZe Clan vs. Renegades
FaZe Clan qualified for the playoffs with ease, winning three matches in a row: against TyLoo, Cloud9 and Natus Vincere. So far they've been the best team at this tournament with a record of 102 round victories and 51 round defeats. Overall, they're also the strongest team in CS:GO at the moment.
On the other hands, Renegades came very close to being eliminated and actually went 0-2 before winning three matches in a row. They lost against G2 Esports and Team Liquid and then managed to win against Fnatic, TyLoo and HellRaisers.
All things considered, this will likely be a very one-sided match. That's because it takes place between the strongest team in the world at the moment and an underdog who shouldn't have qualified for this stage in the first place. Anything except a 2 – 0 victory in favor of FaZe Clan would be a huge upset.
Tip: Bovada puts the odds at 1.08 – 6.50 in favor of FaZe Clan, as this is basically free money to be made.
Tip: FaZe Clan to win: -1250 at BetOnline
Astralis vs. Natus Vincere
With their new lineup (Magisk repalced Kjaerbye a short while ago), Astralis looks to be a considerably stronger team than Natus Vincere. They qualified for the playoffs with a score of 3 wins and 1 loss and have played very well in all of their matches. Na'Vi didn't look bad either, but they seem to be lacking something. Every match is either a one man show with s1mple hard carrying his team to victory, or a painful defeat. So I don't see them winning against lineups that have great teamplay and strong fundamentals. Whenever they face a tough opponent with a very solid strategy, they just crumble. And that will almost surely be the case in this match against Astralis.
Tip: Bovada puts the odds at 1.61 – 2.15 in favor of Astralis, who is more than likely to win this one.
Tip: Astralis to win: -163.93 at BetOnline
G2 Esports vs. mousesports
G2 Esports performed very well during the group stage, qualifying for the playoffs with 3 victories and no defeats. And their opponents weren't weak either. They won against Renegades, Astralis and mousesports.
However, their win against mousesports was not convincing at all, and they came uncomfortably close to losing after being crushed on the first map (Mirage, score 2 – 16) and going into overtime on the second map (Inferno, score 19 – 15).
Mousesports on the other hand almost didn't qualify for the playoffs, finishing the group stage with 3 victories and 2 defeats. But their opponents were very strong teams and their victories really matter for this match. They managed to beat SK Gaming and Cloud9 to make it this far and that says a lot about their level of skill.
G2 Esports has had a spectacular group stage performance followed by a shocking elimination in the playoffs before, at the ELEAGUE Major. And given mousesports' excellent form, I think the French team will get destroyed by the Germans.
Betting: Bovada puts the odds at 1.69 – 2.00 in favor of G2 Esports, making this match an excellent betting opportunity. The chance of an "upset" is absolutely huge here.
Tip: Mousesports to win: +100 at BetOnline
How to bet on the StarLadder & i-League StarSeries S4 Playoffs
Most esports bookies will have extensive markets on this competition as it pits the best of the best against each other in CS:GO action. This means your only real challenge is finding a bookie which will accept punters from your country. The following table is geo-targeted to only show sites you can sign up at. You can also claim deposit bonuses when you initially sign up, which is a great way to increase your bankroll.

Best Katowice betting sites
Also read:
– CS:GO betting guide
– How to watch CS:Go tournaments
– Katowice 2018 betting guide