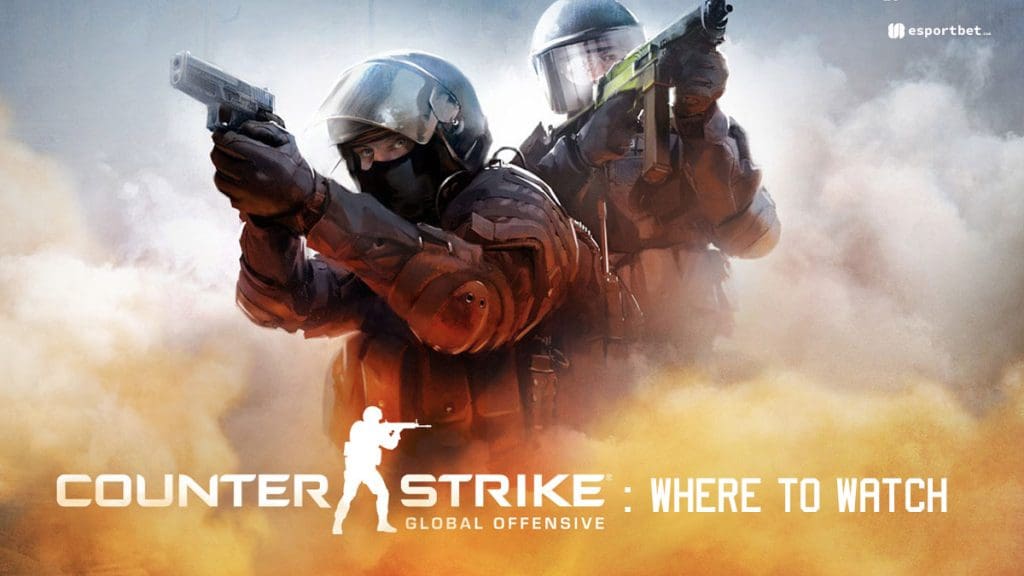 Counter-Strike: Global Offensive is one of the top 3 live-streamed esports in the world, with hardcore communities and casual fans alike watching the biggest professional tournaments unfold across a variety of different online services. While the CS:GO Pro League is the main competition to watch year-round, there are plenty of other Majors, Minors and Qualifiers broadcast over the Internet and available to binge-watch if you can't get enough of the CS:GO competitive circuit.
One thing unique to CS:GO compared to other esports is how hard it is to keep up with all of the different leagues and tournaments. Because Valve sponsors rather than hosts its own CS:GO events, there is an overwhelming number of third-party organizers like Electronic Sports League running CS:GO tournaments of varying tiers in multiple regions. This makes actually finding out where to watch each event fairly complicated, unless you're highly involved with the community.
This guide is here to help fans who might not be as Internet savvy find the best sources to watch CS:GO esports events.
---
How to watch CS:GO esports online
The majority of CS:GO's competitive tournaments are available to watch online, for free, through live-streaming sites like MLG.tv, Twitch.tv and YouTube. Watching live-streams is free on all popular platforms, making it possible for casual or hardcore fans to tune in without cost of entry.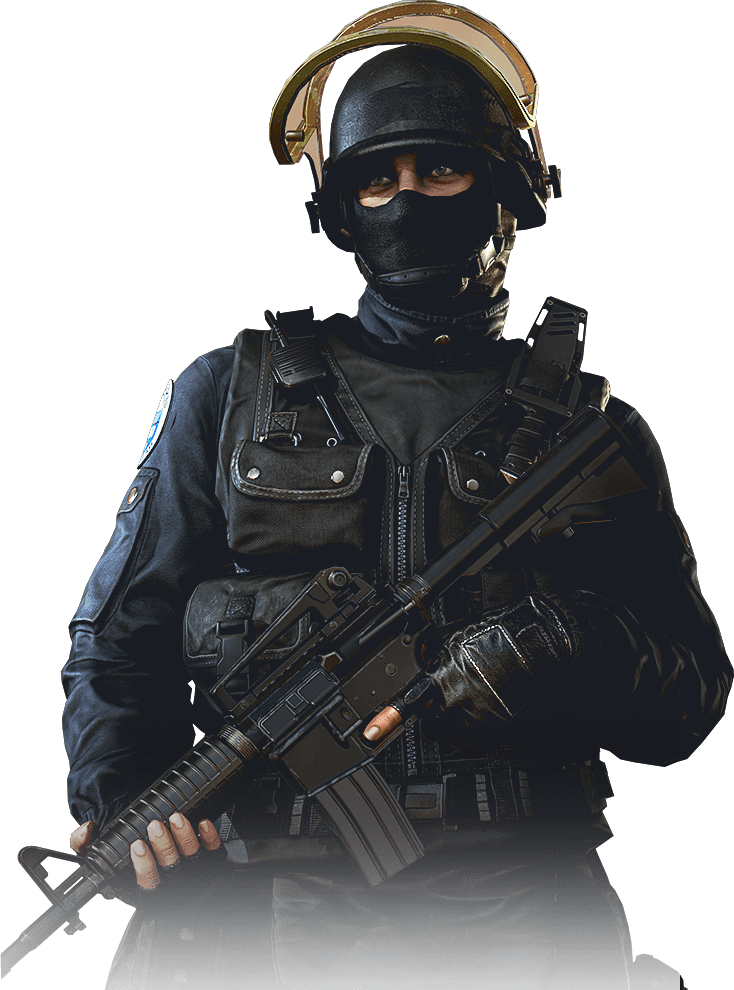 CS:GO Pro League is the biggest tournament held every year, run and organized by Electronic Sports League who have an exclusive broadcast deal with Facebook. Starting with the European and North American ESL Pro League Season 7, fans can only find official streams for these events on Facebook, though you don't need an account there to watch. Live-streams and replays for other league or tournaments that are not ESL-branded can be found, as normal, on other sites.
If you're unfamiliar with what live-streaming is, it's just a real-time broadcast of an esports event uploaded to the Internet. From the comfort of home, you can tune into the coverage on computer, smartphone or tablet and watch the action as it unfolds. You can also watch the uploaded videos of the event after the fact, if you can't watch it live.
CS:GO is one of the few esports to break into the mainstream consciousness, with several television networks in North America running broadcasts of one-off CS:GO tournament events. However, these aren't as common or high in production value as the main premiers hosted by ESL and other well established leagues, and only with certain cable providers.
The following list are the best live-streaming sites to watch CS:GO Pro League and other tournament events in 2018.
Watch CS:GO esports on Facebook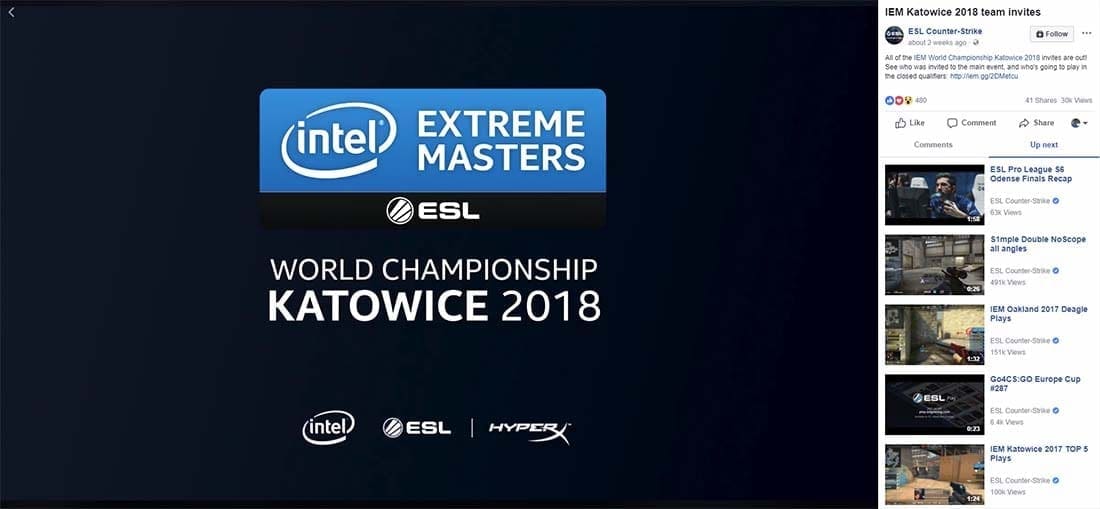 The Electronic Sports League announced Facebook will be their main broadcast partner for Counter-Strike: Global Offensive Pro League and other ESL One esport events from this year onward.
You can only watch official live-streams of CS:GO Pro League on the popular social media site. Thankfully, you do not have to have an account on Facebook to access and watch the streams, with links provided on the official ESL website.
All CS:GO Pro League streams are available to watch in full 1080p resolution and 60fps on Facebook, and you can even choose to watch live-streams in a virtual reality headset such as HTC Vive and Oculus Rift in the near future.
There are also collaborative video features planned which will allow esports fans to watch the live-streams with friends and jump in chat-rooms while watching the same broadcast, though there is no date for when it will be implemented.
While the CS:GO Pro League has yet to commence, the ESL One events that have streamed on Facebook so far have had decent quality with some minor hiccups, and it's the only place you can watch the main event for now.
CS:GO esports – Where to watch on Facebook
Watch CS:GO esports on Twitch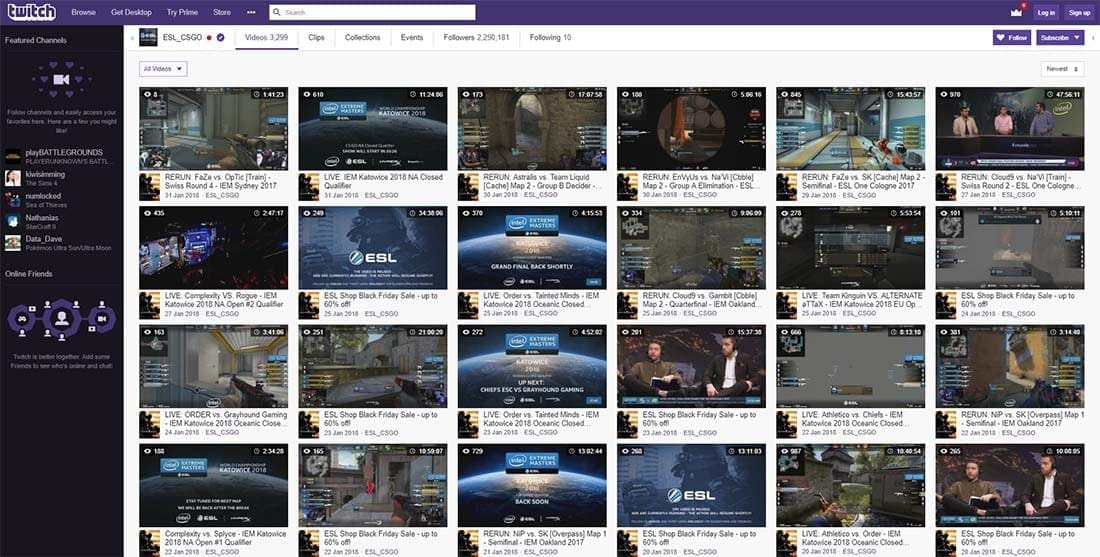 ESL have multiple CS:GO Twitch channels where anyone can tune watch VODs (Video on Demand) of past events with ease.
In addition, other third-party esports organizers who run CS:GO events, such as ELEAGUE, broadcast their tournaments live on their own Twitch channels year-round.
Twitch is the main platform for esports viewing because it's got HD streams, thousands of legacy clips for fans to catch up on at any time, and you can interact with the esports community while watching the same broadcast effortlessly.
Plus, there's always those digital goodies publishers like Valve give away for watching their tournaments on the platform.
CS:GO esports – Where to watch on Twitch
Watch CS:GO esports on YouTube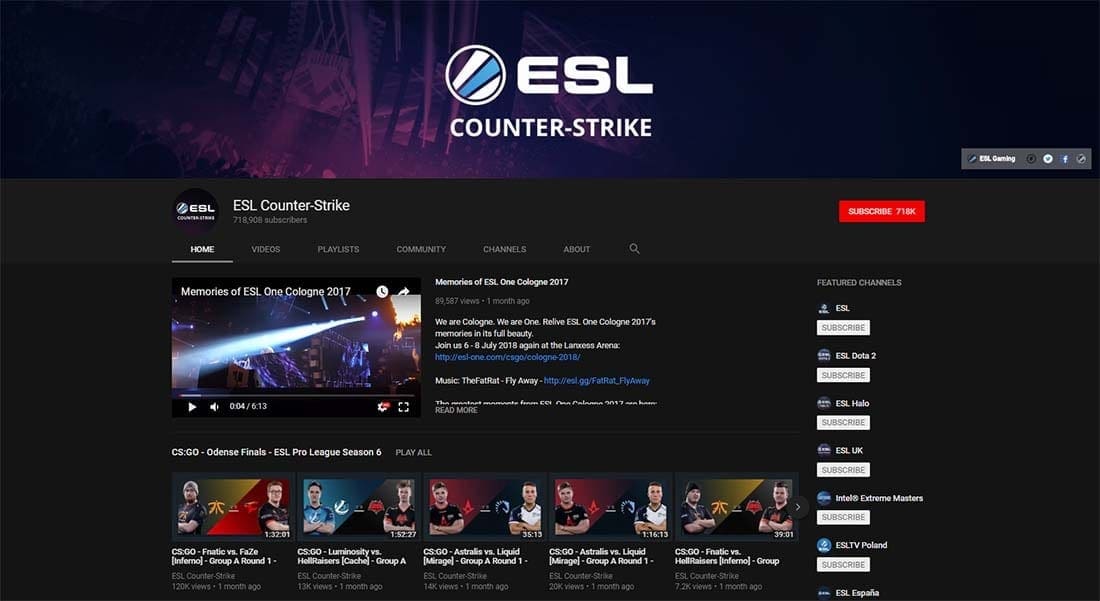 ESL, ELEAGUE, Dreamhack and many other community esports enthusiasts groups collate CS:GO tournament footage and upload it to YouTube.
With YT's ease of access across all devices, it's the easiest way for newer fans to dive into the already six-year long history of CS:GO esports events available to watch on the world's most popular video-sharing site.
ESL and a few others upload live-streams from time to time, but YT is best to watch the extras, such as exclusive interviews and commentary roundtables, as well as past videos. Many famous teams such as FaZe Clan and Team Liquid also upload their own personal footage on their own channels, which is a great place to see behind the scenes esports content.
CS:GO esports – Where to watch on YouTube
---
How many people watch CS:GO esports events?
The latest stats on the esport circuit for CS:GO has seen its concurrent viewership skyrocket over the 1.1 million mark for the recent Boston ELEAGUE Finals event, just beating the already impressive record set last year.
Year-round, CS:GO is one of the most popular and most watched esports on Twitch and other live-streaming sites. NewZoo reported that CS:GO made the top 10 most watched games nearly every single month in 2017, recording around 47.9 million esports hours watched on average.
---
Where can I bet on CS:GO esports tournaments?

Best CS:GO esports betting sites
Want to place a real money bet on your favourite CS:GO team to win before or while watching the action? Many esports betting sites allow customers around the world to do so with ease.
We've reviewed a dozen of the best sportsbooks with best value CS:GO betting markets for your convenience. You can access our verdict, or check out the sites for yourself by clicking on any of the links in the table above. It's also geo-targeted, meaning you'll only ever be presented with options that legally cater to users from your country.