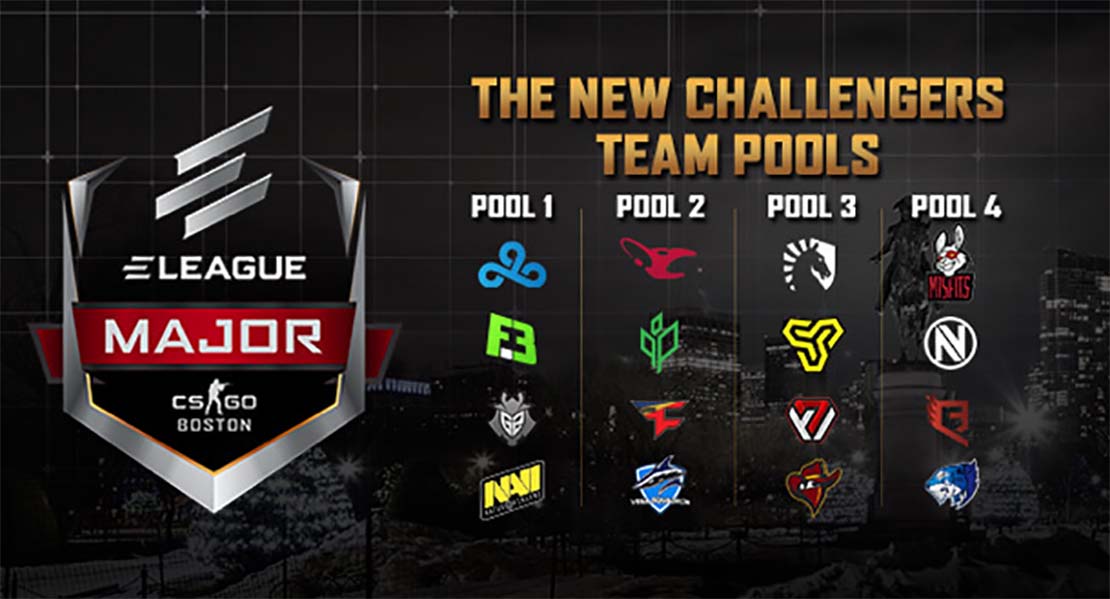 by in
The first round of the Counter-Strike: Global Offensive E-League Major: Boston 2018 is finally upon us.
The third CS:GO Major Championship in North America kicks off the New Year with more teams and bigger prize-pools, with twenty-four of the best professional CS:GO teams in the world competing across January 12 – 15 to take home a slice of the enticing US$1,000,000 up-for-grabs.
In conjunction with Valve, ELEAGUE have re-formatted this year's event to include the Offline Qualifier as part of the Major Championship. The New Challengers Stage is its new name, and it will feature sixteen teams duking it out in hopes of securing a spot in the Legends Stage, which will commence next week, and eventually to become CS:GO Major Champions.
Eight of The New Challengers were the bottom eight finishers from the previous PGL Major Championship Gambit Esports in Kraków, while the other eight teams fought tooth and nail in last year's ELEAGUE CS:GO Minor Championships to qualify for a spot – hard-earned, and perhaps a little more battle-ready than their foes. With no announced map pool at all prior to the event's commencement, some of these match-ups could surprise, while others are more one-sided.
Here is our betting preview, top picks and tips for Round 1 of the New Challengers Stage.
E-League Major: Boston 2018 accumulator tips
This week's E-League Major: Boston 2018 accumulator tips come from, one of our top-rated esports betting sites for players worldwide. Our readers can unlock an exclusive bonus offer of 100% up to 100 AUD/CAD/EUR/GBP/USD (or other currency equivalent) with any payment using our exclusive bonus code, 'esportbet' upon making a deposit. Make sure to sign up at Arcanebet.com via our links to be able to claim the deposit bonus code offer.
E-League Major: Boston 2018 – New Challengers Stage, Round 1 accumulator picks at Arcanebet
Renegades to beat Vega Squadron – 1.65
Mousesports to beat AVANGAR – 1.20
FaZe Clan – Pistol Winner, Round 1 – 1.62
Misfits to beat FlipSid3 – 1.80
Accumulator odds: 6.38 at Arcanebet.com
Vega Squadron vs. Renegades
Game 1, Friday, January 12 from 9am EST at ELEAGUE Arena, Turner Studios, Atlanta
Vega Squadron are no stranger to the big stage but have yet to have a big break. Their performance in last year's PGL in Kraków left a lot to be desired, with the team dropping all three maps spectacularly despite plenty of hope from the fans. Vega have had strong form in their Asia-Pacific tournament performance, but haven't had many opportunities to take the limelight in the EU, with only their wins against AGO and Tricked keeping them in the top 25 going into ELEAGUE 2018.
The Renegades have something to show in their first match-up against the Vega Squadron. In our eyes, they are easily a top 10 team in the making. Noah 'Nifty' Francis of the Renagades has demonstrated some deadly fragging as the team's In Game Leader (IGL) and great synergy with his North American team-mate Keith 'NAF-FLY' Markovic, a top favourite himself who was probably the best acquisition for a permanent fifth they could have made last year. Both players have few equals on the Vega side and are widely considered to be RNG carries – but we're also fond of their three Aussie team-mates all the same. If the map ends up being Cache, Mirage or Train, we're confident to say Renegades have it in the bag.
The Renegades' 2-0 steam-rolling to take the top spot in theStarLadder i-League Invitational #2 and the 1st Major Asia Minor Championship Boston 2018 to take the top spot was some great viewing last year, and they have tier 2 tournament experience under their belt going into this event. Experience, performance and the higher seeding has us rooting for the Renegades here, no questions asked.
Renegades to win – 1.65 at Arcanebet.com
Mousesports vs. AVANGAR
Game 2, Friday, January 12 from 10am EST at ELEAGUE Arena, Turner Studios, Atlanta
Mousesports or MOUZ are the favourites here and for good reason. Fresh off their 1st place win in the LOOT.BET Cup #2 and second place standings in last year's DreamHack Open Winter 2017 Major and Esports Championship Series Season 4 Finals Premier, they have more than proved they are one of the best teams in the New Challengers line-up when it comes to BO1 (best of 1) upsets.
On a good day, they are more than capable of taking a map from higher-ranked teams like FaZe – who they performed admirably against with a hard-earned runner-ups standing at ECS Season 4 – let alone the likes of AVANGAR, who lack a significant premier or qualifier placing on their belts. AVANGAR have, however, won the hearts of some fans with their success via their qualification to Boston, suffering zero losses in the open qualifier for the CIS region's Minor, where they smashed Quantum Bellator Fire in the Minor winner bracket and final to secure this spot.
However, while there will always be some underdogs going through CS:GO Majors, AVANGAR are not it. We're backing pure experience and form here, and it's definitely MOUZ.
Mousesports to win – 1.20 at Arcanebet.com
FaZe Clan vs. Team Liquid
Game 1, Friday, January 12 from 11am EST at ELEAGUE Arena, Turner Studios, Atlanta
The Swiss System is never kind to everyone and unfortunately two of the most popular North American teams in this qualifier are set to duke it out with each other in the very first round.
FaZe Clan is entering their match-up with strong form and a string of successes in the past three months, with three first place premiers under their belts, while Liquid has had some seriously bad runs in the recent ECS and EPL Season 6 Finals. Both teams croaked at the PGL Major Kraków 2017 last year without winning a single game, perhaps FaZe's only significant loss since. We can't say the same for Liquid, who will be going without Brazilian pick-up Lucas "steel" Lopes due to Valve's roster lock rulings.
Liquid has a long history of difficulty with overcoming FaZe. The last five matches they've faced-off have been utter wipe-outs, though Liquid fought hard and showed some brief promise in their ESL Pro League 16-14 standoff with FaZe. Even with three weeks of additional training under Liquid's belts, we can't seem them offering any counter to the recently signed Olof 'olofmeister' Kajbjer (named best player in the world in 2015) or Ladislav "GuardiaN" Kovács, the new FaZE lurker and AWPer, respectively. Apart from their close Bo1 at the EPL finals, FaZe has categorically beaten every North American team they have played since picking up GuardiaN and olofmeister.
We're boring with our predictions here, but FaZe really is too strong right now to bet against – and they're an easy Pistol Winner, Round 1.
FaZE Clan to get Pistol Winner, Round 1 – 1.62 at Arcanebet.com
FlipSid3 Tactics vs. Misfits
Game 1, Friday, January 12 from 1pm EST at ELEAGUE Arena, Turner Studios, Atlanta
The end of last year wasn't too kind for FlipSid3 Tactics. One of their best players, Electronic, defected to fellow Boston ELEAGUE competitor Natus Vincere, they lost against several tier 3-4 teams in every qualifier played post-October, and placed a mediocre 5th-8th in the World Cyber Arena 2017 Europe.
Fans have barely seen Flipside play any LAN in the lead-up to the New Challengers, so confidence in their performance for a tense Bo1 (Best of 1) is low. While many will argue the team's highest result in the top 8 standings at ESL One Cologne 2016 was managed without Electronic, his loss is too significant to not feel a lot less excited about his replacement loan, Seized.
All of that is not to say the Misfits are the clearly better pick either, with some average performance in their last few majors and premiers outside of a top placing in the Americas Minor Championship 2018 in Boston. Their latest hard-fought battle against SK can't be faulted against them, however, and their IGL Sean "seangares" Gares definitely proved he still has it to lead the team right down to the wire.
While the two teams have not crossed paths in recent tournaments, we're a lot more confident in the Misfits line-up here as the dark horse.
Misfits to win – 1.80 at Arcanebet.com
Sprout Esports vs. Space Soldiers
Game 1, Friday, January 12 from 2pm EST at ELEAGUE Arena, Turner Studios, Atlanta
For these kind of major qualifiers, experience always trumps "oh, but they could upset!" if you want a smart bet.
In this case, Sprout (formerly Penta Esports) have yet to play a single official CS:GO match on the level of a Major or Premier, with only a small Qualifier and Minor under their belts. Their roster, which was acquired from Seed, also lacked experience and were thoroughly annihilated by Space Soldiers under this banner at Dreamhack and ESEA on two separate occasions last year, 2-0 and 16-6. They lack team synergy and consistency due to the roster shake-ups, as most haven't played together for very long.
The Space Soldiers form hasn't exactly been on point or consistent for their past dozen matches, but the core group have played together for much longer and know each other's strengths and weaknesses. While they have a decent baseline with some extremely talented players in the form of Can 'Xantares' Dörtkardeş and Buğra 'Calyx' Arkın, they're lacking a consistent AWPer, and their T-side needs work.
Overall, while Space Soldiers aren't a top tier team themselves, when they hit their stride, they can be very dangerous with their unpredictable aggro and their longer time practising and playing together is an advantage we can't ignore. For us, it's SS.
Space Soldiers to win – 1.51 at Arcanebet.com.
Natus Vincere vs. Quantum Bellator Fire
Game 1, Friday, January 12 from 3pm EST at ELEAGUE Arena, Turner Studios, Atlanta
Natus Vincere is one of the longest-running professional CS:GO teams with a rich history, holding the prestigious title of being the first team to win three major CS:GO tournaments in one year – the Intel Extreme Masters, Electronic Sports World Cup and World Cyber Games 2010.
Unfortunately, past success has not translated in recent years, with the team starting quite literally from the bottom 24 teams after a terrible last year with one exception – Dreamhack Winter, where they beat down Mousesports spectacularly for first place. Navi will have all eyes on them here to replicate their performance, move past being carried by star player Aleksandr 's1mple' Kostyliev and become the come back kid many fans want them to be.
Quantum Bellator Fire have a weird name and an even stranger path to Boston, having secured their spot by beating out Team Spirit in the CIS Minor lower bracket. They face scrutiny for having the lowest rankings and most unknown roster of the New Challengers, and we can't say we disagree. They've had extremely poor form in their last few matches, including a head-shaking 19th-22nd placing in the Loot Bet Cup, so we aren't exactly about to bet on an out-of-nowhere upset versus an established team facing a bit of a bad run.
Natus Vincere to win – 1.70 at Arcanebet.com.