by in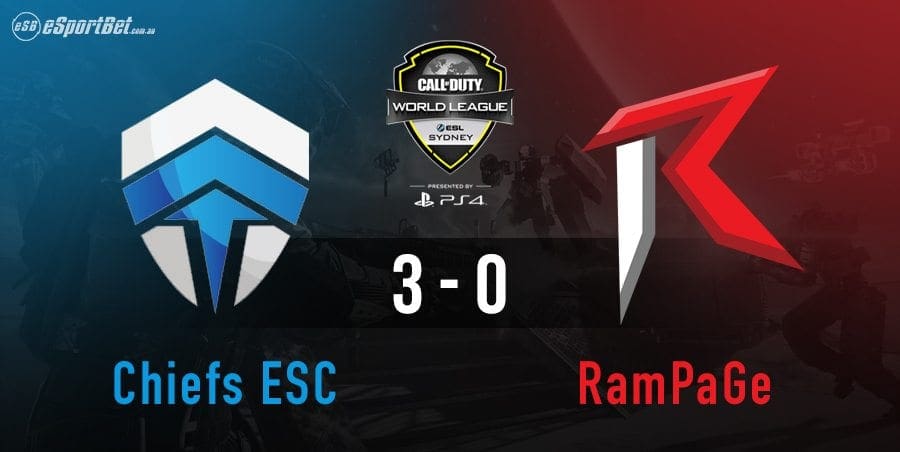 Chiefs eSports Club has completed the trifecta of clean sweeps in this year's Call of Duty World League Sydney Open 1 with a masterful 3-0 victory over RamPaGe Gaming in an intense game of Call of Duty Infinite Warfare.
Match 3 was all but secured as Chiefs ESC set the tone with an easy 250-51 win on Breakout, Hardpoint and an assured 6-1 victory on Crusher, Search and Destroy.
Despite their hard efforts, RamPaGe Gaming were unable to get past Chiefs ESC's strong defensive game, and the latter wiped the floor clean with a 16-0 win on Precinct, Uplink.
Match 4 will pit Validate Black against Rebellious, and is sure to be an entertaining match.
So far, Tainted Minds, Mindfreak and Chiefs ESC can rest easy with their Day One clean sweep victories – all one step closer to the big cash prizes.
For those just catching up, it's not too late to watch ESL Australia's CWL Open 1 Sydney via the official MLG stream.
It runs the entire March 3-5 weekend, so follow our official eSportBet Twitter page for live-coverage and results.
Keep locked on eSportBet.com for all the latest news, match results and betting guides for CWL Sydney and future events, such as CWL Sydney Open 2, which is officially set for May 12-14, 2017.