by in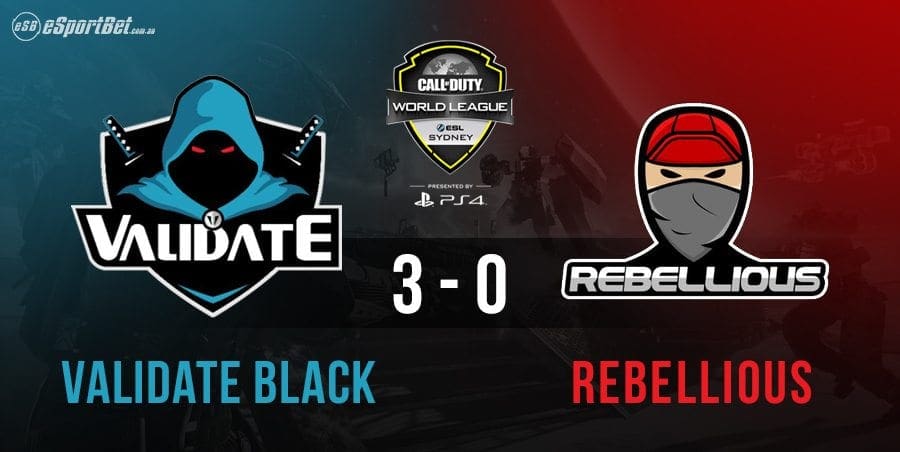 Validate Black have confidently secured an easy 3-0 victory over Rebellious in match #4 of the Call of Duty World League Sydney Open 1.
This is the fourth clean sweep of the day, with pro-gaming teams Tainted Minds, Mindfreak and Rebellious wiping out their competition in the previous three rounds.
Match 4 was Validate Black's game from the get-go, with a strong 250-86 opening on Breakout, Hardpoint and superior teamwork for 6-3 on Search and Destroy, Crusher.
Despite a harder fight from Rebellious in Precinct, Uplink, Validate Black reigned supreme, scoring 12-6 to take the win.
Match 5 will pit Rage ESC versus Prodigy eSports, which is sure to be a ripper of a match-up.
So far, Tainted Minds, Mindfreak, Chiefs ESC and Validate Black can kick-back from their hard-earned Day One victories, a few steps closer to the ultimate cash prize and pro point goals.
For the remaining two matches, make sure to watch ESL Australia's CWL Open 1 Sydney via the official MLG stream or on YouTube.
The event is happening across the entire March 3-5 weekend, but if you can't watch and want quick live updates, give us a follow over at the official eSportBet Twitter page or just drop a comment to say hi.
The CWL Sydney Open 2 is officially set for May 12-14, so the ANZ/APAC Call of Duty Infinite Warfare eSports action is far from over.