by in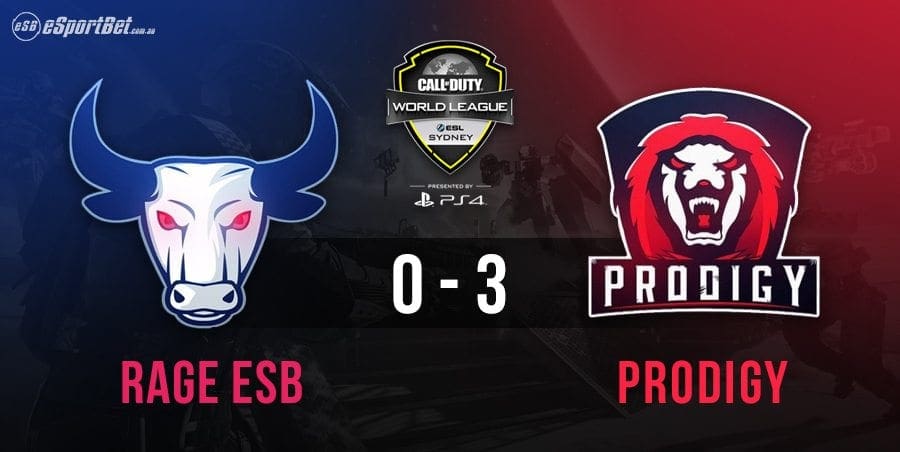 Prodigy eSports cleanly defeat Rage ESC to make an impressive 3-0 win in match #5 of the Call of Duty World League Sydney Open 1.
Another match-up, another clean sweep. Tainted Minds, Mindfreak, Rebellious and Validate Black beat down their competition in the previous four rounds with ease for similar 3-0 victories.
Match 5 opened with an amazing performance by Prodigy, with teammate Guydra landing a crucial three-piece kill to secure a hard-earned 250-194 on Breakout at Hardpoint.
Unfortunately for Rage ESC, Search and Destroy on Crusher did not go so well and Prodigy took the win with a cruisy 6-2.
Prodigy then went on to dominate Precinct, Uplink 19-2 to successfully grab the oh-so-sweet fifth 3-0 clean sweep today .
Match 6, the final round for the day, will pit Rage ESC versus Prodigy eSports, which is sure to be a ripper of a match-up.
That $14,000 top cash prize looks to be firmly in the cross-hairs of five very talented winning teams.
For the remaining match of today and the teams to play tomorrow, watch ESL Australia's CWL Open 1 Sydney via the official MLG stream, running the entire March 3-5 weekend.
Follow us on our official eSportBet Twitter page for live updates, tips and score-cards.
Don't fret if you can't watch this weekend's action: CWL Sydney Open 2 is officially set for May 12-14, so expect plenty more Call of Duty Infinite Warfare eSports action.