by in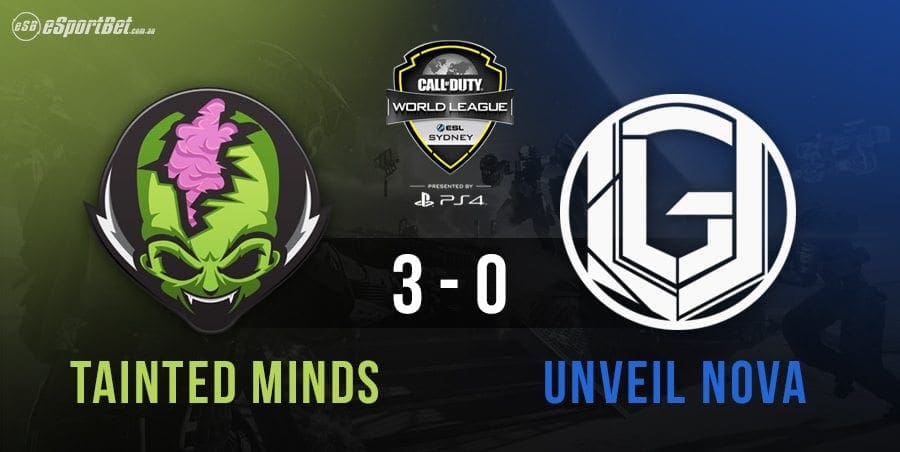 The Call of Duty World League Sydney Open 1 kicked off with a bang today in Sydney, Australia as Tainted Minds secured a 3-0 victory over Asia Championship winners UnVeiL NoVa in Match 1 of a heated game of Call of Duty Infinite Warfare.
The very first APAC LAN event for the 2017 season saw a stellar performance from the Australian-based team, who refused to let UnVeiL NoVa catch a break for the entirety of their match-up.
The stellar four-man team first secured an easy 250-94 victory on Breakout HP before cementing their domination with a quick 6-3 win on Crusher S&D. They then continued sweeping up with an impressive 19-3 final win on Precinct Uplink – and a cheeky last second score.
Other teams participating in CWL Sydney Open 1 include the 2016 regional champions Mindfreak, as well as Asia Championship runner-up and SONY Call Of Duty Asia pro team RamPaGe Gaming.
ESL Australia, based out of Sydney, is hosting Call Of Duty World League Sydney Open 1 in the ESL Sydney Studio.
ESL Aus is offering a $30,000 prize pool and 10,000 CWL Pro Points for the winning team.
The Pro Points are used to qualify for the Call Of Duty World League Global Pro League, which kicks off in April and leads into the Championship later in the year.
The rest of Call Of Duty World League Sydney will happen over the March 3-5 weekend. CWL Sydney Open 2 will kick off on May 12-14, with another $30,000 prize pool for the winning team.
Make sure to catch the CWL Sydney action live on the official MLG stream here.
Remember to give us a follow on the official eSportBet Twitter page for live-coverage and results.