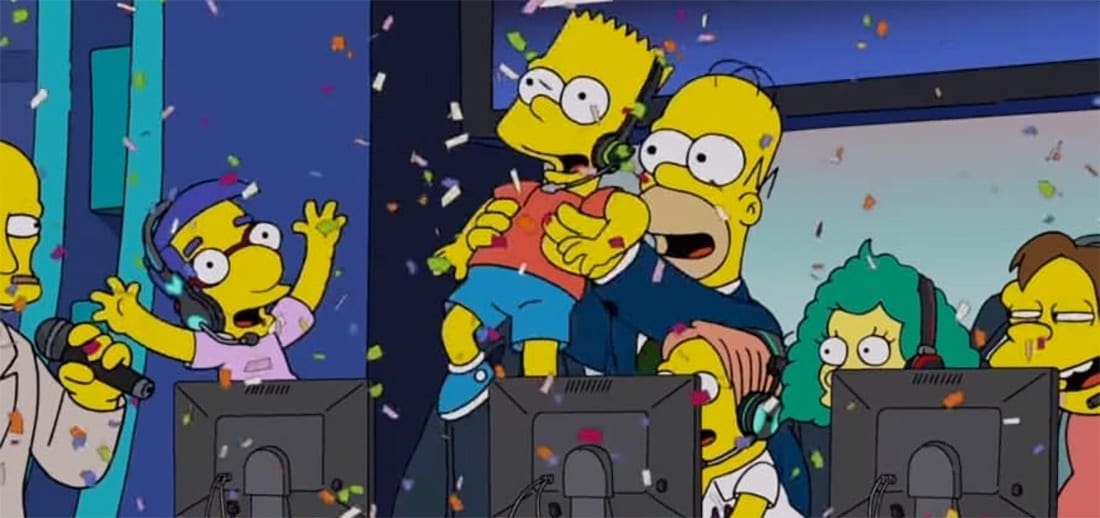 by in
The Simpsons may not be the global ratings powerhouse that it once was, but a new episode from the show this week centred on eSports still signals another exciting step for the industry.
The episode, titled E My Sport, features Bart Simpson embracing eSports with his friends and practicing intensely with an ambition to turn pro.
Bart, Milhouse, Nelson and other young characters from the longest-running TV show in history played a League of Legends knock off game called 'Conflict of Enemies' in an episode that ultimately painted an interesting picture of the eSports industry and some of the scandals and controversy that has surrounded it.
Spoiler alert: We discuss elements of the episode below.
In typical Simpsons style, the episode made fun of the lack of knowledge from the older generation about professional gaming.
Homer Simpson, one of the most iconic television characters in human history, had not heard of eSports, nor had Bart's school principal, Seymour Skinner.
Once Homer realised Bart was good enough to go pro, he obsessively pushes Bart to train like a helicopter parent in order to share in his success.
Some other interesting little industry commentary in the episode included:
A 'burned out, washed up' 19 year old gamer, 'The Detonator' that played Bart's coach, highlight the high turnover and short shelve life of players in the industry.
The episode used a number of prominent eSports slang words.
The episode touches on the industry's challenges with sexism – Krusty the Clown's daughter Sophie claims that win or lose, she will be 'the most famous girl in gaming'.
While the topic of eSports in an animated TV show may not seem like a big deal, it is yet another example of the growing notoriety of the industry and will no doubt introduce the sport to new fans around the world, while helping educate older audiences in a new way.
The episode follows a number of major sponsorship announcements from the world's biggest sporting apparel brands and a growing number of sponsorship deals and international sporting codes announcing new esports leagues.
As usual, we're watching this industry grow every step of the way and we're excited by every step.