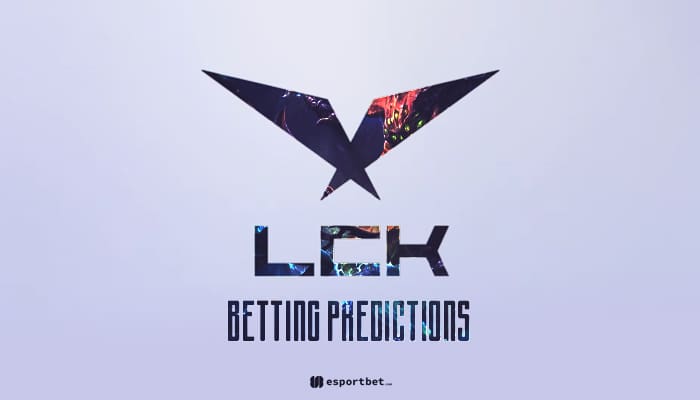 by in
The League of Legends Champions Korea (LCK) Summer split will kick off this Wednesday, with two matches to be played each day for the remainder of the week. Here are ESB's free LCK betting picks for the first two series of the split — KT Rolster vs Hanwha Life Esports and Dplus KIA vs SANDBOX Gaming.
---
KT ROLSTER vs HANWHA LIFE ESPORTS LoL BETTING & MATCH DETAILS

Best Odds:
KT -175.44 at BetOnline | HLE +240 at BetOnline
When:
June 7, 2023 | 17:00 KST
Watch Live:
Lolesports, Twitch
The opening series of the split will be a rematch of the lower-bracket semifinal from the LCK Spring playoffs, where KT Rolster defeated Hanwha Life Esports 3-1 in a best-of-five series.
After their best finish in the LCK since winning the LCK Summer 2019 split, KT Rolster are ready to challenge the likes of Gen.G, Dplus KIA and T1 this upcoming season. Even though they haven't added any new players over the break, this team is ready to win, and KT should be able to go deep into the playoffs for the second split in a row.
Hanwha Life Esports signed five new players to fill their roster before the LCK Spring split, and there was a renewed hype about the team that finished in last place for both the spring and summer splits during 2022. However, the start to the spring split wasn't great, as the roster was still trying to work out how to play with one another.
Slowly but surely, however, HLE found their way through the middle stages of the regular season. Their upset victory over Dplus KIA in the quarterfinals showed that the roster is on the right path, but Hanwha still weren't good enough to match the likes of KT Rolster, Gen.G and T1.
Both KT Rolster and HLE will be pushing for a top-four position in the LCK for this split, and we believe that we will see a good three-map series to open the LCK Summer split.
---
DPLUS KIA vs SANDBOX GAMING LoL BETTING & MATCH DETAILS

Best Odds:
Dplus -333.33 at BetOnline | SG +240 at BetOnline
When:
June 7, 2023 | 19:30 KST
Watch Live:
Lolesports, Twitch
Dplus KIA jumped out of the blocks to begin the spring split, winning three of their first four series, with one of those wins coming against SANDBOX Gaming. However, late in the campaign, when they had to battle with the likes of KT Rolster, Gen.G and T1 for a top-two spot, they dropped a couple of matches and ended up finishing the regular season in fourth place.
Even though they went into their opening playoff game against Hanwha Life Esports as a heavy favourite, Dplus were knocked out of the playoffs in quick fashion. The core of this roster has been together for some time now, and we still expect Dplus to be fighting for a top-three position at the end of this split.
SANDBOX Gaming were one of the few teams that made a change over the break, adding Park "Teddy" Jin-seong as their new AD carry after Lee "Envyy" Myeong-joon left. It will take some time for the roster to gel with Teddy, so we could see some early-season struggles — especially against the bigger teams.
With SANDBOX trying to work things out with their new player, and with Dplus KIA known for their strong starts, expect Dplus to get the job done rather comfortably.