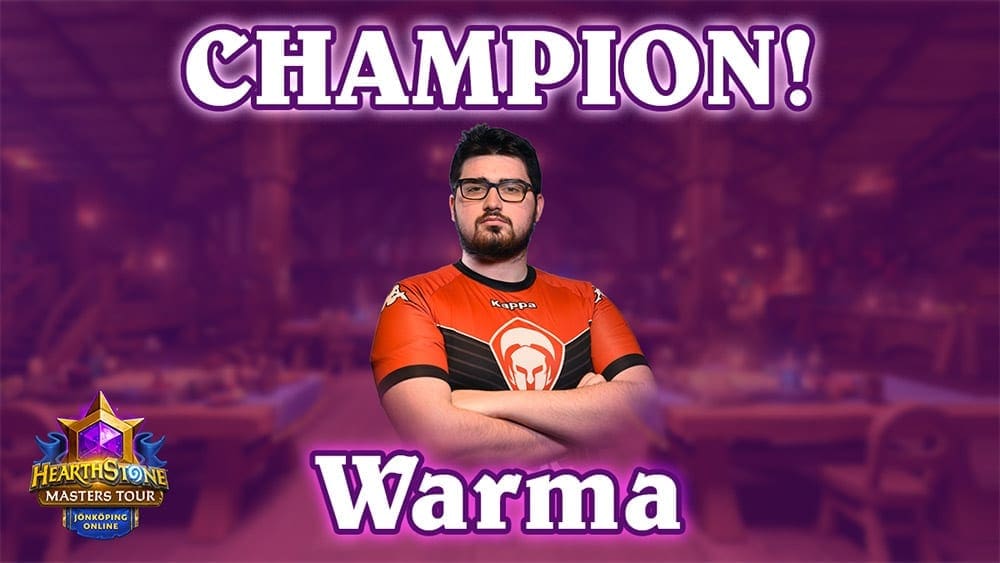 by in
Enzo "Warma" Flock emerged as the Masters Tour Online: Jönköping champion on Sunday and, with that, became one of nine players who will compete in Hearthstone Grandmasters Season 2.
With well over 300 players and a US $500,000 prize pool, the Jönköping tournament was recognised as one of the most competitive Masters Tour events to date.
After making it through the first stage without much hassle, Warma defeated WEStone in five rounds to reach the semi-finals. The French tactician then took on Ramiro "Rami94" Ponce, defeating the Americas Grandmaster 3-1 to reach the decider.
In the grand finals, Warma met with Salvatore "Pignas" Pignolo, whose Demon Hunter-Druid decks failed to stack up with his opponent's Demon Hunter-Rogue-Druid combination. A commanding 3-1 win saw Warma collect $32,500 in tournament winnings and the title of Masters Tour champion.
With his victory, Warma became the third French player to win a Masters Tour event, following in the footsteps of his compatriots Théo "Felkeine" Dumont, who triumphed at Masters Tour Seoul, and Zakarya "xBlyzes" Hail, who won both Masters Tour Arlington and Masters Tour Los Angeles.
With the relegation of nine players at the end of Grandmasters 2020 Season 1, which concluded last weekend, Masters Tour Online: Jönköping was also the last chance for Hearthstone pros to receive an invite for the second season.
The top three players from each region based on total winnings from Masters Tours Arlington, Los Angeles, and Jönköping have now been announced and are set to join Grandmasters Season 2, where they will look to book a spot at the Hearthstone World Championship later this year.
Next on the Hearthstone schedule is Masters Tour Online: Asia-Pacific, which is set to take place from July 17-20.
Grandmasters 2020 Season 2 invited players
Americas:
Ramiro "Rami94" Ponce (ARG) – $15,850
Luke "NoHandsGamer" Kooken (USA) – $14,250
Brian "brimful" Schneider (USA) – $14,100
Asia-Pacific:
Alan "Alan870806" Chiang (TW) – $18,100
Poramet "Bankyugi" Putchakan (TH) – $15,850
Li "TIZS" Ching-Li (TW) – $15,500
Europe:
Zakarya "xBlyzes" Hail (FR) – $65,850
Enzo "Warma" Flock (FR) – $36,000
Romaric "AyRoK" Dubois (FR) – $25,750