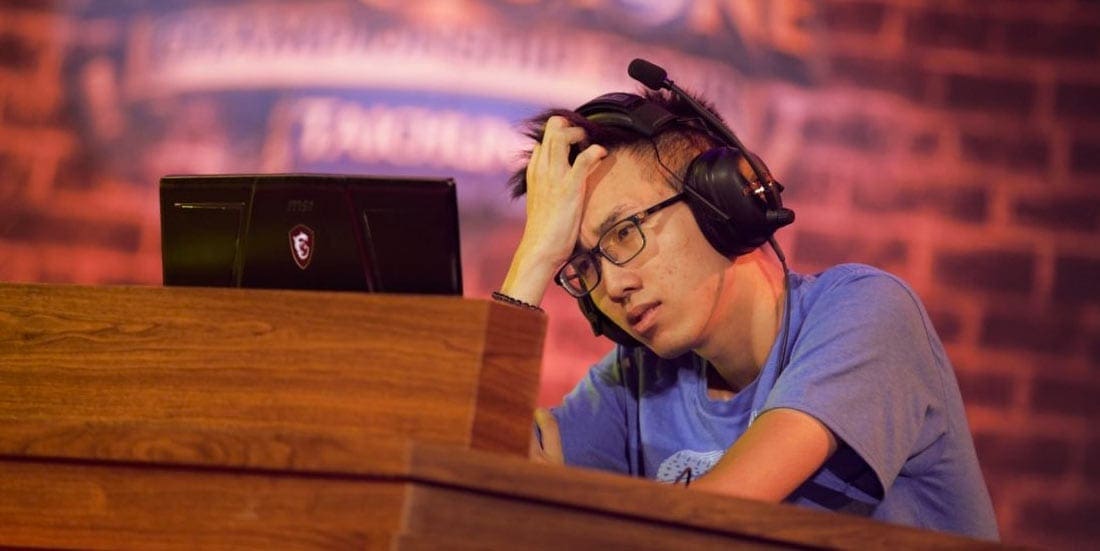 by in
Hearthstone esports pro Chung "Blitzchung" Ng Wai has copped 12-month ban from competitive play after expressing his support for the ongoing protests in Hong Kong.
The HK native made the headlines due to his controversial statements during a live streamed interview that took place after his Asia-Pacific Grandmasters tournament match.
Blitzchung appeared wearing a mask, closely resembling that of the protesters, yelling out "Liberate Hong Kong, revolution of our times", a slogan used by the social movement in Hong Kong.
His actions, however, did not sit well with Blizzard, who took immediate action against the pro as well as both casters involved.
Blitzchung suffered a 12-month ban, preventing him from participating in any Blizzard-run tournaments beginning from October 5, 2019 and extending to October 5, 2020. On top of that, he lost all prize winnings he earned at the event, where he finished seventh in his group, which would have awarded him with US $3,000.
Blizzard also released a statement talking about both casters, claiming that despite them physically "ducking" from Blitzchung's comments on air and immediately cutting the stream to commercials, the company decided to immediately cease working with them.
Activision Blizzard justified their decision by saying the interview broke the tournament rules, which dictate that players may not take any action that could damage Blizzard's image.
Section 6.1 of the 2019 Hearthstone Grandmasters Official Competition Rules states: "Engaging in any act that, in Blizzard's sole discretion, brings you into public disrepute, offends a portion or group of the public, or otherwise damages Blizzard image will result in removal from Grandmasters and reduction of the player's prize total to $0 USD, in addition to other remedies which may be provided for under the Handbook and Blizzard's Website Terms."
Blizzard ended their ruling by saying: "While we stand by one's right to express individual thoughts and opinions, players and other participants that elect to participate in our esports competitions must abide by the official competition rules."
Soon after the incident, many players, esports fans as well as companies and other legal entities expressed their dissatisfaction with Blizzard's decision to punish Blitzchung, claiming Blizzard is catering too much to China, which is not the first time something like that has happened.
One of the first to jump at the opportunity to criticise Blizzard was the creators of Gods Unchained, who decided to show their support for Blitzchung, by claiming they will pay him for all his lost winnings on top of gifting him a ticket to their US $500,000 tournament.
In the wake of the news, it seems like some of Blizzard's employees started their own silent protest by covering up parts of Blizzard's statue at the centre of Blizzard's campus in Irvine California.
The covered parts show companies core values written on it, such as "every voice matters" and "think globally", which compared to current events come off as contradictory to Blizzard's actions.
The news also reached some more influential individuals such as US senator Ron Wyden, who commented on the situation with a Twitter post which read: "Blizzard shows it is willing to humiliate itself to please the Chinese Communist Party. No American company should censor calls for freedom to make a quick buck."
Blizzard have found themselves between two fires, seeing how the company has ties with Tencent Holdings Ltd. and NetEase Inc., both Chinese firms who help distribute and co-develop many Activision's game titles. Tencent also holds a 4.9% stake in Activision Blizzard, meaning taking no action on the matter could result in a huge financial disaster for the company.
MORE ESPORTS NEWS