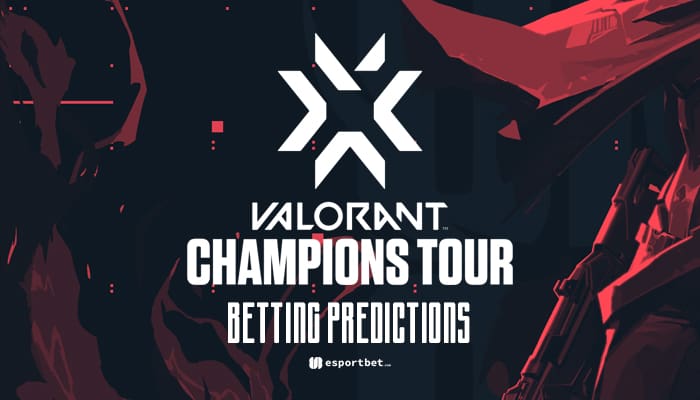 by in
Valorant Champions Tour (VCT) 2023 Masters Tokyo enters the first round of playoffs on Friday, June 16, with two exciting clashes in Paper Rex vs DRX and Fnatic vs NRG Esports. Here you can find our selections for those two matches, with Valorant esports betting odds courtesy of BetOnline.
---
PAPER REX vs DRX VCT BETTING & MATCH DETAILS

Best Odds:
PRX +100 at BetOnline | DRX -138.89 at BetOnline
When:
June 16, 2023 | 15:00 JST
Watch Live:
Twitch (https://www.twitch.tv/VALORANT)
Paper Rex and DRX will cross swords on Friday, June 16, in the first round of VCT 2023 Masters Tokyo playoffs, for the fourth time this season. Paper Rex already met with DRX during the regular season and twice in VCT 2023 Pacific League playoffs, with the last two matches ending in the Singaporean side's favour (2-0, 3-2).
But despite beating DRX twice over the last 30 days, Paper Rex enter this match as underdogs. This might not be too wrong, considering DRX had a chance to warm up in the group stage last week, and they didn't look too bad, with wins against Attacking Soul Esports (2-0) and FUT Esports (2-1). Still, DRX being warmed up is the only real argument we can make in their favour.
DRX looked like the best Valorant team in the Pacific region for the entire regular season, but then they fell off in the playoffs and have yet to show any remarkable improvement. Paper Rex to win at even odds or better is a solid bet.
---
FNATIC vs NRG ESPORTS VCT BETTING & MATCH DETAILS

Best Odds:
Fnatic -1666.67 at BetOnline | NRG +700 at BetOnline
When:
June 16, 2023 | 15:00 JST
Watch Live:
Twitch (https://www.twitch.tv/VALORANT)
Fnatic were nearly unstoppable this season. They first won VCT 2023: LOCK//IN São Paulo and then completed their run through VCT 2023 EMEA League regular season with a perfect 9-0 record. But their flawless form came to a stop in the EMEA League finals, where Fnatic had to admit defeat to Team Liquid (1-3) in one of the biggest upsets of the season.
Losing the finals is not a good look for Fnatic, but one defeat doesn't change the fact that Fnatic have since VALORANT Champions 2021, lost only 12 games (45-12) and just one over the last 22.
NRG Esports looked surprisingly good in the final stage of VCT 2023 Americas League, and even though they couldn't beat LOUD in the finals (9-13, 11-13, 11-13), NRG came very close. Considering what NRG have shown in the Americas League playoffs, they're a serious threat for a deep run in Tokyo, but they're not getting much respect.
More times than not, Fnatic should defeat NRG, but NRG had time to warm up, and they're much stronger than what the current Valorant betting odds suggest. This should be a very competitive series that can reach the third map.