by in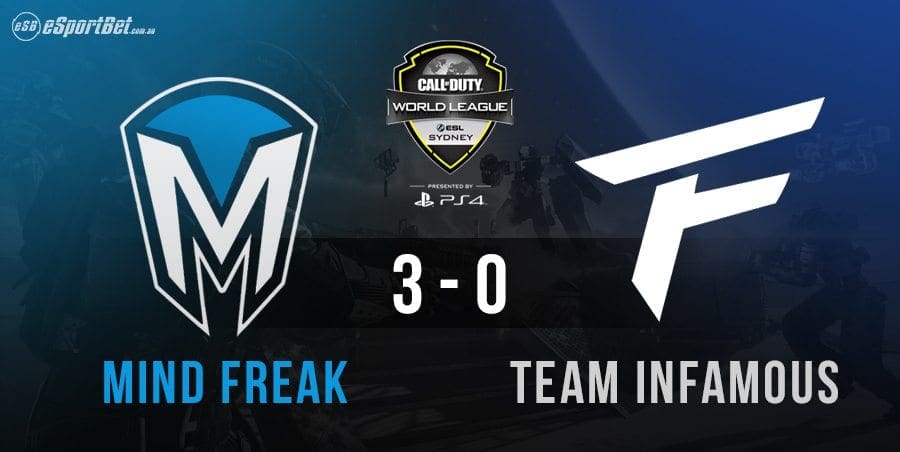 Call of Duty World League Sydney Open 1 is becoming a bit of a clean sweep event as Mindfreak grabs a well-earned 3-0 victory against Team InFamous in Match 2 in a heated game of Call of Duty Infinite Warfare.
The second APAC LAN event for the 2017 season saw a hard-fought and entertaining conflict between the two pro teams, but Mindfreak ultimately proved superior with an opening 250-158 win on Breakout, Hardpoint and an edge-of-seat clutch 6-5 win on Crusher, Search and Destroy (shout out to JSpaydz on Team InFA for a tense last man standing effort), before finishing things off with a 18-4 final win on Precinct, Uplink.
The third match for CWL Sydney Open 1 pits Chiefs ESC versus RamPaGe Gaming, both extremely formidable teams with plenty of players who have made it to the championships, and both of who will no doubt put on a great show.
ESL Australia, based out of Sydney, is hosting Call Of Duty World League Sydney Open 1 in the ESL Sydney Studio.
ESL Australia has $30,000 in prizes and 10,000 CWL Pro Points for the winning team.
CWL Pro Points are used to qualify for the Call Of Duty World League Global Pro League, which kicks off in April and leads into the Championship later in the year.
CWL Sydney Open 2 will kick off on May 12-14, with another $30,000 prize pool waiting for the winners then.
So far, Tainted Minds and Mindfreak can rest easy with their Day One victories, edging one step closer to the big cash prize.
Keep watching the Call Of Duty World League Sydney, which runs the entire March 3-5 weekend, via the official MLG stream.
Follow us on the eSportBet Twitter page for our live-coverage and tips.
Bookmark eSportBet.com for all the latest news, match results and betting guides for CWL Sydney and future tournaments.