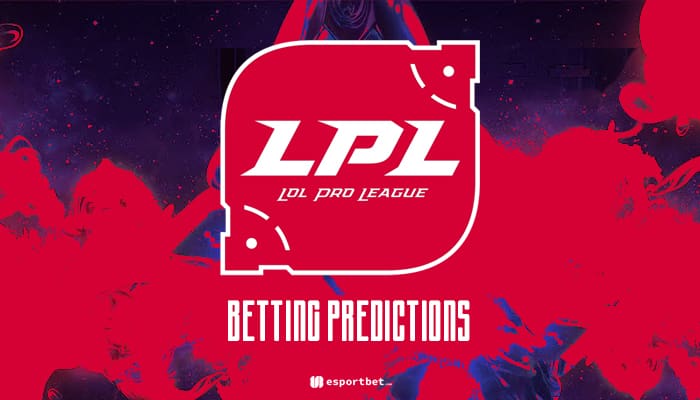 by in
ESB's free League of Legends betting tips for Thursday, June 8, focus on three LoL Pro League (LPL) 2023 Summer bouts. Here are our selections for Rare Atom vs FunPlus Phoenix, LGD Gaming vs JD Gaming, and LNG Esports vs Weibo Gaming, with esports betting odds courtesy of BetOnline.
---
RARE ATOM vs FUNPLUS PHOENIX LoL BETTING & MATCH DETAILS

Best Odds:
RA -138.89 at BetOnline | FPX +100 at BetOnline
When:
June 8, 2023 | 15:00 CST
Watch Live:
Lolesports, Twitch
Rare Atom enter their next match against FunPlus Phoenix following defeats against Royal Never Give Up (2-0) and Bilibili Gaming (1-2). Seeing Rare Atom struggle early into the split isn't shocking, considering all the roster changes they've made, but this squad has potential.
As seen in their match against Bilibili Gaming, Rare Atom are not afraid to fight and can do serious damage if not contained. Their macro still needs a bit more work, but we can be cautiously optimistic about Rare Atom and what they can achieve this season.
FunPlus Phoenix are an interesting team with great players, yet they don't seem to know how to put it together and consistently struggle in the mid-late game transition. That was the case last split, and nothing has changed. They produced a very impressive comeback win against ThunderTalk Gaming (2-0) on the opening day of the split, but their showing against UltraPrime (0-2) on Friday left a lot to be desired.
Rare Atom can be a bit of a hit-or-miss proposition, and their volatile playstyle can turn around and bite them, but RA have a much higher upside than FunPlus Phoenix, who struggle with fundamentals.
---
LGD GAMING vs JD GAMING LoL BETTING & MATCH DETAILS

Best Odds:
LGD +900 at BetOnline | JDG -3333.33 at BetOnline
When:
June 8, 2023 | 17:00 CST
Watch Live:
Lolesports, Twitch
LGD Gaming haven't shown us much this season and enter this match on a three-game slide, with defeats against Invictus Gaming (0-2), ThunderTalk Gaming (1-2), and Ninjas in Pyjamas (1-2). We still have hope in this team and their ability to perform much better than what they've shown, but before we see something, it's very tough to justify betting on them against any team.
This becomes even harder for this match, as LGD Gaming take on one of the world's strongest teams and the leading candidates to win the LPL crown, JD Gaming. With a 1-1 record, JD Gaming still have a lot more to prove to justify their tag as the favourites, but it's not like they've looked bad in their loss against Weibo Gaming (0-2), nor did they disappoint in the 2-1 victory against LNG Esports on Sunday.
The Mid-Season Invitational fatigue might still be present, but this shouldn't matter here. We won't be overpaying the favourites, either. Under 24.5 kills is a solid pick given JDG aren't the type to play with their food.
---
LNG ESPORTS vs WEIBO GAMING LoL BETTING & MATCH DETAILS

Best Odds:
LNG -188.68 at BetOnline | Weibo +137 at BetOnline
When:
June 8, 2023 | 19:00 CST
Watch Live:
Lolesports, Twitch
LNG Esports have looked good in their win against Top Esports (2-1) and loss against JD Gaming (1-2). Both games were very close and could've ended either way, so going 1-1 is a fair outcome for what LNG Esports have produced.
Weibo Gaming started the LPL 2023 Summer with a commanding victory against JD Gaming (0-2) but then slipped against Oh My God (1-2), yet that looks much worse than it is. Oh My God are a very good team that isn't getting much respect, so even though beating WBG is a huge success, it's hardly a concerning result for Weibo Gaming.
Talent-wise, LNG Esports and Weibo Gaming are very similar. Weibo Gaming have a higher ceiling, but they were also far more inconsistent last split (which could change with the new coach), so the question is not so much which is the better team but whether Weibo Gaming will show what they're capable of.
At the offered LoL betting odds, over 2.5 maps makes the most sense, as it's doubtful we'll see a stomping by either of the two squads.