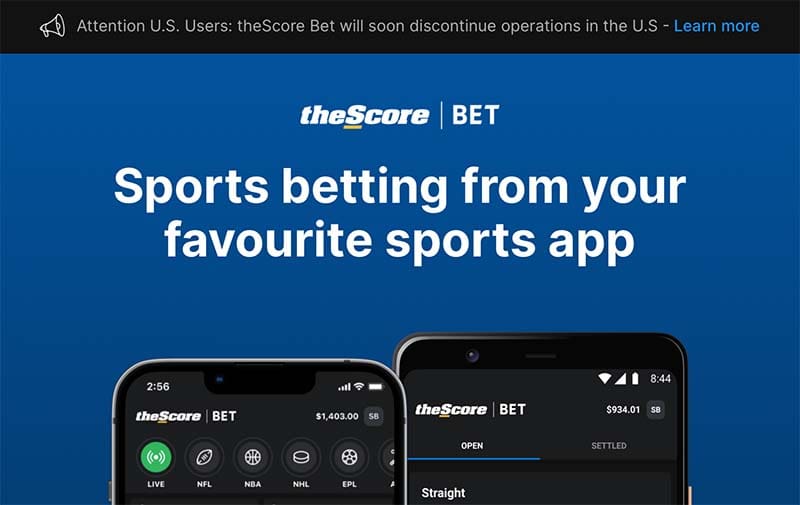 by in
Toronto-based betting brand theScore has announced its plan to stop operations in the United States, effective from July 1.
theScore was acquired by the Penn National Gaming group last August in a bid to expand its North American market share, which is largely made of their Barstool Sports operation.
After originally launching in New Jersey, theScore started accepting sports bets in three other states: Colorado, Iowa, and Indiana.
But from Wednesday June 15, theScore.Bet will no longer take any deposits or accept any bets from customers. The US bookie was acquired last year for a reported fee of $2.1 billion and stock acquisition by Penn National Gaming.
The recently announced, but not unexpected, move into Canada will see theScore (theScore.Bet esports review) position itself as a market leader in the newly regulated market.
The company already has a successful sports news and statistics app in the country, that has millions of users, which they will attempt to leverage to dominate the Canadian betting industry.
Notes about theScore.Bet US closure
Betting will be completely stopped on June 15, to enable them to process all payouts before the due date of July 1.
The only allowed activity is withdrawals
All accumulated bets will be completed on or before July 1, and all NBA and NHL playoffs will be settled as always.
Customers that have running bets that exceed the July 1 date will be communicated on the way forward.
Any remaining funds in the customer's account after July 1 will be settled via check and mailed to the customer's address.
For now, account transfer between theScore Bet and Barstool is not possible.
---
TheScore Bet Ontario's Performance
Within the first month of betting operations in the Canadian province of Ontario, roughly 79% of sports bettors downloaded and used theScore's app to place a bet in the newly regulated market.
Ontario online gaming downloads since the market regulation on April 4 can be seen as follows:
TheScore had a total of 50% of all sports betting app downloads, followed by Bet365 with 36% and MGM and Bet Rivers with 3% each. This clearly shows the position of theScore in the market.
Barstool versus theScore
theScore.Bet, since its launch in April in the Canadian province of Ontario, has registered tremendous success, it is currently topping the app download chart in the newly regulated market.
With the stop of operations in the United States, theScore will focus on driving its growth in Ontario and moving its innovative technological drive north of the U.S. border.
Barstool sportsbook will focus on the U.S market; this is a strategic move from Penn National Gaming. Presently, the Barstool online sportsbook is available in Pennsylvania, Michigan, Colorado, Indiana, Colorado, Virginia, New Jersey, and Arizona.
Barstool has a huge fan base, and it's not clear if theScore's customers' accounts will be integrated into the Barstool database, but from predictions, several of theScore's customers will open a new betting account on Barstool.
Barstool will take the U.S market lead while theScore focus on retaining the market in Ontario.
The President and Chief Operating Officer of theScore, Benjie Levy, commented on the significance of both brands operating in two seperate markets and the opportunity it offers for the brands to explore and grow.
"With theScore Bet launched and thriving in Ontario, and as we approach a major undertaking this summer with the launch of our proprietary risk and trading service, the timing is right to focus our US efforts on marketing Barstool Sportsbook and our Canadian efforts on marketing theScore Bet," he said.
"This move enables us to maximize the value of both brands through our organic media and gaming approach. Key to our strategy is integrating theScore media app with Barstool Sportsbook, which we're currently working towards"
"Bringing together theScore's powerful mobile sports media platform with Barstool Sportsbook in a unified ecosystem, supported by our in-house technology and custom integrations, will strengthen the overall U.S. product offering and broaden its reach."