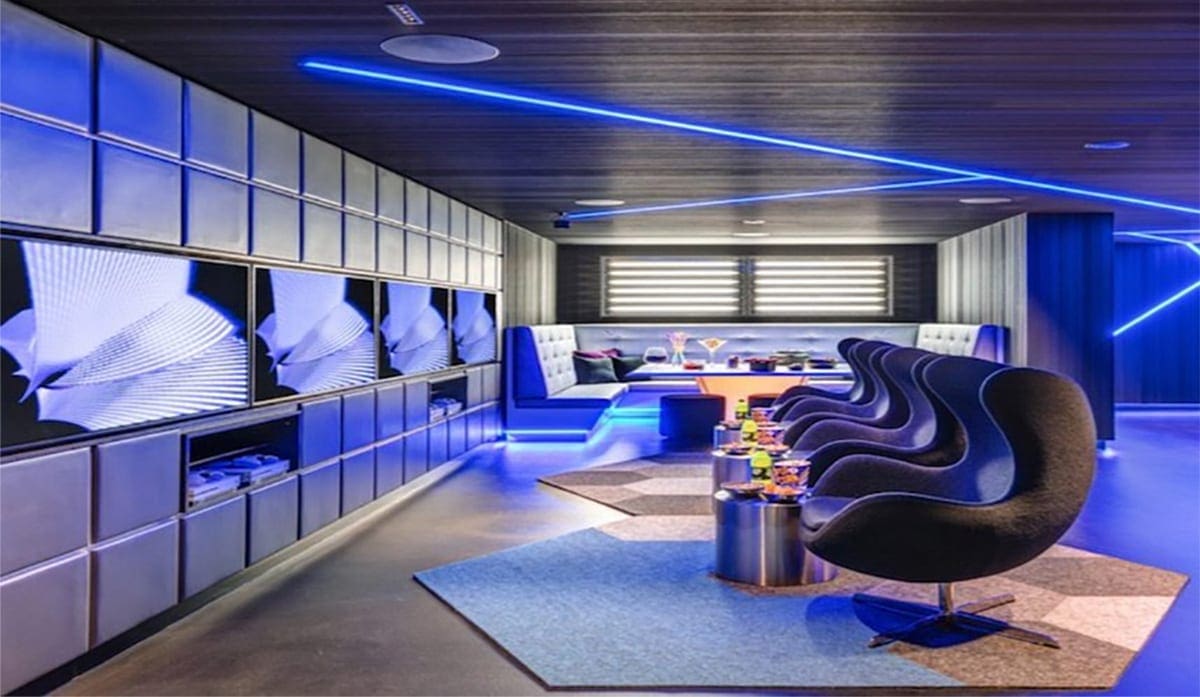 by in
Aussie gamers take note – the gaming haven of your dreams has just opened its doors in The Star Casino Sydney.
The Cyberpunk Studio is part of the Studios at the Star collection, where guests can hire themed rooms for up to 25 guests for private parties or get-togethers while experiencing the premium benefits of The Star's in-house hotel services.
The Cyberpunk Studio has been designed with passionate gamers in mind, offering the ultimate in gaming and virtual reality technology. The sophisticated studio has been designed to have a futuristic feel, with hanging chairs, blue mood lighting, a chill out zone and a bar that have been carefully designed to have a space-age look to appeal to tech-heads.
If you can afford to shell out the $1,500+ a night starting price tag, the Cyberpunk Studio has an open plan gaming space that covers all your gaming needs. There's a fully decked out virtual reality chamber complete with VR headsets, handsets and vests that are all hooked up to a large interactive screen, plus four Xbox gaming stations that are connected to a wall of 65" flat screen televisions. The cyber menu gives you access to a massive selection of pre-loaded Xbox games and a virtual reality arcade. Egg style chairs not only provide ultimate comfort while kicking back for a long gaming session, but also add to the space-age design of the studio.
You can set the mood for your gaming party with interactive mood lighting and music, with additional AV facilities available upon request. Food, beverage and catering options can be tailored to suit your requirements, while a dedicated "Tech Butler" is also available to "guide guests through the fiercely futuristic space."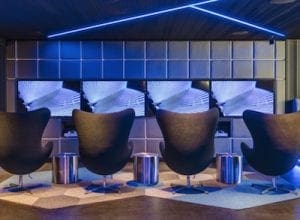 The Cyberpunk Studio has the capacity to host 25 guests at a time, while sleeping two people overnight. The Star advertises it as "perfect for guests who wish to host a boy's night out or corporate team building" but we think this room would be perfect for any gaming enthusiasts and eSports fans. The price tag might seem high, but get a big enough group together to split the costs and you're looking at a small price to pay for a gaming experience that hugely trumps your average local LAN parties or Internet cafes.
Scott Dinsdale, Media and Entertainment lead for consultancy firm Accenture, said, "The Cyberpunk Studio is the first of its kind, offering the latest in gaming and virtual reality technology that's easily accessible, yet seemingly invisible. It's an example of how compelling experiences with technologies can create a new and immersive customer experience."
Other studios in the collection include the Dark Romance lovers lair, and the 70's Glam studio which captures the essence of the disco-era. Find out more about The Star's Cyberpunk Studio or make a reservation here.