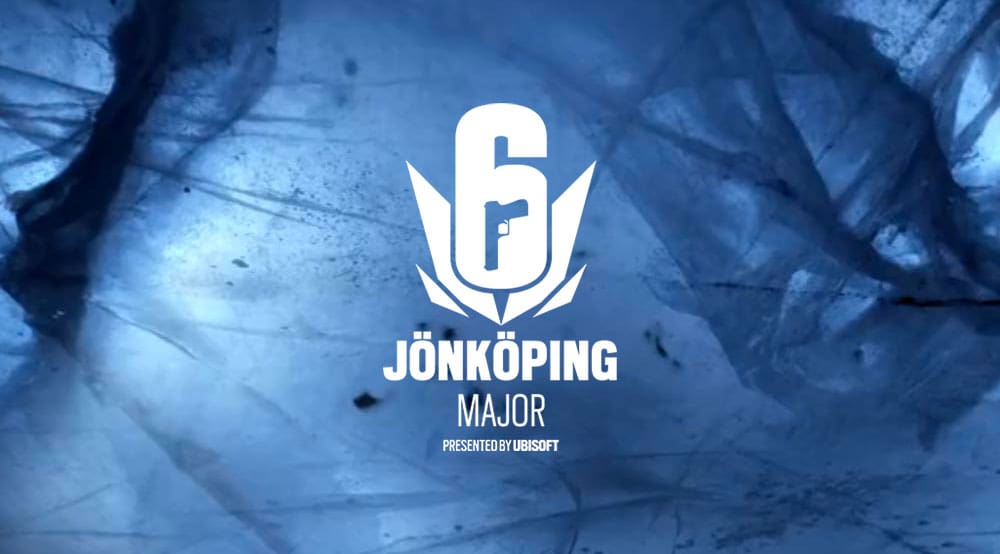 by in
The third and last Rainbow Six Siege Major of the 2022 season, the Six Jönköping Major, is set to kick off on Monday, November 21, in Sweden. The event will see 16 Rainbow Six Siege esports teams vying for the lion's share of the US$200,000 prize pool and the final trophy of the year.
Six Jönköping Major 2022 tournament format
The Six Jönköping Major 2022 will use the same format as the previous R6S Majors, with 16 R6S seeded into four double round-robin groups of four. Every team will have a different regional seed, while all matches are played as best-of-one.
After three rounds of play, the top two teams from each group will advance into the single-elimination bracket playoffs, where the remaining eight squads will compete for a spot on the big stage. The playoffs will pair each group's first- and second-placed teams with randomised seeding, while all matches (except for finals) will be best-of-three.
The grand finals, scheduled for Sunday, November 27, will be played as a best-of-five series, without map advantage.
Six Jönköping Major 2022 group preview
The tournament organisers have done a good job with the group stage seeding, producing four very exciting pools, some with no clear favourite to make it into the knockout stage. But while there are some questions, namely how some teams will do on LAN, we have a pretty good idea of which eight teams will reach the playoffs.
Group A
Teams: Black Dragons e-Sports, CYCLOPS athlete gaming, MnM Gaming, Soniqs
Group A features three teams that have never made it out of an R6S Major group stage before. Moreover, it's the first Major for Black Dragons e-Sports, who will surely want to leave a good impression.
Although it is hard to say how this group will go down, it's fair to say that Soniqs will come out victorious. Soniqs placed top six at the Six Invitational in February and have since strengthened their roster with Emilio "Geometrics" Leynez and Shaun "Gunnar" Pottorff, who have looked good this season.
Moreover, Soniqs have Pablo "Gryxr" Rebeil, who always delivers on LAN, and if he can step up and enable his teammates, Soniqs can go far. While we can confidently say that Soniqs will win the group, it's tough to say who will join them in the playoffs.
CYCLOPS athlete gaming deserve some attention for their domestic performances, but they're also a team you wouldn't trust on the international stage. Likewise, MNM Gaming have looked solid this season, but the lack of LAN experience makes it tough to trust them, so we have to give it to Black Dragons e-Sports.
Expected Group A result:
Soniqs
Black Dragons e-Sports
MnM Gaming
CYCLOPS athlete gaming
---
Group B
Teams: Heroic, Team Liquid, TSM, SANDBOX Gaming
Group B consists of four teams that have all made roster changes this season and are now trying to prove which has done a better job forming a strong squad.
But even though this could be a very competitive group, Team Liquid strike us as the clear favourites to come out on top. They bring excellent form into this tournament, due in no small part to the signing of Lorenzo "Lagonis" Volpi.
Another big advantage is Liquid's schedule, which will see them play SANDBOX Gaming and Heroic in the first two rounds – a perfect recipe to build some momentum and confidence. As for who we believe will finish the group in a second, picking TSM makes the most sense.
Although TSM are no strangers to choking, they have a very high ceiling, and the roster is highly experienced on LAN. Of course, there is every chance that TSM will slip and finish the group in third, but we wouldn't count on that happening this time.
Expected Group B result:
Team Liquid
TSM
SANDBOX Gaming
Heroic
---
Group C
Teams: FURY, Spacestation Gaming, Team BDS, w7m esports
The question for this group is not which of the four is the strongest, but rather which team will lose to FURY, whose only job is to play a spoiler.
If we compare w7m esports, Team BDS, and Spacestation Gaming, they all have a realistic chance to beat one another, so the results between them won't play as big of a role as their showings against the group outsiders.
But as hard as it is to predict which of the three squads will slip, it will likely be Spacestation Gaming. That might sound strange, knowing that SSG are one of the top defensive teams in Rainbow Six Siege, but they're terrible in the offence, which could be a problem.
In contrast, Team BDS and w7m are far more balanced but also very strong in the defence. It's tough to call how the group will play out, but if we had to pick the order, w7m should come out on top, followed by BDS, SSG, and FURY in last place.
Expected Group C result:
w7m esports
Team BDS
Spacestation Gaming
FURY
---
Group D
Teams: Dire Wolves, FaZe Clan, Mirage, Wolves Esports
Group D is undeniably the easiest to predict, as there is a clear gap between the top and the bottom two squads. FaZe Clan and Wolves Esports are both priced at +137 with BetOnline to win the group, followed by Mirage (+400) and Dire Wolves (+400).
Even though it's not fair to underestimate any team that qualifies for R6S Major, finding a solid reason to back either Mirage or Dire Wolves to reach the playoffs is tough. That is not necessarily because they are weak, but because FaZe and Wolves are so much stronger.
Dire Wolves could play a spoiler if Hou "Ed" Tsung-cheng and Wu "Reeps96" Weichen show up, and if either FaZe or Wolves slip, it's not entirely unlikely that DW can claw their way into the playoffs. As for Mirage, they have shown some promise this season, but as their recent results suggest, it seems they've yet to figure things out.
Expected Group D result:
FaZe Clan
Wolves Esports
Dire Wolves
Mirage
---
Six Jönköping Major 2022 betting picks
If the group stage plays out as we expect, the Six Winter Major playoffs will be a bloodbath. The esports betting sites have priced Team Liquid (+500) as the most likely team to lift the trophy, closely followed by TSM and w7m esports at +600 apiece, with FaZe, Soniqs, and Wolves Esports all at +700.
There's a lot of uncertainty about how the playoffs will play out due to the randomised seeding, but if we go purely off the teams' quality, Wolves, Team Liquid, Soniqs and w7m esports are the strongest four teams of the bunch.
The four teams also have very different styles of play; for whereas Liquid and Soniqs play more structured, Wolves Esports and w7m esports are both very aggressive. So if the two pairs meet in the playoffs, the results will come down to a coin flip.
TSM, FaZe Clan, and BDS all have a realistic chance to reach the semis, but it depends on the bracket. Yet even if they make it through the first round of the playoffs, it's tough to expect them to reach much further.
Barring any upsets or playoffs seeding that will collapse the power structure, w7m esports seem like the most likely Six Jönköping Major champions. They're well rounded, experienced, and have all the tools needed to make it happen.
Soniqs could be a threat, and it wouldn't be shocking to see Liquid or Wolves make it to the big stage. But at +600, w7m are an easy choice.
Bet365 is offering an odds boost on Soniqs to win (+700 < +800) the Major, which might make them an appealing pick for some. But we're sticking with w7m esports to secure Brazil its first R6S Major trophy since FaZe at Six Sweden Major 2021.