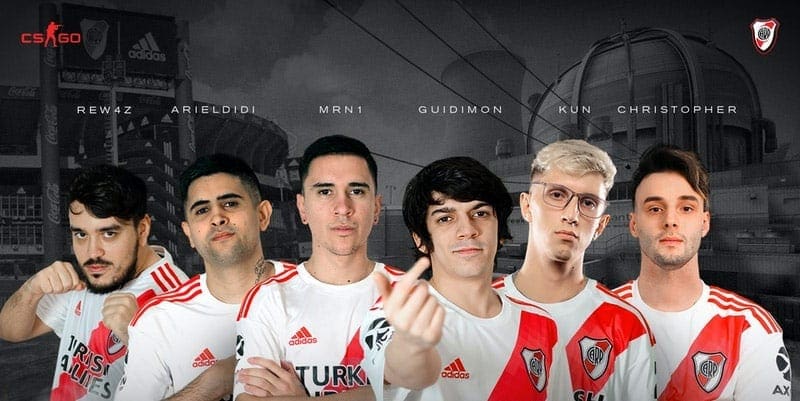 by in
Club Atlético River Plate, one of South America's most successful sporting clubs, have expanded their esports operations with the acquisition of an all-Argentinian Counter-Strike: Global Offensive roster.
River Plate first dipped their toes into the competitive gaming scene in 2016 when they signed FIFA and Pro Evolution Soccer (PES) player Franco "franoplay" Colagrossi. In December 2019, the club expanded further into the esports world with the announcement of a League of Legends team that would compete in Liga Latinoamérica's (LLA) Liga Master Flow (LMF).
Even though River Plate's LoL squad failed to see much success in their inaugural LMF split – they finished ninth and had to fight through the promotion series to retain their place – the Argentine football giants deemed their esports project a success and decided to go even further with the acquisition of a CS:GO roster.
River Plate had their eyes on creating a CS:GO team midway through the year when they reached out to Ezequiel "⁠KUN⁠" Palmero, but the negotiations didn't bear any fruit until this Thursday when he decided to continue his esports career at "La Banda" after Coscu Army benched him.
Joining KUN in River Plate's CS:GO roster are his former teammates Mariano "⁠MRN1⁠" Santa Maria and Ariel "⁠arieldidi⁠" Ramirez, with whom he played at Sinisters. Unproven talents Thomas "⁠christopher⁠" Navales and Guido "⁠guidimon⁠" Romano round out the five-man squad.
"It's a pleasure to be the captain and IGL of this team. I will give my 100% and lead River Plate in CS:GO where they deserve," said KUN.
Taking over as head coach is former Counter-Strike player, manager and analyst Hugo "⁠rew4z⁠" Cáceres, who returns to the sidelines for the first time since leaving his post at Miami Flamingos in 2017.
River Plate will compete in the Aorus League, Argentina Game Show, La Liga Pro Trust, FiRe League and several other South American CS:GO competitions.
It has been rumoured that Boca Juniors are also looking to expand into pro gaming by creating FIFA, LoL and CS:GO teams, so it might not be long before one of football's greatest rivalries extends into the esports realm.