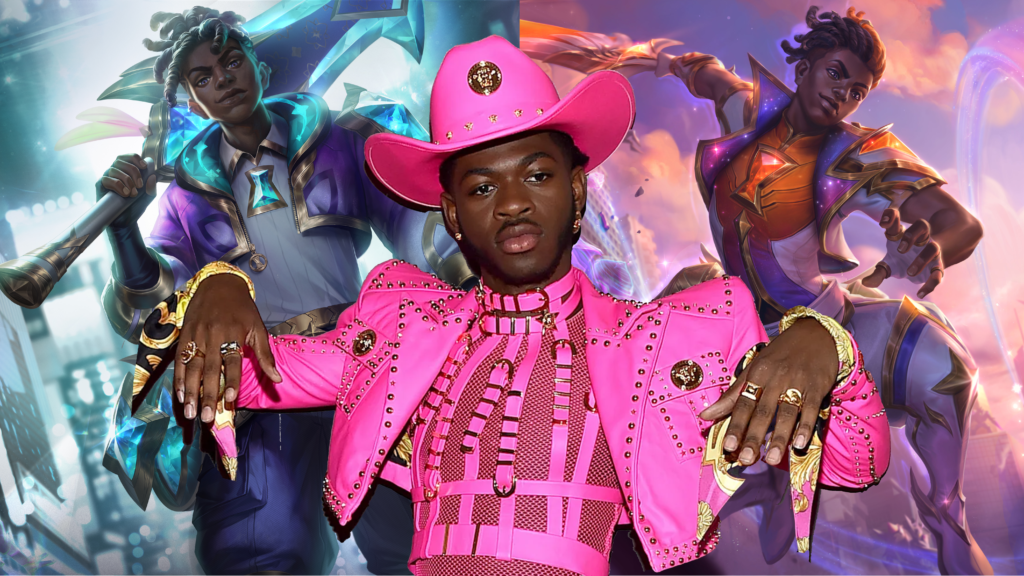 by in
Riot Games has announced that the American rapper Lil Nas X will serve as League of Legends' new President.
Riot Games and Lil Nas X have teamed up to form a partnership in order to help promote and publicize the 2022 World Championship.
In resumption of his new role, the 23-year old superstar will collaborate with the entire League of Legends content creators to develop a brand-new skin for K'Sante, one of the champions in the game. This marks the first time Riot has worked on a League of Legends skin in conjunction with a well-known superstar. Riot Games will not make the in-game skin accessible for direct purchase; rather, players are going to earn it by participating in the Worlds 2022 in-game tournament while playing Teamfight Tactics or League of Legends. To unlock this feature, you will need a total of 2,000 Worlds 2022 tokens in your inventory.
Also, being that he is a musical artist, he will prepare a theme song for the 2022 League of Legends World Championship and perform at the championship finals.
According to reports, Lil Nas X has already composed the official theme song for the competition, and it will be presented to the public for the first time on September 23 under the title STAR WALKIN.
Global Head of League Esports for Riot Games, Naz Aletaha, attributed the partnership initiative to Lil Nas X. She noted that the entire League of Legends crew is thrilled about the new changes that will emerge under the new inclusion.
"Lil Nas X is the most electrifying name in music, so when he showed up at our headquarters and told us that he wanted to be President of League and join us throughout Worlds, we of course said 'yes'," said Aletaha.
"We've all been blown away by his vision, passion, and undeniable style, and we can't wait to see what he brings to the Worlds stage".
Lil Nas X deems his decision to join the Riot Games family as a means to explore a new path. He stated that he has influenced the musical scenery positively and has effected change in the sphere, hence it is time to extend that to the gaming world.
"I felt like it was time for me to try something new," states Lil Nas X in the official press release announcing the collaboration. "I've left my mark on pop culture in so many ways, and now it's time to take on the world of gaming. I will be the greatest President of League of Legends, of all time. Also I'm going to make the best Worlds anthem of all time and put on the biggest, coolest, sexiest Worlds in the history of all Worlds!" said Lil Nas X. "STAR WALKIN' is the only song anyone is allowed to listen to from now on. Swag fr!"
The League of Legends World Championship is an annual competition that has the best teams from 11 different areas competing for the trophy. The 2021 Finals contest reportedly had an average minute audience (AMA) of over 30 million viewers and well over 73 million peak concurrent viewers, as reported by Riot Games.
Prior to this role, Lil Nas X had substantial relationships with esports organizations. In the year 2021, he collaborated with the American esports organization, 100Thieves, in preparation for the League of Legends World Championship.
Despite the fact that the new status seems official, Lil Nas X will not be working for Riot Games in any official capacity; rather, this is merely a one-time cooperation between the two parties. The precise length of time that Lil Nas X and Riot Games will be working together has not yet been disclosed.