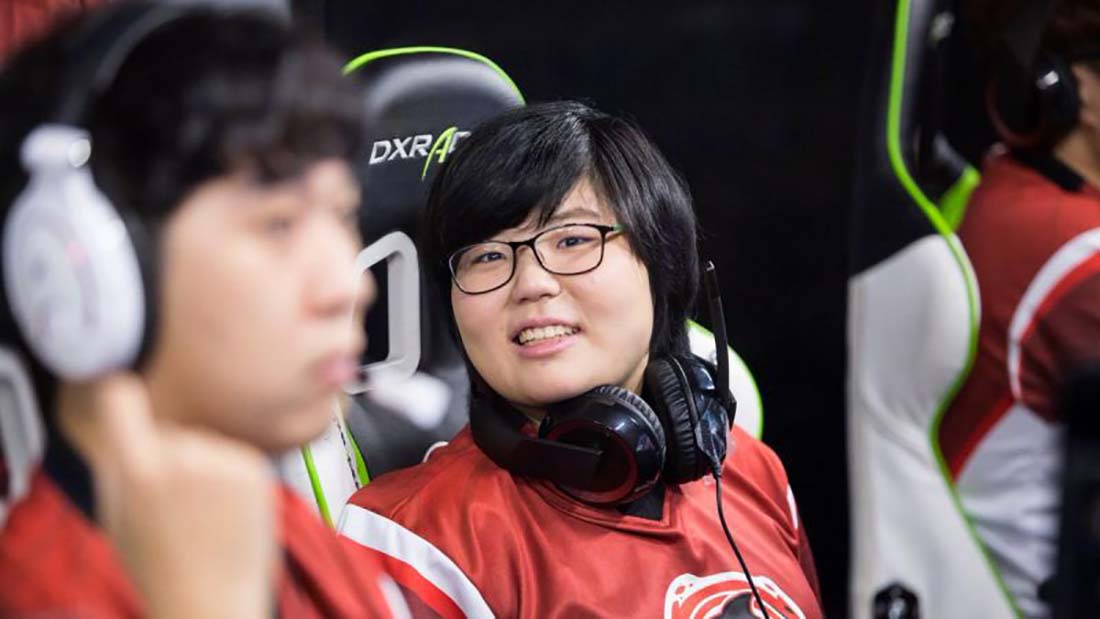 by in
A popular Overwatch player and streamer has teased her followers about signing with a "foreign" esports team which sources believe is the Shanghai Dragons.
Kim 'Geguri' Se-yeon could be the first professional female player in the Overwatch League and the news has been well received by hardcore fans eager to see more women play in the big leagues of esports.
Geguri is an active live-streamer on Twitch.tv and recently announced on one of her streams that she's accepted one of many offers from a professional esports organization based outside of South Korea.
"Regarding teams, just know that I'm going to a foreign team. I got many offers," she said in the brief 15 second snippet making the rounds on Reddit.
The full video of the stream from which the snippet was taken from has since been deleted by Geguri, but not before Internet sleuths raided her social media platforms for clues.
Several fans believe NYXL is the most likely candidate: The head analyst, head of player personnel and two of its players follow Geguri. It was the first team she followed on Twitter and because the platform remembers the order in which you follow teams, it's apparent she decided to follow every other team's official accounts to throw fans off the scent.
However, several sources have told ESPN the Shanghai Dragons will sign Geguri, alongside two other former Overwatch APEX players – Element Mystic captain Lee 'Fearless' Eui-Seok and MVP Space flex player Cheon 'Ado' Ki-hyun.

Geguri, Fearless and Ado are all from South Korea and is it believed they are being signed at the same time to avoid major communication issues in the initial days, given the rest of Dragons only speak Manadrin.
The Dragons also desperately need new blood, given their incredibly poor performance in the inaugural Overwatch League season so far. They currently are last in the standings, with a 0 – 8 match record, and have only won 4 maps out of 33 played.
The Dragons are expected to remain at the bottom for the final week of Stage 1, with two tough matches against Los Angeles Gladiators and Seoul Dynasty.
The Overwatch League has since sent out a statement on Geguri following the intense public interest in her signing.
"For someone to be considered part of the Overwatch League, the League office must both receive and approve a contract for a given player," a Blizzard spokesperson told USGamer.
They also added the League "has not received a contract for Geguri."
Why is Geguri making headlines?
Geguri is one of the most interesting players and streamers in the Overwatch competitive scene, and the buzz surrounding her tease isn't just to do with her being a woman.
For those who are unfamiliar with her, Geguri is famous for her amazing plays as Zarya and was the target of an aim bot accusation in 2016 which attempted to label her 6.31 K/D and 80% win rate in the Nexus Cup, the South Korean precursor to Overwatch League, as a result of cheating.
Blizzard stepped in to clear her of any wrongdoing after the Nexus Cup was over, but her accusers persisted until Geguri used a hand-held camera in a controlled setting while she played to prove she was not cheating.
She later played for an hour on-stage in front of a live audience to put any lingering doubts tor rest, and her two accusers quit esports altogether following the incident.
Geguri has since had a successful run as a flex/tank player for the UW Artisan, placing second in the 2016 Nexus Cup before joining the ROX Orcas in the 2017 Overwatch APEX.
What Overwatch esports team do you think Geguri will sign with? Share your theories and thoughts in the comments section below.