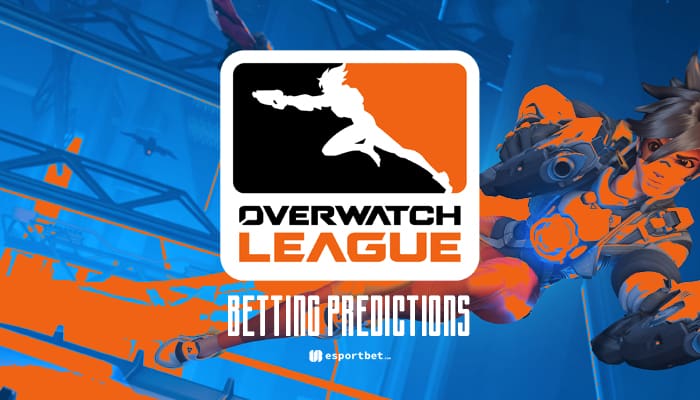 by in
ESB's free esports betting predictions for Friday, April 28, include two matches from the Overwatch League (OWL) 2023 Spring Stage Qualifiers. Here are our selections for Houston Outlaws vs Los Angeles Gladiators and Vancouver Titans vs Los Angeles Valiant, with OWL betting odds courtesy of BetOnline.
---
HOUSTON OUTLAWS vs LOS ANGELES GLADIATORS OWL BETTING & MATCH DETAILS

Best Odds:
Outlaws -138.89 at BetOnline | Gladiators -1000 at BetOnline
When:
April 28, 2023 | 13:30 PDT
Watch Live:
YouTube (https://www.youtube.com/overwatchleague)
Houston Outlaws enter their first match of the OWL Spring Stage Qualifiers as favourites to defeat Los Angeles Gladiators, which doesn't sound right. Some may argue that the Outlaws have assembled a stronger roster for the 2023 season, but they've already lost against the Gladiators (2-3) in the OWL 2023 Pro-Am semifinals.
Although one result doesn't mean much in the greater picture, there is no reason OWL betting sites should have the Gladiators priced as -138.89 favourites. Besides being 0-1 down in the head-to-head, the Outlaws also seem less flexible and much more reliant on the meta.
The big issue is that Lee "Fearless" Eui-Seok can't play Winston, which won't do any favours for the Outlaws when faced with the Gladiators, who are far more versatile with their compositions and look set for better long-term success.
This is still the first match of the season, so it's tough to say what will happen. But at even money or better, Los Angeles Gladiators are an easy choice.
Los Angeles Gladiators to win
---
VANCOUVER TITANS vs LOS ANGELES VALIANT OWL BETTING & MATCH DETAILS

Best Odds:
Titans -2500 at BetOnline | Valiant +800 at BetOnline
When:
April 28, 2023 | 15:00 PDT
Watch Live:
YouTube (https://www.youtube.com/overwatchleague)
Vancouver Titans are not a top-tier team, and their performance at the Pro-Am would confirm that. They finished the season-opening event in ninth-12th place with two tough losses against San Francisco Shock (0-2) and Florida Mayhem (0-2).
In their defence, the Mayhem and Shock are two of the most stacked rosters in the league, so perhaps it's not fair to criticise the Titans too much. But so far, they've yet to show anything promising.
Los Angeles Valiant have achieved even less at the Pro-Am, with just one win against Vegas Eternal (2-0) and three losses against Saints (1-2), London Spitfire (0-2), and Atlanta Reign (0-2), which is concerning. However, this team has some decent players and can claw their way to a mid-table finish if Alex "Seeker" Taylor and Domenic "Krawi" Akrawi step up. But for now, we would tame our expectations.
Vancouver Titans look stronger on paper, but we wouldn't price them at just -2500, which is absurd for the season's opening match. Los Angeles Valiant to win a single map at +110 is a clear choice.
Los Angeles Valiant +2.5 maps