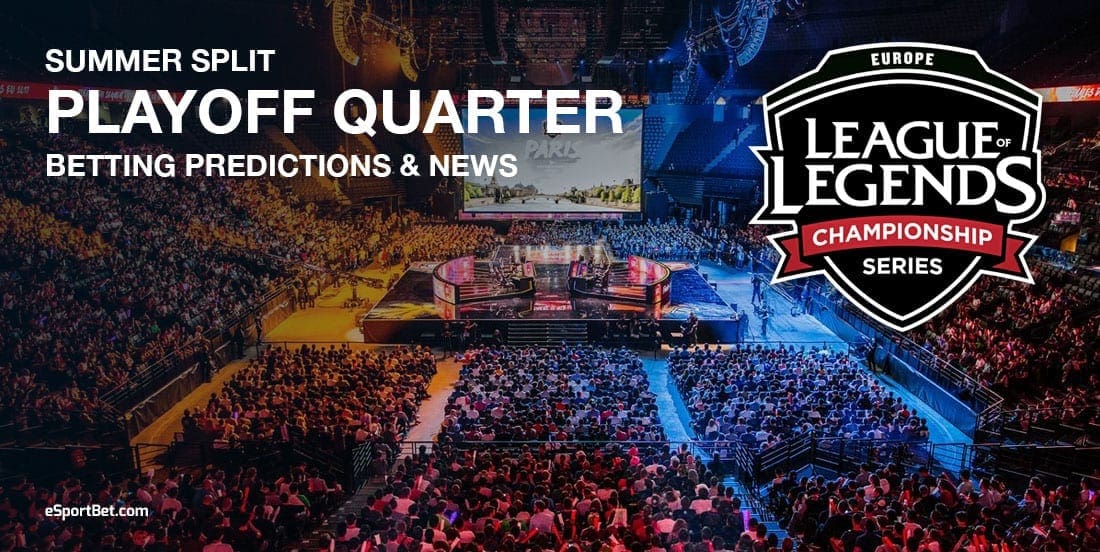 by in
The summer champion of the European League of Legends Championship Series will be crowned in less than two weeks.
After a spectacular regular season, which brought us some of the most interesting strategies to appear on the Rift in recent years, six teams have locked in their playoff spots. G2 Esports, Splyce, FC Schalke 04 and Misfits Gaming fight in the quarterfinals on August 24th and 25th, while Fnatic and Team Vitality have received a bye to the semifinals as a reward for finishing first and second in the regular season.
Let's take a look at the quarterfinal matches that will take place over the weekend!

FC Schalke 04 Esports (#3) vs. Splyce (#6)
Schalke 04 and Splyce will give us the first taste of the knockout stage on Friday. The German football giants are living the dream, as their team has reached playoffs for the first time in the org's history. The Snakes, on the other hand, have an eye on qualifying for the World Championship, and a good playoff run could give them exactly what they want.
Schalke's star-studded roster disappointed in the Spring Split, finishing 8th and showing multiple team-related issues. This split, the arrival of their new jungler Amazing has helped immensely. The vocal veteran took over as captain and shotcaller immediately, and in a few weeks Schalke became one of the most decisive teams in the league, playing a fast-paced and team-focused style of LoL. While their strong laners can gather significant leads early on, the team shines the most when it comes to objective control and teamfighting – Nukeduck and Upset are both very potent carries, and Vizicsacsi and Vander are excellent in providing necessary utility. Schalke are a strong and well-organised five-man unit, and their 10-2 run in the last 12 games of the season proves it.
Splyce have had another catastrophic start to the season, but managed to scrape by and clinch the last playoff spot near the end of the split. They've showed that they can both beat the best and lose to the worst teams, but a BO5 requires much more consistency than we're used to seeing from them. As in Spring, the Snakes play a very late-game focused style, which doesn't always work out in the current meta. They favour a fairly passive early game and often trail in gold, while waiting for Kobbe and Nisqy to reach their full potential and unleash their power in the deciding fights.
Despite Schalke's roster having never played a BO5 match, they are the favourites in the first quarterfinals. In addition to their ability to perform consistently game after game, they outmatch Splyce at a few key game elements, including early game and mid-game baron fights.
Chance of winning:(S04 70%, SPY 30%)
Betting prediction: FC Schalke 04 Esports to win, paying -277.78 at BetOnline.

G2 Esports (#4) vs. Misfits Gaming (#5)
Exactly one year ago, G2 and Misfits fought in the EU LCS grand finals as Europe's premier LoL teams. This season, it's a little different. G2 are coming to playoffs following a rocky, but decent regular split, while Misfits are recovering from their inexplainable slump (2-7 in the second part of the split) after a stellar start with nine straight victories.
G2 have had some struggles with creating a new game plan, after funneling gold into Perkz stopped being a viable strategy. It's tough to form a team around a carry top laner these days, so Wunder has mostly been unsuccessful in repeating his Spring Split performances, but Hjarnan has recently stepped up his game on traditional ADC champions. Still, some issues remain for G2: their usually solid jungler Jankos has been underperforming for quite some time, and the team will need to find a way to fit him into the new playstyle.
Misfits' form plummeted after they steamrolled Europe in the first half of the regular season, and they haven't been able to find a solution for their problems yet. It seems that Misfits at the moment are a team without a carry – their early strategy of sending their jungler to the bottom lane to help Hans Sama made the Frenchman look like the best bot laner in the league, but it seems that the Bunnies had given up on that plan for good. Maxlore, the backbone of the team, has also dropped in form, so a duel between two underperforming junglers could be a focal point of the series.
It's obvious that both these teams have their issues, but we have seen both of them prepare very well and perform great in BO5's. G2 should be slightly favoured here, but despite Misfits' abysmal recent form, they are no pushover, as they always bring their best when they've had time to practice.
Chance of winning:(G2 60%, MSF 40%)
Betting prediction: Misfits to win, paying +137 at BetOnline.
Highest-rated EU LCS betting options

Best esports betting sites for your country

To keep up with the latest esports news and tips be sure to like the eSportbet facebook page and join our Discord server.