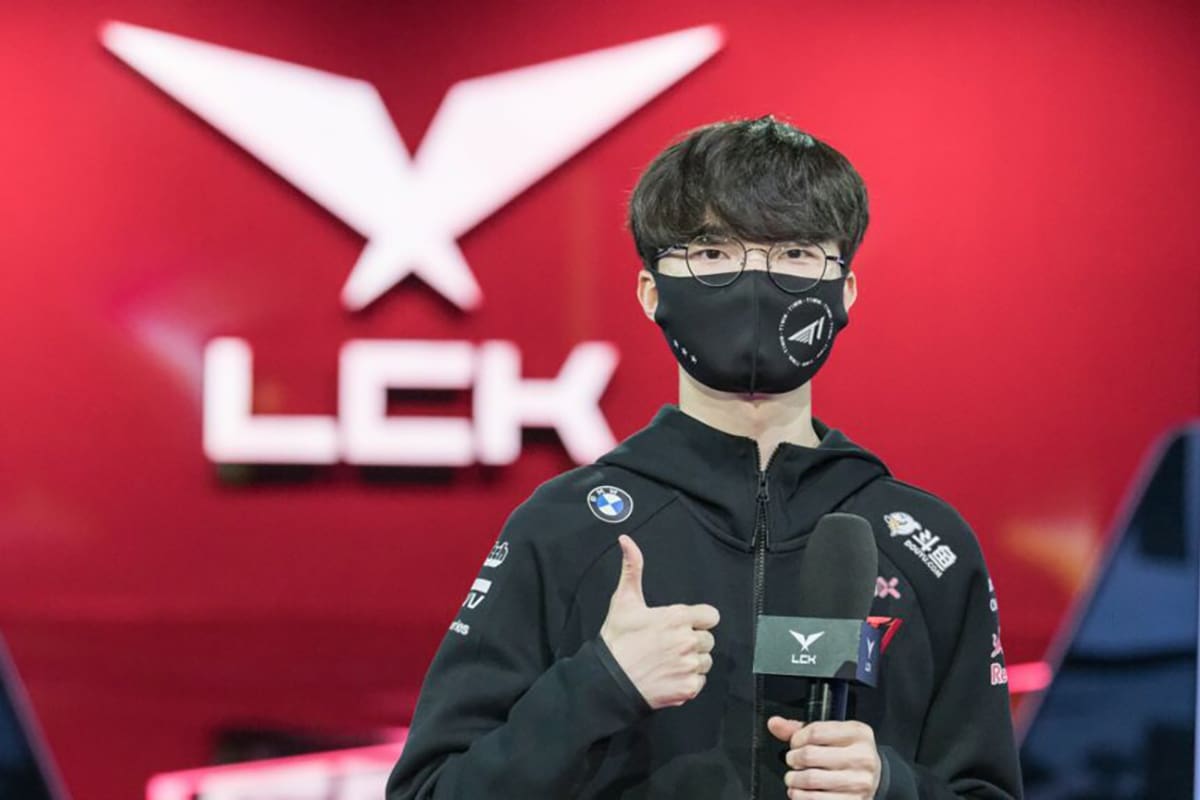 by in
Lee "Faker" Sang-hyeok revealed that he suffered from a performance-impacting arm injury on Sunday, following T1's League of Legends Champions Korea Summer Split match against Nongshim RedForce.
After the match, the team joined a press conference, where Faker announced his arm injury. While the player did not disclose specifics of the injury, he informed fans that it had been affecting his recent performance.
According to the League of Legends star, he has been struggling with the pain since T1's game with BRION on June 17, which goes back two weeks.
The issue was brought up after T1 lost a game to Nongshim RedForce on Sunday. The South Korean team are one of the lowest rated in the LCK but recorded major plays which placed them ahead during the match with T1.
In the press conference, Faker revealed that despite T1 ultimately winning the series, he was not satisfied with his performance.
According to Yoon Min-Seop, an esports reporter on site, Faker said, "Because my arm wasn't in good shape, my performance wasn't good since the match against OK Savings Bank Brion. It had a big impact."
Faker and a T1 official went on to reassure fans that he was currently undergoing treatment for the injury and would visit the hospital soon for a "more detailed diagnosis."
A fan also said that they saw Faker drop a container of pills in front of them. There is currently no information about how severe the player's condition is, so fans should not be too surprised if he gets subbed out while undergoing treatment for the arm.
Faker is one of the longest-tenured players in the professional League and is widely considered the greatest League of Legends player of all time. The player has consistently pulled out impressive numbers on the domestic and international scene and recently broke the record for the most assists in the LCK with a 4143 count.
Wrist or arm injuries are a regular occurrence among League players. DAMWON mid-laner Heo "ShowMaker" Su notably received treatment for a wrist injury in 2021, and Jian "Uzi" Zi-Hao, who played with Royal Never Give Up at the time, suffered a shoulder injury in 2019, which led to a forced hiatus.
T1 concluded the LCK Summer Split week four on Sunday and are set to return to week five with a 4-1 record on July 5. This gives Faker less than three days of rest and likely not enough time to properly treat his arm.
T1 are expected to release an update concerning Faker's condition before the match as well as their decision if the injury worsens. The news also comes ahead of the much anticipated Asian Games slated for September this year.