by in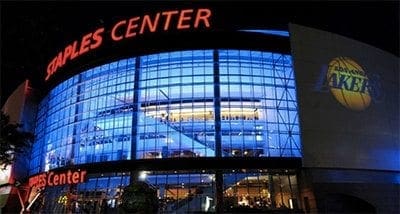 eSports is rapidly expanding, so much so the Immortals franchise needed a new home.
Enter sports and live entertainment company, AEG, which announced on Tuesday it had invested in the multi-game eSports organisation.
As such, Immortals – which currently has teams in League of Legends, Overwatch, CS: GO, Vainglory and Super Smash Bros. – will make Los Angeles its new home.
President and CEO of AEG, Dan Beckerman, said the move into eSports is a "natural progression" which will further the company's "leadership in sports and live entertainment".
"We have ambitious plans for the campus to become the epicentre of eSports in Los Angeles," he added.
A key component to the deal is AEG's LA Live entertainment complex will host Immortals' Los Angeles-based tournaments.
The 5.6 million square foot complex is home to Staples Center, the Microsoft Theatre and features a number of sports and music venues as well as restaurants, nightclubs and entertainment facilities.
The ESPN's West Coast broadcast centre is also situated at the LA Live complex.
CEO of Immortals, Noah Whinston, has praised AEG for its "unrivalled experience in the cross-section of sports and entertainment."
He added it "makes them an ideal partner for any organisation" due to the "seemingly endless well of talent and business experience AEG brings to the table."
Immortals co-owner and Lionsgate President of Interactive Ventures & Games, Peter Levin, agrees with Whinston in regards to the partnership and the Immortals franchise.
"With 200 million fans worldwide, Immortals is uniquely positioned to bring eSports to a truly global audience," he said.
AEG got its first taste of the eSports scene last year when it partnered with the largest eSports organisation in the world, ESL.
The partnership has seen ESL utilise AEGs stadiums, arenas, clubs, and theatres for tournaments and events.
Betting on eSports in LA?
Legally betting on eSports in Nevada was recently signed into law – even though bookmakers had already offered betting markets. But will it ever be legal to bet on eSports at the Staples Center?
It might if the state wants to become the next eSports hub before Las Vegas where huge arenas are being built, and, as previously mentioned, spectators can bet on teams.
While many are quick to question whether the people in the audience at eSports tournaments are old enough to gamble, a 2016 Newzoo's Global eSports Market Report revealed more than half of eSports enthusiasts around the world are aged between 21 and 35.
Since pari-mutuel betting is legal in California, all lawmakers have to do is introduce a similar bill to Nevada to include competitive gaming and other events such as award shows under the same category.
Then LA may have a fighting chance at becoming North America's next eSports hub.