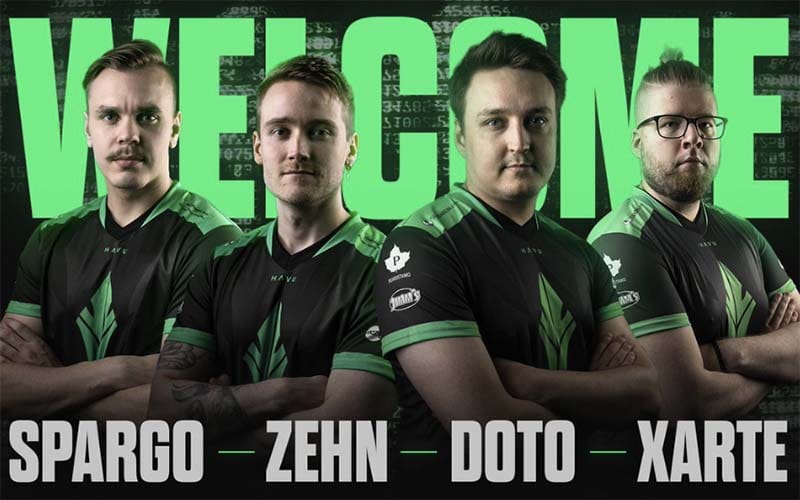 by in
HAVU Gaming has announced some changes to its Counter-Strike: Global Offensive roster.
The changes include the addition of former ENCE captain Joonas "doto" Forss, former FunPlux Phoenix rifler Jesse "zehN" Linjala, up-and-coming sniper Jarkko "Spargo" Rahja and veteran Mikko "xartE" Välimaa as the new head coach of the all-Finnish CS:GO team.
In a bid to rebuild the team around riflers Jani "Aerial" Jussila and Sami "xseveN" Laasanen, HAVU benched Joona "Sm1llee" Holmström, Otto "ottoNd" Sihvo, and Olli "sLowi" Pitkänen a few weeks ago, to create room for the new signings.
After experiencing consistently poor performances in the first half of 2022, the Finnish organization hopes the additions will raise the quality level of the squad during competitions.
Welcome @spargoCS @dotocsgo @zehncsgo @xarteCSGO 🌲

🔗 https://t.co/YZUbVRPikW pic.twitter.com/VsAtHjW6wu

— HAVU (@HAVUgaming) July 28, 2022
Both zehN and doto are reunited with HAVU as a result of the move. Doto joined the franchise in 2019 and represented its CS:GO esports team until the end of 2020 when he left to join fellow Finnish franchise, ENCE.
With his experience and the leadership skilla, the 26-year old has been made the in-game leader.
While the former FPX rifle, zehN represented HAVU for less than a year from May 3, 2018, to January 17, 2019. After his time with HAVU, he has since played for four different franchises.
Spargo joined the franchise after two years with KOVA Esports. Prior to KOVA, he had represented two other franchises, Team Viral and hREDS (formerly known as Helsinki Reds).
Reacting to re-signing with HAVU Gaming, Zehn spoke highly of the franchise. He shared his long-time desire to play alongside Aerial and xseveN, as he looks forward to raising the level of the Finnish CS:GO scene.
"I get to play in many maps the same roles that I played with international teams," zehN said.
"In some maps, however, my roles have changed and it gives more power in terms of learning. The first trainings have gone well and I have enjoyed playing. Returning to Finnish CS has been refreshing and I've always wanted to play with Aerial and XSEVEN anyway. I believe that we have a great package to raise Finnish CS to a new level."
Spargo, who happens to be the youngest player on the roster, said:
"With a very good feeling, I go to play with such experienced teammates. I want to learn new things, but also bring my own thoughts to the team's play. Expectations are of course high, but I try to focus only on my own performance. I feel that we have the potential all the way to the top."
HAVU has been the best CS:GO team in Finland since ENCE went into international space. Last year, Aerial and xseveN helped get the squad to a new height, attaining the 14th place position in the world according to the HLTV rankings, after winning Snow Sweet Snow Two in April 2021.
HAVU, on the other hand, was unable to replicate those results and thus failed to make the list of qualified teams for the PGL Stockholm Major in 2021 as well as this year's PGL Antwerp Major.
It is expected that zehN, doto, Spargo, and coach xartE will make their HAVU debuts in August at the Assembly Summer 2022 LAN tournament in Finland.