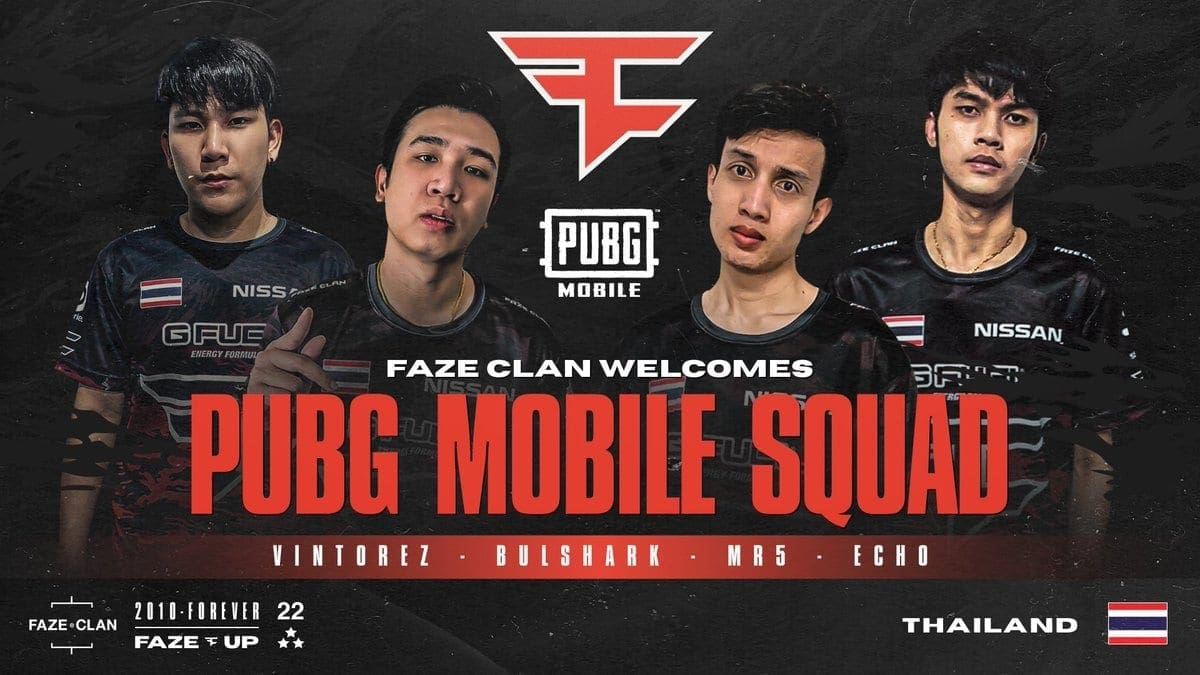 by in
After weeks of speculations, FaZe Clan announced they will dip their toes into the PlayerUnknown's Battlegrounds (PUBG) Mobile scene with a newly signed all-Thai roster, in a bid to further expand their brand into SEA region.
Reportedly, there were leaks which surfaced way back in September, suggesting FaZe Clan are looking to expand their brand into PUBG Mobile scene, but it was not until this Saturday when FaZe officially announced their new PUBG Mobile roster on their official Facebook and Twitter account.
Join us in welcoming our first ever roster in Asia, FaZe PUBG Mobile! ??@FaZe_Vintorez @BulSharkz @FaZeEcho3 @FaZeMR5 #FaZeUp #FaZePUBGMobile pic.twitter.com/jpbIiQKqWS

— #FaZeUp (@FaZeUpdate) January 11, 2020
FaZe's new PUBG Mobile roster will consist of Ratchapol "BulShark" Maneerat, Tharit "Vintorez" Pluksang, Thiraphong "Maroon5" Murrasri and Wacharakorn "Echo" Tiengtis.
The first rumours of FaZe's plans of expanding into Asian region surfaced earlier in September when it was reported the North American organization hired some talent in Asia to recruit a team for PUBG Mobile, a scene which has been drastically rising in popularity and expanding into the esports ecosystem, especially in the Asian region.
While there were no reports regarding the singing of a new team for over three months, there was a supposed leak earlier on Friday, when BulShark, Echo, MR5 and Vintorez were all spotted on FaZe's official website under the watch tab. The said lists all of the organization's members and content creators, which made it rather obvious FaZe are set to enter the PUBGM scene.
The new four-man roster were all formerly members of EVOS Burnout team, which competed in PUBG scene with varying degrees of success. Their best result in 2019 came in late September when EVOS won the Gameling Coronation 2019, a minor event hosted by GamelinG.
Perhaps the most well-known player of the new FaZe roster is BulShark, who is also known for being a PUBG Mobile streamer and content creator, meaning he will fit in perfectly with content-heavy FaZe organization. He is also the most successful PUBG Mobile player out of the four members, having finished fourth at PUBG Mobile Star Challenge 2019, when he formed a team named EVOS Gank
FaZe Clan Thailand also unveiled they have received a direct invite for PUBG Mobile Thailand Pro League 2020 – Spring League, which will kick off on February 14, 2020, in Thailand, Bangkok. There, FaZe will lock horns with the likes of ILLUMINATE The Murder, 2019 Star Challenge World Cup champions RRQ Athena, Purple Mood E-Sport and Made in Thailand, making Thailand Pro League one of the most stacked PMPL out of all the regions.
With this announcement, FaZe Clan became the third major esports organization to pick up a PUBG Mobile team following Cloud9 and Fnatic, who entered the scene in November 2018 and October 2019 respectively. Whether we will see more esports organizations moving to Asian regions in order to enter the PUBGM scene is at this point anyone's guess, but with the exponential growth of the scene, it's only a matter of time before G2, Team Liquid, NRG and other organizations follow suit.
At the start of December, Tencent also announced a further expansion of PUBG Mobile competitive scene by unveiling three new leagues as a part of the global restructuring of the competitive infrastructure. 
Furthermore, the exclusive operators of PUBG scene in China also unveiled they will be committing US $5 million to the 2020 PUBG Mobile competitive scene, which alone is over double the overall prize winnings, which were paid out to PUBGM players and teams throughout 2019 – $2,239,044.74.