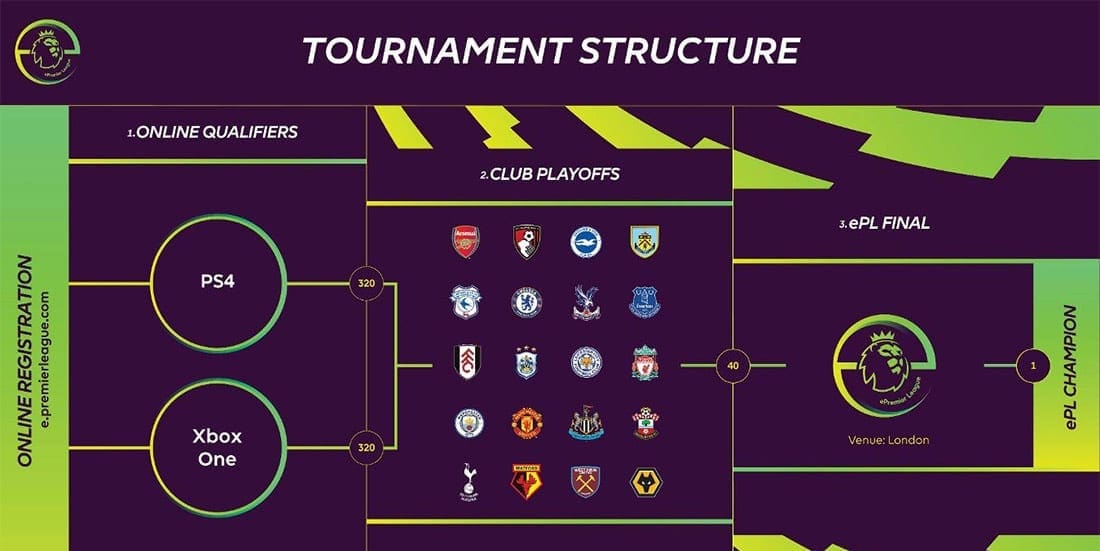 by in
The English Premier League has announced key dates for the upcoming ePL FIFA 19 tournament.
This is the news FIFA fans have been waiting for since October, when EA Sports and the EPL unveiled the first-ever official esports event for the world's most popular football division.
Registration opens 9am GMT on Monday, December 3 and closes 23:59pm GMT on Friday, January 4, with online qualification to start the following day.
The qualifying rounds will whittle the field down to 32 players – 16 on PlayStation and 16 on Xbox – for each of the 20 Premier League clubs.
MORE: FIFA ESPORTS BETTING
Qualifiers then face one another in live club playoffs to determine the top PS4 player and top Xbox One player for each club.
That batch of 40 progress to the ePremier League Final – a two-day tournament played in London from Thursday, March 28 to Friday, March 29.
The final will be broadcast live on Sky Sports and the EPL's various social media platforms.
Competitors who have already won FUTChampions Verfied status will earn points towards the FIFA 19 Global Series, where the top 32 players on the worldwide leaderboard earn a berth in the FIFA eWorld Cup.
Entry is open to all UK residents aged 16 and over.
Key dates for the FIFA 19 ePremier League
Monday, December 3 – Registration opens at 9am GMT
Friday, January 4 – Registration closes at 23:59pm GMT
Saturday, January 5 – Online qualification begins
February and March – Live playoffs for all 20 EPL clubs
Thursday, March 28 – ePL Final commences in London
Friday, March 29 – Inaugural ePL champion crowned

BEST BOOKIES FOR FIFA BETTING