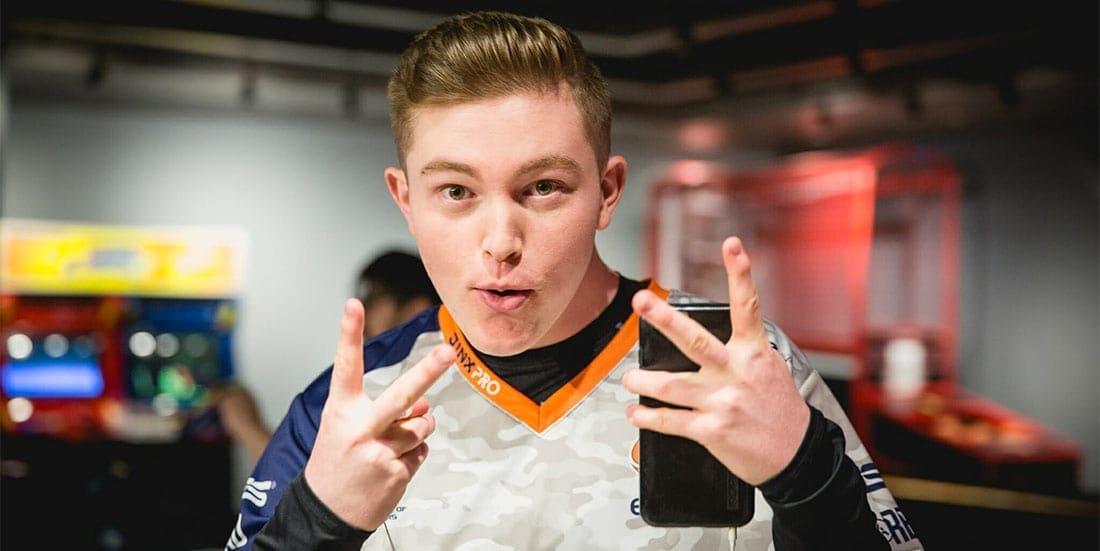 by in
Golden Guardians have announced the signing of ex-Dignitas player Tanner "Damonte" Damonte, who will replace Greyson Gregory "Goldenglue" Gilmer as the team's starting mid laner for the League of Legends Championship Series (LCS) Summer Split.
After a shaky display in 2020 LCS Spring Split, which GG finished fifth-sixth after losing to FlyQuest in the opening round of the playoffs, the North American esports organisation decided to invested in new talent in a bid to pursue their first LCS title in the upcoming split.
"To strengthen our LCS team in the Mid lane, we are excited to announce that former Worlds competitor, Damonte will be joining the Golden Guardians as our starting LCS Mid for the 2020 Summer Split," read the announcement.
Damonte's arrival is the second roster change Golden Guardians have made this year, following the acquisition of Choi "huhi" Jae-hyun at the start of March. The French-Korean support was promoted to the main roster at the end of the 2020 LCS Spring Split after spending one year at the Golden Guardians Academy, where Goldenglue will now compete with Nicholas "Ablazeolive" Abbott for a starting spot.
Damonte is a well-known name in the North American League of Legends scene. He began his esports career in January 2015 with Monster Kittens and later enjoyed short stints at Infinity Esports, Cerberus eSports, Noble eSports, affNity, Serpentis eSports and Enemy before joining Echo Fox as a substitute mid laner in February 2016.
From 2016 to November 2018, Damonte played for both the academy squad and main roster at Echo Fox, claiming a runner-up finish at NA LCS 2018 Spring, NA Academy 2018 Spring Playoffs and third at NA Regional Finals 2018.
On November 19, Damonte left Echo Fox and joined Clutch Gaming, where he reunited with Heo "Huni" Seung-hoon. With Clutch he finished ninth in the 2019 LCS Spring Split, fourth in the 2019 LCS Summer playoffs and won the LCS 2019 Regional Finals, which earned the team a spot at the 2019 League of Legends World Championship.
At the Worlds, Damonte helped his team fight through the play-in stage and secure a ticket for the main event, where Clutch joined Team Liquid and Cloud9 as one of three North American representatives. Unfortunately, they did not measure up to Fnatic, Royal Never Give Up and SKT Telecom T1, finishing the group stage without a single win.
In October 2019, Clutch Gaming disbanded and transferred their entire roster to Dignitas. Damonte left Dignitas just over two weeks later, although he rejoined the North American esports organisation's academy team after a short stint as a free agent.
With Dignitas Academy, Damonte finished second in the NA Academy 2020 Spring and made it to the semi-finals of the NA Academy 2020 Spring Playoffs. Despite the lack of silverware, Damonte established himself as one of the best players in the league, so it's no surprise Golden Guardians decided to sign him as a replacement for the inconsistent Goldenglue.
Golden Guardians also unveiled the signing of 2018 NA LCS Summer champion Kim "Olleh" Joo-sung, who has joined the organisation as a positional coach.
The LCS 2020 Summer Split is set to begin on Friday, June 12. Damonte will make his debut with his new team on Saturday at 16:00 PDT, when he will face his former employers as Golden Guardians take on Dignitas.