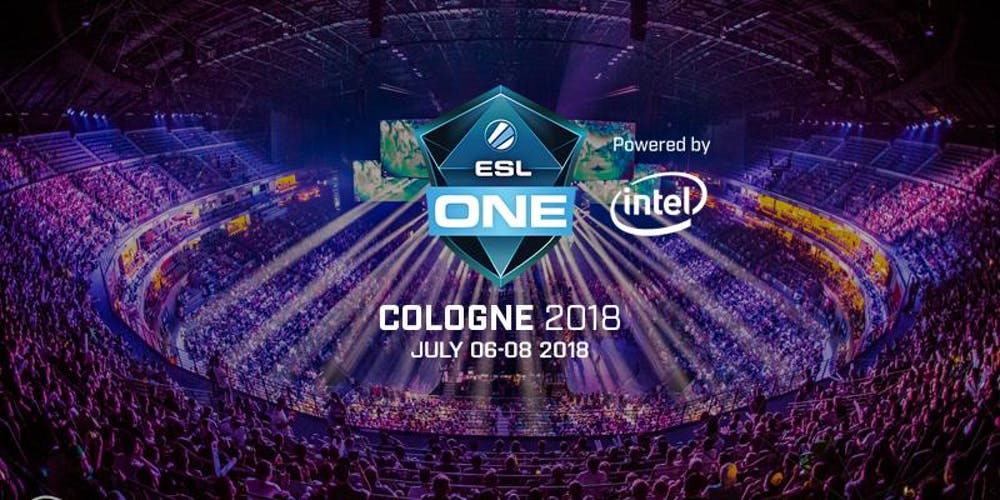 by in
ESL One: Cologne 2018 is a premier CS:GO event which brings together the best 16 teams in the world and offers a prize pool of $300,000. The tournament will take place in Cologne, Germany between July 3rd – 8th.
Teams and format
ESL One: Cologne 2018 features 16 amazing teams that will be split into 2 groups.
Group A
• G2 Esports
• Cloud9
• mousesports
• Gambit Esports
• Natus Vincere
• Astralis
• ENCE eSports
• Ninjas in Pyjamas
Group B
• Renegades
• MIBR
• Team Liquid
• Fnatic
• North
• FaZe Clan
• B.O.O.T-d[S]
• BIG
Each group will be played in a double-elimination bracket format (GSL). The initial matches are Bo1. The following matches are Bo3. The winner of each group advances to the Semifinals. The next two teams advance to the Quarterfinals. The Playoffs are played in a single-elimination bracket format. The Grand Final is a Bo5 series.
Prize pool distribution
ESL One: Cologne 2018 offers a prize pool of $300,000, which will be divided among participants in the following way:
• 1st place: $125,000
• 2nd place: $50,000
• 3rd – 4th place: $22,000
• 5th – 6th place: $11,000
• 7th – 8th place: $7,500
• 9th – 12th place: $6,000
• 13th – 16th place: $5,000

Betting predictions for ESL One Cologne 2018 Day 1
mousesports vs. Gambit Esports
With their recently changed roster, mousesports are a slightly less stable team now compared to the version that had STYKO in it, and we've yet to see whether or not Snax was the right choice as his replacement. I personally think it wasn't, and I'm expecting mousesports to disappoint at ESL One: Cologne 2018. But definitely not against the likes of Gambit Esports.
Betway puts the odds for this match at 1.40 – 2.75 in favor of mousesports, and by far the most likely outcome is a victory in their favor.
Betting prediction: mousesports to win, paying -250 at BetOnline.
G2 Esports vs. Natus Vincere
G2 Esports has a new lineup, but it faces a very strong opponent in this match. Na'Vi has been performing phenomenally in the last few months, playing in multiple Grand Finals and winning two events: CS:GO Asia Championships 2018 and StarSeries & i-League CS:GO Season 5. In light of these achievements, Na'Vi is without a doubt the clear favorite here.
Betway puts the odds at 2.95 – 1.35 in favor of Natus Vincere and at these odds, this match constitutes a great betting opportunity.
Betting prediction: Natus Vincere to win, paying -285.71 at BetOnline.
FaZe Clan vs. B.O.O.T-d[S]
FaZe Clan is the second best team in the world in spite of playing with an ever changing 5th and dealing with roster issues. Its recent addition, cromen, seems to have integrated quite well in this all-star lineup and the overall performances have been great for the past 2 months: 4 top 4 placements at the latest 4 tournaments, including 2 titles: one at Intel Extreme Masters XIII Sydney and one at ESL One: Belo Horizonte 2018.
On the other side, B.O.O.T-d[S] has no significant achievements to speak of and is lightyears behind from FaZe in every respect. Which is why I fully expect the Europeans to crush them in this match.
Betway puts the odds at 1.10 – 5.75 in favor of FaZe Clan and this is practically free money to be made.
Betting prediction: FaZe Clan to win, paying -1000 at BetOnline.
Astralis vs. ENCE eSports
This is a total mismatch between the currently strongest team in the world and a complete outsider to the world of tier 1 Counter-Strike. This match should be regarded as an opportunity to make some easy money.
Betway puts the odds at 1.15 – 4.75 in favor of Astralis, and the only reason why these odds are so high on their side is the Bo1 format of the match.
Betting prediction: Astralis to win, paying -666.67 at BetOnline.
Fnatic vs. North
Fnatic is now 60% Fnatic and 40% NiP, as the core of the old Fnatic remained (JW, flusha and KRIMS) and two NiP players (Xizt and draken) have been brought in to replace Lekr0 and Golden. It's not yet clear how well these players will mesh together, but given the fact that these are basically two teams fused into one, much of the synergy should be inherited.
On the other hand, North is a team with a lot of talented players but not that many results to speak of. The tournament they won recently, DreamHack Open Tours 2018, was not very prestigious and had no big teams in it. So it's not particularly relevant in determining North's skill level.
Overall, I think that Fnatic has an edge in this match and is much more likely to win it.
Betway puts the odds at 1.65 – 2.10 in favor of Fnatic, anticipating a very close match. It might be, but there's nothing about North that suggests they're a truly strong team. And I definitely don't think they're on Fnatic's level.
Betting prediction: Fnatic to win, paying -153.85 at BetOnline.
BIG vs. Team Liquid
This is another huge mismatch, between a tier 2 team and one of the top contenders at any CS:GO event. Since the addition of NAF and TACO, Team Liquid has turned into a powerhouse and it's only a matter of time until this roster achieves a level of fluency that allows it to get a top 4 finish in every single tournament.
Betway puts the odds for this match at 3.10 – 1.32 in favor of Team Liquid, clearly regarding Liquid as the favorite. And I fully agree with this assessment, except I see this team as being even stronger than these odds reflect.
Betting prediction: Team Liquid to win, paying -312.5 at BetOnline.
Ninjas in Pyjamas vs. Cloud9
Both of these teams are currently struggling to make it to the Playoffs of big events and when they manage to achieve this, they're usually eliminated in their first match of this stage. However, in light of its recent performances, NiP is slightly favored to win this dispute. But the skill difference between them and their opponents is minimal.
Betway puts the odds at 1.60 – 2.20, anticipating a close match but still favoring NiP to emerge victorious.
Betting prediction: Ninjas in Pyjamas to win, paying -166.67 at BetOnline.
Renegades vs. MIBR
Renegades is a strong team from Australia, but it's facing MIBR in this match, which is actually the former roster of SK Gaming. Fallen and his teammates simply moved from one organization to another, most likely as a result of better contracts and greater promises for the future. MIBR (Made in Brazil) is an old CS:GO brand which has just been revitalized. And who better to represent it than this incredible roster?
Betway puts the odds for this match at 3.20 – 1.30 in favor of MIBR, and its assessment is absolutely correct.
Betting prediction: MIBR to win, paying -333.33 at BetOnline.

Highest-rated ESL ONE betting options

Best esports betting sites for your country
To keep up with the latest esports news and tips be sure to like the eSportbet facebook page and join our Discord server.