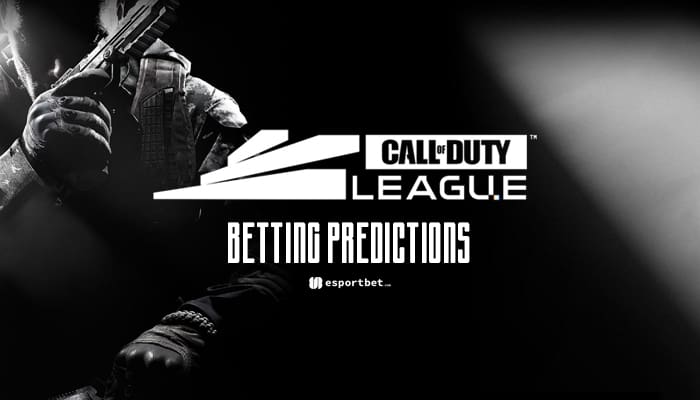 by in
The Call of Duty League (CDL) Major 4 Qualifier starts on Friday, March 31, with three series on the schedule. Check out our best bets for Boston Breach vs Las Vegas Legion, Los Angeles Thieves vs London Royal Ravens, and Florida Mutineers vs Atlanta FaZe.
---
BOSTON BREACH vs LAS VEGAS LEGION CDL BETTING & MATCH DETAILS

Best Odds:
Breach -227.27 at BetOnline | Legion +162 at BetOnline
When:
March 31, 2023 | 15:00 EDT
Watch Live:
YouTube, Twitch

Boston Breach enter the Call of Duty League Major 4 Qualifier following a solid fourth-place finish at CDL Major 3, which explains why they're considered firm favourites for this match. But Boston Breach have to face a new-look, hungry Las Vegas Legion, who acquired Eli "Standy" Bentz as a replacement for Brendan "2ReaL" Stockdale.
Las Vegas Legion haven't won much this season and are considered one of the league's weakest teams, but their run at CDL Major 3 (5th-6th) looked promising. It's tough to ignore that Las Vegas Legion got eliminated from the Major by Boston Breach (0-3), but the series was relatively close, so there's a world where the Legion do better with Standy.
Expecting Las Vegas Legion to produce a complete turnaround and sweep Boston Breach isn't realistic, but we have high hopes for the improved roster. Priced at +162 with BetOnline, Las Vegas Legion seem a bit underrated, and even though they seem weaker on paper, it's easy to underestimate how much of an impact adding a solid player like Standy can have on a team.
---
LOS ANGELES THIEVES vs LONDON ROYAL RAVENS CDL BETTING & MATCH DETAILS

Best Odds:
Thieves -277.78 at BetOnline | Royal Ravens +200 at BetOnline
When:
March 31, 2023 | 16:30 EDT
Watch Live:
YouTube, Twitch

Last week London Royal Ravens announced the signing of Ulisses "Ulisses" Rios, who joined the roster from Decimate Gaming as a replacement for Paul "PaulEhx" Avila, which looks like a decent move. PaulEhx has been struggling to perform on a sub and was one of the reasons why the London Royal Ravens haven't looked as good lately.
If Ulisses can step up and deliver, London Royal Ravens can be a good team. They already showed flashes last stage, when they nearly took down OpTic Texas (2-3) and won against Toronto Ultra (3-2), so it's fair to expect things to improve in the Royal Ravens camp.
The reigning CDL champions, Los Angeles Thieves, are fresh off a disappointing second-round exit from CDL Major 3, where the Thieves lost against Las Vegas Legion (1-3). Even though one poor tournament run doesn't mean that Los Angeles Thieves are doomed, they've not been too consistent this season.
Particularly online, the Thieves haven't produced any notable results, and still, they're -277.78 favourites for this affair. On the one hand, the Royal Ravens are 5-14 this season, but they also won against Toronto Ultra and nearly took down OpTic without Ulisses.
At +200, we have to take a shot with London Royal Ravens. Some might prefer London Royal Ravens with a map advantage, which is not a bad choice at the offered CoD betting odds.
London Royal Ravens to win
---
FLORIDA MUTINEERS vs ATLANTA FAZE CDL BETTING & MATCH DETAILS

Best Odds:
Mutineers +450 at BetOnline | FaZe -833.33 at BetOnline
When:
March 31, 2023 | 18:00 EDT
Watch Live:
YouTube, Twitch

Florida Mutineers are strong candidates to win the CDL 2023 wooden spoon, and if London Royal Ravens can keep improving, the Mutineers likely will finish the season bottom of the table. Even though we saw the Mutineers defeat Boston Breach (3-1) and New York Subliners (3-1), those were just two decent results of an otherwise very concerning record.
The Mutineers have yet to find any consistency, and without making any significant roster changes ahead of CDL Major 4 Qualifier, it's fair to say that they won't reach the CDL Championships. Atlanta FaZe, on the other side, will – the only question is whether they'll also win the regular season.
Atlanta FaZe are 18-10 on the season, but they had a rough run at CDL Major 3, where they finished third, following defeats against Toronto Ultra (1-3) and OpTic Texas (1-3). Placing third was disappointing, yet that's more of an indication of the expectations everyone has of FaZe rather than a sign of FaZe struggling.
It's tough to expect anything less than a 3-0 sweep for Atlanta FaZe.