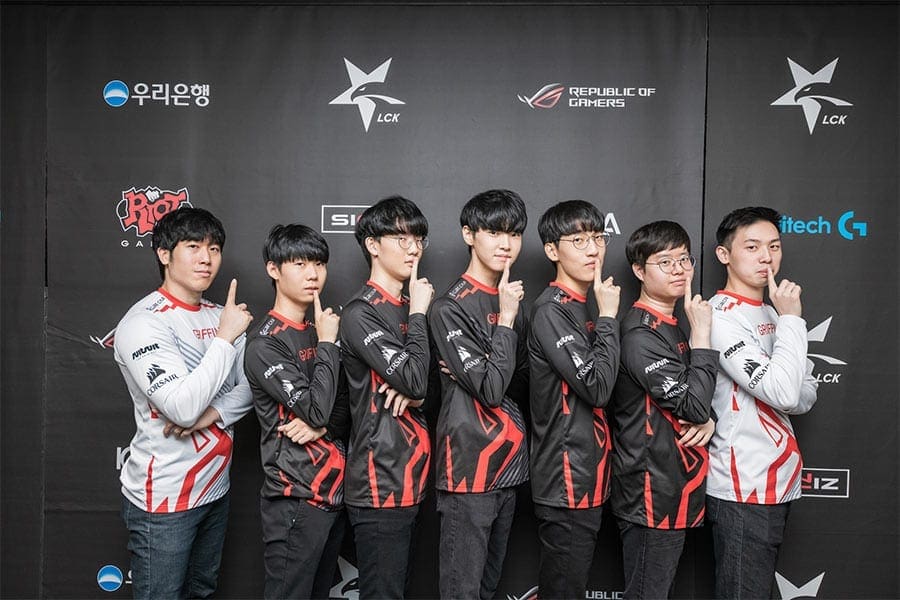 by in
ADC Park "Viper" Do-hyeon, top laner Park "Untara" Ui-jin and mid laner Son "Ucal" Woo-hyeon have parted ways with Griffin's League of Legends roster, the Korean esports organisation announced on Sunday.
The news comes on the heels of Griffin's disappointing run in the League of Legends Champions Korea (LCK) Spring Split, where Griffin placed 10th and were sent to the last LCK promotion series. There, Griffin lost in the final round to SANDBOX Gaming, meaning they will spend the next split in the Challengers Korea (CK) league.
"We have terminated our contract with Viper (Dohyeon Park), Ucal(Woohyeon Son) and Untara (Uijin Park) in mutual agreement," read the announcement from Griffin.
"We thank them for giving in their best throughout their time in Griffin, and wish them all the best in their future."
Viper has spent his entire professional esports career with Griffin, which began in November 2017 when he arrived at the team alongside support Son "Lehends" Si-woo. The young pro took over as the starting ADC in January 2018 and went on to become a core member of the roster that reached the quarter-finals at the 2019 LoL World Championship.
Mid laner Ucal arrived at Griffin in January 2020 having previously played for KT Rolster and Afreeca Freecs. He was signed as a replacement for Shin "Rather" Hyeong-seop, who was promoted to the coaching staff at the start of the year. Despite his experience playing in two of the strongest Korean LoL teams, Ucal failed to fill the shoes of his predecessors and showed nothing more than mediocre performances throughout the LCK 2020 Spring Split.
Top laner Untara is the most experienced player of the three, having begun his LoL career in January 2014 as a support for Anarchy. He later played for Star Horn Royal Club (now Royal Club), CJ Entus, spent 1.5 years with SK Telecom T1 and enjoyed a short stint at 1907 Fenerbahçe before joining Griffin in December 2019. Despite that lengthy CV, Untara played only nine games for Griffin in the 2020 Spring Split and put up some of the worst marks in the league.
At the time of writing, the future of Untara and Ucal remains uncertain. Viper, however, has already been announced as the new starting ADC of Hanwha Life Esports, where he will take over for Oh "Vsta" Hyo-seong and reunite with support Lehends, who left Griffin in November 2019.
Griffin are now left with a six-man roster consisting of top laners Yoon "Hoya" Yong-ho and Choi "Sword" Sung-won, jungler Lee "Tarzan" Seung-yong, supports Jeong "Irove" Sang-hyeon and Kim "WADID" Bae-in, and mid laner Yoo "Naehyun" Nae-hyun. The CK 2020 Summer Split is set to begin on Sunday, June 14, meaning Griffin have just under a month to find a replacement ADC.
Despite the fall from greatness, the situation is not as grim as it may look. Since LCK is moving to a franchise model for the 2021 season, Griffin will have an opportunity to apply as a partner team in the Korean top flight.