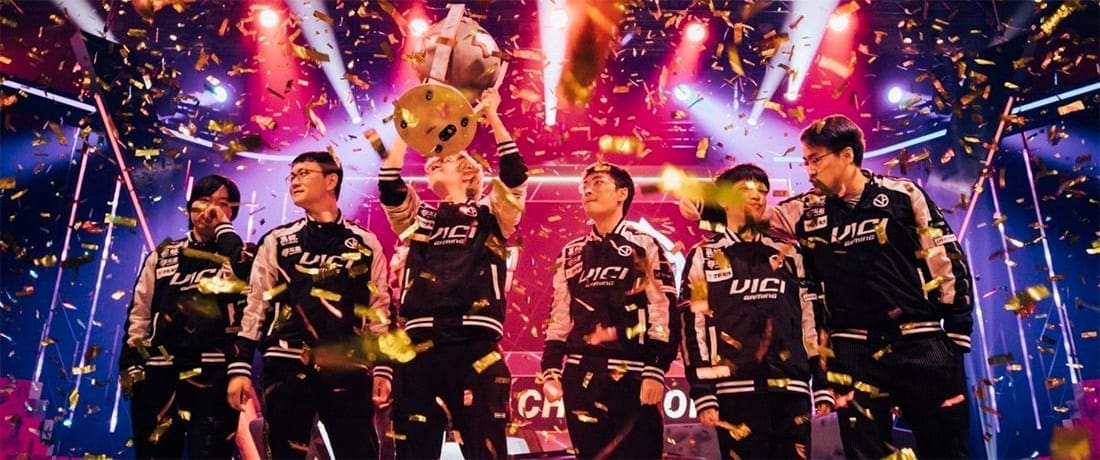 by in
Vici Gaming triumphed over Virtus Pro in the Grand Final of DreamLeague Season 11, clinching victory in a tight 3-2 battle that ultimately delivered a US$350,000 prize pool for the winners.
Besides the cash and 4950 valuable Dota Pro Circuit (DPC) points, Vici Gaming also became the fourth team to join the main event of The International 8 after Evil Geniuses took the third ticket a few days ago.
After its haul, Vici Gaming has 5850 DPC points and sit third in the rankings.
Vici Gaming performed very well in every stages of the tournament, whitewashing both Chaos Esports Club and Natus Vincere and finishing as a top two contestant in the same group.
After they advanced to the playoffs, their first opponent was Team Secret, the first seeder from Group A. Vici Gaming won the series by out-drafting Team Secret in game three.
SEE ALSO: LATEST ESPORTS BETTING TIPS
Moving to the next round of the Upper Bracket, they beat PSG.LGD with another incredible draft in game three.
ROTK, the coach from Vici Gaming picked Broodmother last for the team and later boasted that they won the game because PSG.LGD didn't expect the move and had no way to counter the hero.
Ori, the second position player from Vici Gaming grabbed Broodmother and crushed PSG.LGD mercilessly.
Moving forward to the Upper Brackets Finals, Vici Gaming and Fnatic were 1-1 after two games. Vici Gaming struggled a lot in the early phase of game three and Fnatic was ahead of them by 11,890 net worth at the 21-minute mark.
Facing defeat, Vici Gaming played it patiently and won the team fight because Ori had his Butterfly and Black King Bar by the 30-minute mark. They answered the call and won the team fight after Fnatic secured Aegis of Immortal on Troll Warlock, thanks to high output damage from Medusa.
Fnatic called GG after realising they had no way to deal with Medusa.
After Virtus Pro eliminated Fnatic in the Lower Bracket Finals, Vici Gaming had to take on Virtus Pro in best-of-five series in the Grand Final.
Both teams displayed their best draft and plays in every single game they played, Vici Gaming bested Virtus Pro in game five and took home the DreamLeague Season 11 title.
Vici Gaming has definitely proven itself as one of the world-class Dota 2 teams after displaying strong strategy and drafts in recent pro outings. We'll be watching their progress closely at the coming OGA Dota PIT Minor 2019 China Qualifier.