On this page we feature all of our esports betting reviews of the top online sportsbooks in the USA. Online some states in America allow online betting and this page highlights those places and the betting sites they have available to their residents. Our sportsbook reviews will include detailed information about the esports betting markets they have available, mobile and apps access, sign up bonus offers, free bets and promotions. Our esports betting site reviews are written by people who understand competitive video gaming and the betting industry. Use the following links to access full reviews of each sportsbook we promote to the USA.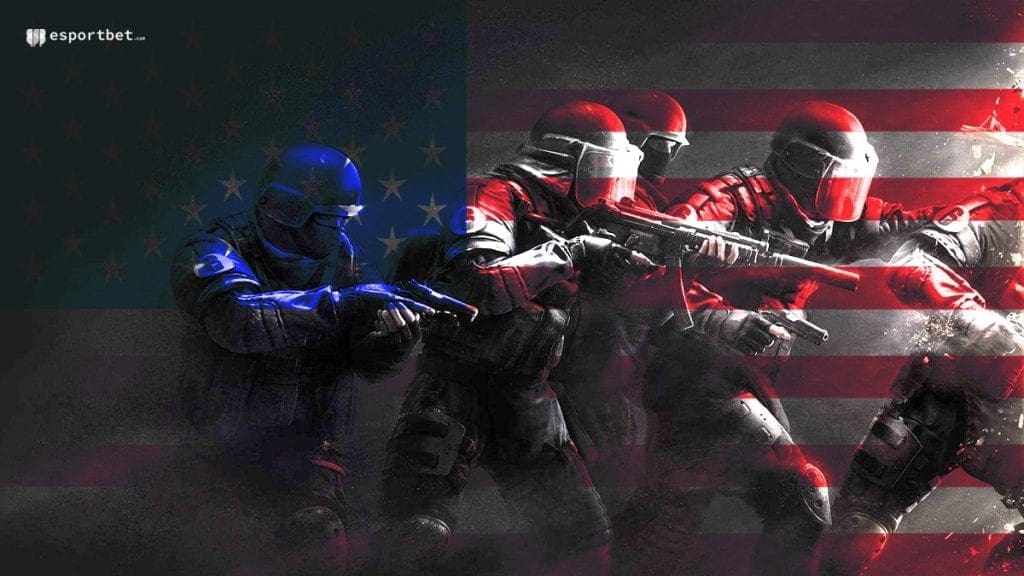 ---
Reviews of best esports betting sites in the United States
In this section we run you through all active sports betting companies in the United States. These sports betting brands are licensed to operate in select US states, although more and more are legalizing and launching regulated gambling industries. We have included short esports reviews for each brand in the United Staes below, with further links to full reviews of each sportsbook.
Pointsbet
PointsBet is an Australian-based company founded in 2015. After the legalization of sports gambling in the USA, the company established its presence in New Jersey, Indiana, and Iowa in 2019. In 2020, PointsBet announced a five-year partnership arrangement with media giant NBCUniversal. This agreement gives this small Australian start-up access to a national network's visibility servicing millions of potential players.
The company's primary focus is sports betting including esports, and it enhances wagering opportunities on the former via their unique PointsBetting wager. This bet allows you to increase your profits (and losses) through your bet's accuracy. You receive bet multipliers for each point in excess or short of a winning stake.
For example, if you win by three points above the over-under, you'll receive three times your bet. Conversely, you'll lose three times your stake in the case of a loss by the same amount. This variable type of betting is not available on fixed bet propositions such as esports events.
---

Caesars
You may be more familiar with this gambling behemoth on the strip in Sin City, but changing with the times, Caesars Casino has joined the world of online betting. The company created a seamless, classy experience with their mobile betting app, giving you access to the best sports, including NFL, boxing, and esports, all from the palm of your hand.
Caesars mobile betting app will give you access to all its classic casino favorites. Players also have access to the company's VIP Loyalty program. You'll earn points for betting with this provider, which you can redeem in its online store or at its many hotels, restaurants, and resorts.
---
William Hill
One of the most prestigious names in sports gambling, William Hill, is no stranger to innovation. Throughout its 86 years, the betting giant has seen many changes in the gambling industry. The company began expanding its operations into the American market in 2012 in Nevada. Since the expansion of gambling legislation in the country, it has continued to dominate many markets throughout the lower 48.
One of this provider's top features is its online betting app, which is among the best in the industry. You're able to play in both its casino and sportsbook through the Android and iOS friendly apps. The mobile options help you place bets on your favorite sport or esport anywhere you have access to wifi or data.
This legendary betting proprietor is on the cutting edge of esports betting. Quick to adopt betting markets for this growing entertainment area, the company offers wagers on several esports leagues, including Overwatch, League of Legends, and Counter-Strike: Global Offensive.


---
Golden Nugget
The Golden Nugget Casino and Hotel chain are one of Las Vegas' "old guard" casino operators. The original location, built in Las Vegas in 1946, has expanded to five spread across the USA. It's now found in Nevada, Louisiana, Mississippi, and New Jersey. The company places a significant focus on providing a luxurious experience at all its brick-and-mortar locations.
As with most big-name casinos and bookies these days, you can find The Golden Nugget online through its mobile app. Here you'll find a complement of sports and esports betting options combined with access to unique mobile-only offers for both its hotels and casinos. The casino app provides you with many of your favorite sports bets and some new choices, such as the most popular esports leagues.
---
Fanduel
FanDuel emerged in 2009 as one of the first online betting companies allowing you to wager on fantasy sports leagues. FanDeul's mission in its early days was simple: amplify the excitement of fantasy sports. The company relied on its simple mobile app to provide an exhilarating gaming experience for millions of dedicated fans.
As the company grows with the expansion of legalized gambling in the US, this provider aims to serve a diverse bettor market. Guided by the mantra "Make sports more exciting", FanDuel is always expanding its wagering options. A bit of a disappointment for many is that the company doesn't give you the ability to bet on esports yet, but it's likely coming soon.
---
Unibet
This Swedish born company came into existence almost 20 years ago as the brainchild of a passionate Swedish gambler, Anders Strom. As a dedicated student of sports wagering, his goal is to provide entertainment, offer expertise, deliver innovation, and ensure that its participants wager in a responsible manner. Anders uses strategic analysis of each match and shares his insights for all.
Unibet is an early adopter when it comes to technology. The company uses the latest HTML5, ensuring its betting platform is accessible on all browsers and devices. It also offers a convenient mobile app for both Android and iOS users. One segment in which the company is limited is in the availability of esports leagues. Currently, you're only able to play Counter-Strike: Global Offensive with this provider.
---
Resorts Casino
Take a walk down the boardwalk, online, with Resorts Casino. This establishment is one of the hottest spots in Atlantic City, and they approach online gambling with a singular focus on its players. The online gambling site comes to you from a group that has entertained millions of bettors since 1978.
The first thing you'll notice with this company's online platform is the simplicity it presents. Devoid of the bells and whistles featured on its competitors' sites, you can navigate to find your favorite casino games, esports, and betting options with ease. Not to be left behind its competition, you'll find many exciting bonuses with this bookie.
You'll also notice that this gaming entertainer's modern attributes are the variety of sports leagues you can play. There are leagues worldwide, including international cricket, Aussie Rules football, and esports leagues like Counter-Strike: Global Offensive.
---
FOX Bet
FOX Bet is a partnership between Fox Sports Media and betting giant The Stars Group to bring gambling entertainment to Prime Time. Formed in 2018 after the legislative changes legalizing sports wagering in the USA, the company operated under the brand name BetStars until August 31st, 2019.
FOX Bet combines the latest sports news, statistics, and betting trends to deliver a more informed and engaging gaming experience to you. This company is well known for its prop bets and in-play wagering options, which allow you to make play-by-play wagers. You're also able to place your stake via its online mobile sportsbook.
This gambling entertainer places considerable emphasis on the four major US sports as well as professional golf events. You'll find a range of international favorites like soccer and boxing. Missing from its impressive line-up, unfortunately, are all the popular esports leagues. We can imagine they'll be making an appearance soon, though.
---
Ask most players what the best online bookie is, and Bet365 usually tops that list. The most dominant force in global sports betting, this company is on the edge of innovation when it comes to wagering on your favorites. Formed in 2000 by Deinse Coates, the company launched its proprietary gambling algorithm online in 2001. Through its unique software, it's able to offer the most fluid gambling experience available today.
The company is well known for its creative in-play wagers, enhancing your gambling encounter with an endless diversity of bets. For those that can't wait for full-time, Bet365 sometimes offers early cash-outs for your bets. With a cash-out, if your favorite esports team is in the lead partway through the match, and you don't want to see the tables turned, you can accept a lower payout to take your winnings immediately.



---
888Sport
Founded in 2008, this company established itself as a force to be reckoned with in the online gambling community. The company grew its brand recognition through sponsorships to become one of the most trusted online betting names. This UK-based proprietor was one of the first non-US-based companies to receive a Nevada State Gambling Commission license to provide online gaming.
As a multi-award winning betting provider, 888Sport's goal is to provide thousands of sports betting markets worldwide. Through its seamless browser platform and mobile apps you can access on any device, you have direct entry to a full complement of wagering options. This gaming entertainment website also boasts having more esports leagues than most of its competitors.
---
BetMGM Sport
Anyone familiar with casino gaming will instantly recognize the golden lion of BetMGM. The online sportsbook of the famed casino operator MGM Grand operated under the brand name PlayMGM before rebranding.
The original company began its operations in 1978 under the ownership of billionaire Kirk Kerkorian. The casino resort is an exotic attraction for many gamblers traveling to Las Vegas. Fortunately, there's no need to travel to the desert to enjoy its online sportsbook.
BetMGMs online platform gives you access to casino gaming, poker, and a sportsbook. You can play on your laptop or across any Android or iOS device. As a top sports bookie, there are many international competitions at your fingertips. The only sports we found lacking are the ever-popular esports leagues, found on many of its rivals online wagering platforms.
---
The Score
Another media company that has dipped its toes into sports betting, The Score is a Canadian company that has a primary focus on the US sports betting industry. While TheScore.bet does not have as many betting markets as other sportsbook reviews we have written, we expect them to be one of the market leaders in esports wagering, given they already cover it extensively in their news offering.
The Score originally launched as a live scores portal with it particularly prominent in the US sports market, however they have developed into an all purpose media company in recent times. The Score's reputation precedes its sports betting offering, which should fill you with confidence when considering this sportsbook.
The Score has apps available to download for both Android and iOS smartphones in the markets they are active in, which includes New Jersey and Colorado. They also have some of the better free bet offers that we have seen at US sportsbooks we have reviewed.
BetRivers
BetRivers is a highly popular sports betting company in the USA, with this brand operating in multiple US states and showing no signs of slowing down. Bet Rivers is US-owned by Rush Street Interactive, which should give you confidence they won't rip you off. It would not surprise to if we continue to see BetRivers be one of the best esports betting sites in the USA in the future, with big plans surrounding this company.
BetRivers has got mobile apps available for both Android and iOS which is crucial in the US market, give many states only allow mobile forms of betting, because they require location services to prove where a punter is.
BetRivers has also got some of the better bonus offers and promotions surrounding esports that we have seen in the USA. This includes allowing users to make their first deposit and receive a 100% matched bonus offer. This is among the best betting deals in the USA.
---
Esports betting site reviews Q & A
Why do you review some brands that don't have esports betting?
Esports betting is still slowly being legalized across the USA, with not even all regulated betting markets allowing wagering on competitive video games.