When it comes to gambling entertainment, William Hill USA counts itself as a pioneer of elite betting providers. This juggernaut of the gaming industry provides everything from sportsbooks to online casino gambling. With operations spanning the globe, we'll investigate what makes this company one of the most recognizable brands in gaming today.
This William Hill USA review will cover the history of the betting company and what separates them from the competition. We'll dig into the wagering opportunities currently available, including the ever-growing world of eSports. Finally, we'll discuss some exciting developments we expect to happen in the coming years.


---
William Hill History
Named after its founder, William Hill Sportsbook began its journey in 1934 in the United Kingdom. Today it's a behemoth of the gambling entertainment industry, listed on the London Stock Exchange, and with a worldwide reach. It currently employs a staggering 12,500 people.
William Hill USA was established in 2012 after its successful purchase of Nevada sportsbook operators American Wagering Inc. and Cal Neva Sportsbook Division. With its license approved in June 2012, this betting proprietor was promptly off to the races. Rapidly growing into one of the largest sports and racebook operators in the US, the gambling entertainment company now boasts 113 locations around the United States and provides online wagering options to suit every gamblers' needs.
---
What States Does William Hill USA Operate In?
The US has a complex history of gambling laws across its 50 states and several territories. In May 2018, the US Supreme Court struck down a law prohibiting sports betting in 49 states, except Nevada. With a firm foothold already in Nevada, coupled with the legalization of gambling in an ever-increasing number of locales in the US, William Hill started to expand its North American footprint. Here's where William Hill currently operates in the US:
States
Nevada
Colorado
Florida
Illinois
Indiana
Iowa
Mississippi
New Jersey
New Mexico
Rhode Island
West Virginia
Districts & Territories
District of Columbia
The Bahamas
---
William Hill USA
With over 110 locations within the US, you'll find no shortage of action available with this gambling entertainment provider. There are options for every gambler, whether you're a casual player or a seasoned professional. Let's examine its numerous betting options.
William Hill Sportsbook
There's a dizzying array of betting activities available within this company's US sportsbooks. Currently, this sportsbook offers action in 13 states and territories. You'll have no difficulty finding a William Hill Sportsbook to place a wager on your favorite events.
Whether using its mobile app or betting at one of its physical locations, this betting shop allows you to place a wide variety of wagers, whatever your game is. You can find some of its best odds available in their in-play wagering. The continually shifting odds ensure that the excitement never stops. There's also an engrossing number of lines and prop bets that guarantee endless entertainment.
---
William Hill eSports
The fastest-growing sports around are eSports. These include some of the biggest video game titles such as Starcraft, League of Legends, and Counterstrike: Global Offensive. Gambling on these events has become very popular over the past decade, and William Hill has entered the arena. 
Each video game has several top players and teams with devoted followings, just like any major sport. The wagering around these games usually relies on the match's outcome. Some events occur across several rounds, much like a tennis match, and you'll find lines available for these individual rounds too. There are very few options for prop betting at the time being, but we expect this to change as eSports continues to swell in popularity.
While some US esports betting states don't allow wagering on all games yet, we expect in time William Hill will offer esports betting right across the USA.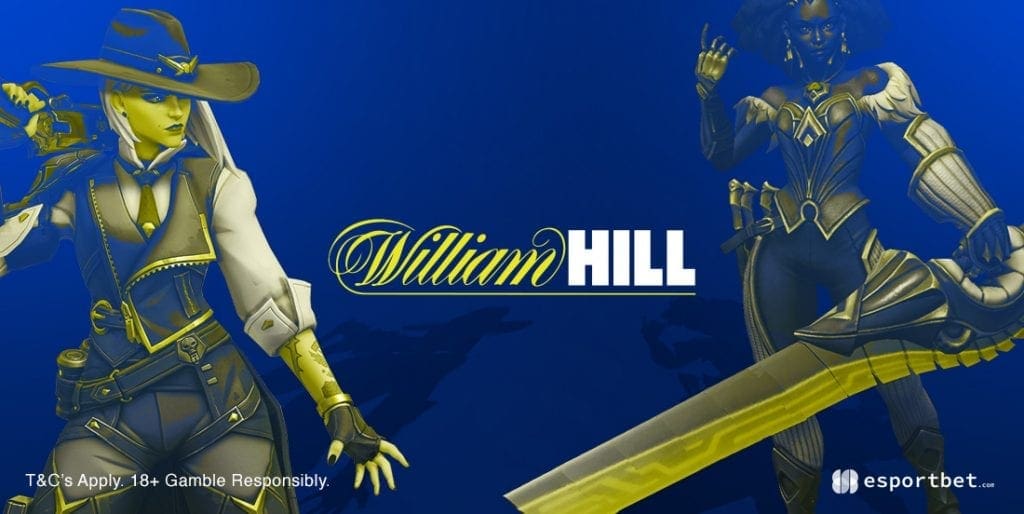 ---
William Hill Racebook
In its country of origin, horse racing is a staple of this provider's business. In the United States, horse racing has given players legal opportunities to place a bet where no others were available. It's no surprise, then, that William Hill operates several pari-mutuel racebooks as the betting empire continues its expansion.
Currently, if you're looking for a William Hill USA racebook, you'll find 12 locations in Nevada with one site outside the dessert state. You'll find this location inside Casino Miami, Florida. If you find yourself in its Florida location, you'll be treated to live Jai-Lai, a popular betting event in the Panhandle State.
---
William Hill Casino
At the moment, the company doesn't hold any casino licenses in the USA. Yet this may change at any time. Currently, the global wagering conglomerate satisfies itself with sportsbook and racebook partnerships within casinos around the United States. 
William Hill's online casinos are currently available outside the US, but that may soon be changing. The betting giant announced on May 15th of this year that it would launch its online US casino in the second half of the year. COVID-19 brought the timeline forward for the launch, initially scheduled for next year.
As one of the world's top gaming providers, William Hill online casinos are quite popular overseas. The company recently acquired one of Europe's largest gaming brands, MKG, which gives it control over popular brands Redbets and virtual casino operator Mr. Green. You'll find a diverse choice of online slots action with games from reputable software developers Microgaming, Betsoft, and Evoplay Entertainment.
---
What's Next for William Hill USA?
With online casino gaming set to start within the coming months, there are many exciting prospects on the horizon for this gambling entertainment company. It's continuing its US expansion by creating partnerships with successful casino enterprises around the country. You should expect to see its sportsbooks in casinos in Michigan soon after a recent partnership announcement between William Hill USA and the Grand Traverse Band of Ottawa and Chippewa Indians Casino.
Are you a Washington Capitals or Wizards fan? If so, you'll notice some changes next time Capital One Arena in DC opens its doors. The betting giant is now the first bookmaker to sign an agreement to operate within a major sporting facility in the USA. Next time you take in a game at Capital One Arena, you might be placing your bets while you grab a halftime burger.
---
William Hill review Summary
More: USA sportsbook reviews.
With the legalization of sports gambling across the United States, international bookmakers will have opportunities aplenty to make inroads into this betting hungry market. William Hill has proven, time and again, to be one of the most reliable betting sites in the world for players worldwide. We expect it to continue its dominance over the American gambling scene, especially as it looks forward to launching its online casino platform. 
As a player, you'll be impressed with the wide variety of gaming options you'll find at your fingertips. With sportsbooks and racebooks across the US and one of the top mobile apps for gamblers, there will be no shortage of entertainment with this provider for the foreseeable future.