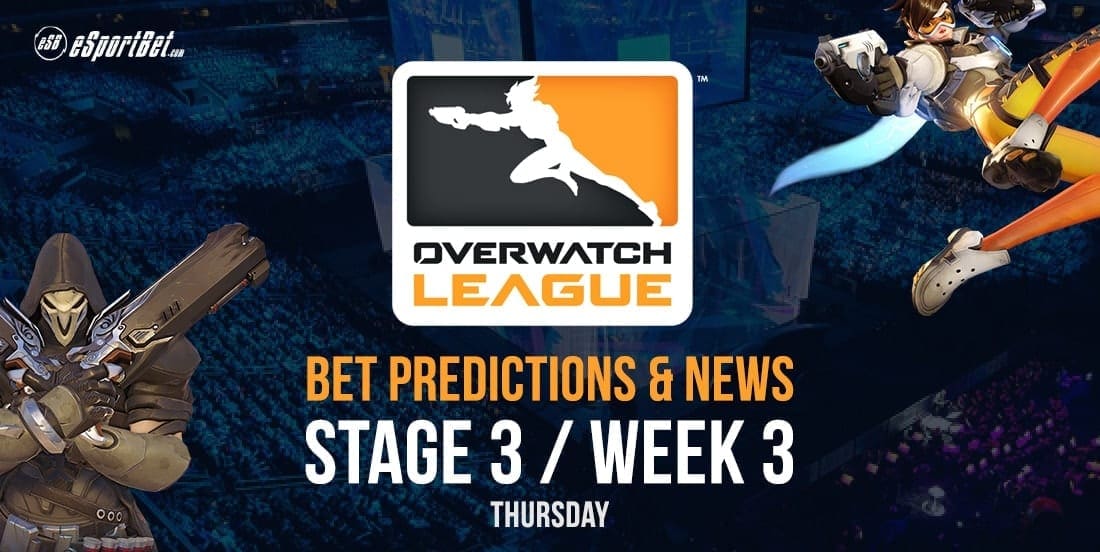 by in
The Overwatch League is about to enter week 3 of Stage 3 and as always there are 12 matches to be played from Wednesday till Saturday. A whole variety of betting opportunities are available this week but before I start analyzing them, let's take a look at the current standings table.
Stage 3 standings table
1st place: Los Angeles Valiant (4 WINS – 0 LOSSES)
2nd place: Boston Uprising (4 WINS – 0 LOSSES)
3rd place: New York Excelsior (3 WINS – 1 LOSS)
4th place: Los Angeles Gladiators (3 WINS – 1 LOSS)
5th place: Philadelphia Fusion (3 WINS – 1 LOSS)
6th place: Seoul Dynasty (2 WINS – 2 LOSSES)
7th place: San Francisco Shock (2 WINS – 2 LOSSES)
8th place: Dallas Fuel (1 WIN – 3 LOSSES)
9th place: London Spitfire (1 WIN – 3 LOSSES)
10th place: Houston Outlaws (1 WIN – 3 LOSSES)
11th place: Florida Mayhem (0 WINS – 4 LOSSES)
12th place: Shanghai Dragons (0 WINS – 4 LOSSES)
Betting predictions
Houston Outlaws (1W – 3L) vs. Florida Mayhem (0W – 4L)
Match date: April 19th
After finishing Stage 1 on the podium and getting a mediocre result in Stage 2 (7th place), Houston Outlaws started Stage 3 with some bad results and a victory against London Spitfire. Keep in mind however that these bad results came against the 3 strongest teams in OWL at the moment, namely Boston Uprising, New York Excelsior and Philadelphia Fusion. And 2 of these 3 matches were actually really close (score 2 – 3). Subsequently, we can conclude that in spite of its poor start, Houston Outlaws is actually a very strong team that will likely crush weak adversaries like Florida Mayhem.
Betting prediction: Houston Outlaws to win, paying -400 with BetOnline
Boston Uprising (4W – 0L) vs. London Spitfire (1W – 3L)
Match date: April 19th
Here we have another deceptive match between a team that's 4W – 0L so far in Stage 3, and one that's 1W – 3L. However, keep in mind that London Spitfire won Stage 1 and then finished Stage 2 in 3rd place. In Stage 3, it lost 3 matches against 3 tough opponents: Houston Outlaws (2 – 3), New York Excelsior (0 – 4) and Philadelphia Fusion (2 – 3).
The head to head record between these two teams is 1 – 1. Overall performance favors London Spitfire. Current form statistics favor Boston Uprising. The last direct encounter ended with a crushing victory in favor of London Spitfire (4 – 0).
This match is highly unpredictable but I'm leaning slightly towards Boston Uprising.
Betting prediction: Boston Uprising to win. A bet on its victory with a +1.5 maps advantage would be the safest betting option, because the match could go easily finish with a 2 – 3 or 3 – 2 result. You can place this bet at BetOnline
Philadelphia Fusion (3W – 1L) vs. New York Excelsior (3W – 1L)
Match date: April 19th
This is another close match between two teams that have already met each other several times, with an overall score of 2 – 1 in favor of New York Excelsior. In principle, the New York team should win this match with the score of 3 – 2 or 3 – 1. But its latest defeat against Boston Uprising emphasized some serious weaknesses in its strategies.
Overall performance favors New York Excelsior. Current form statistics also favor it slightly, in spite of its loss against Boston Uprising. The match will be close but the New York team is should win it.
Betting prediction: New York Excelsior to win, paying -175.44 with BetOnline