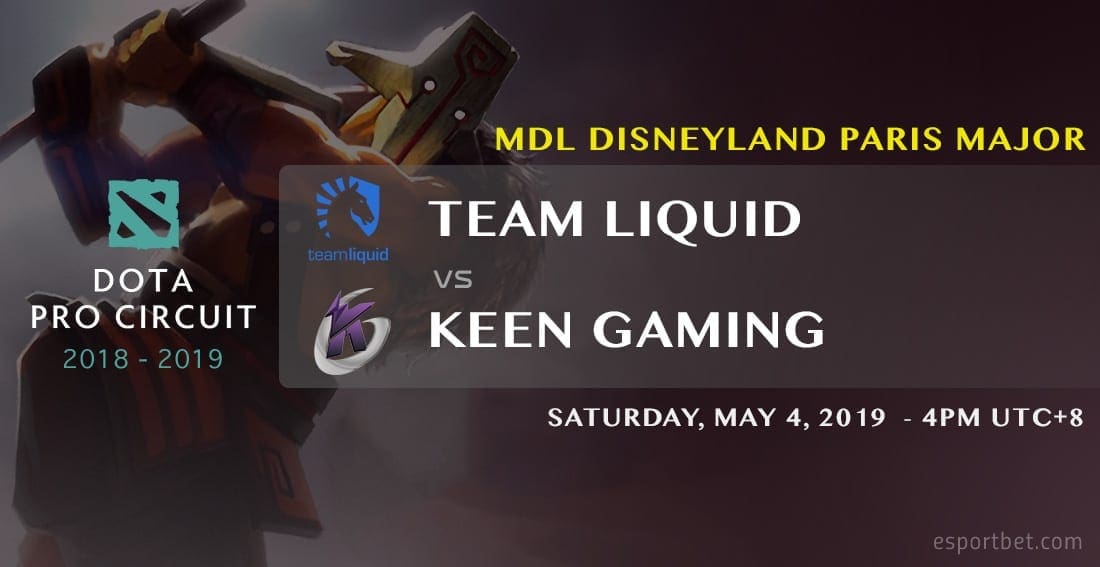 by in
Saturday, May 4, 2019 – 16:00 UTC+8.
Team Liquid and Keen Gaming will kick off the MDL Disneyland Paris Major when the two Group A sides meet in a crucial best-of-three series on Saturday.
The match is an important for Team Liquid, who will be seeking revenge over Keen after their humiliating white-wash the last time these two sides met in a major.
In Liquid's recent performances, they have been practicing a pushing strategy that has included heroes like Lycan, Abaddon, Leshrac, Lone Druid and Dazzle.
Lone Druid's Spirit Bear is very tanky at this level because the bear has 1500 health points while other heroes only have base health points up to around 700.
Liquid ran five heroes together to push the bottom lane at level one and secured two towers before the three-minute mark.
Their opponents finally answered their calls when Liquid tried to force the high ground before the five-minute mark.
SEE ALSO: LATEST ESPORTS BETTING TIPS
Team Liquid was punished for their greediness in pushing the high ground when all of them were level one. They started to split up and get some level.
However, breaking two towers within the three-minute mark of the game provided them a lot of map control and net worth. So, Lycan, Dazzle and Lone Druid bought Necromaniac and finally won the game because enemies had no way to counter all those healing and wiping out those units under control by Liquid.
Keen Gaming, one of the hottest Chinese squads in the game, claimed the title of ESL One Mumbai 2019 two weeks ago by whitewashing Mineski 3-0 in the final.
On the way to that victory, Keen Gaming star Dark spammed Nyx Assassin at position five a number of times to great success.
Team Liquid might use one of their ban slots for this hero to counter Dark's dominance.
Team Liquid may use a pushing strategy in this game, but we expect Keen Gaming to be prepared for it.
Team Liquid vs Keen Gaming betting prediction
After running our eye through their performances of late, we give Keen Gaming a 55% chance to win this match-up.
Considering the payout odds, our recommendation is to go medium and bet on Keen to win the series at +175 with BetOnline.