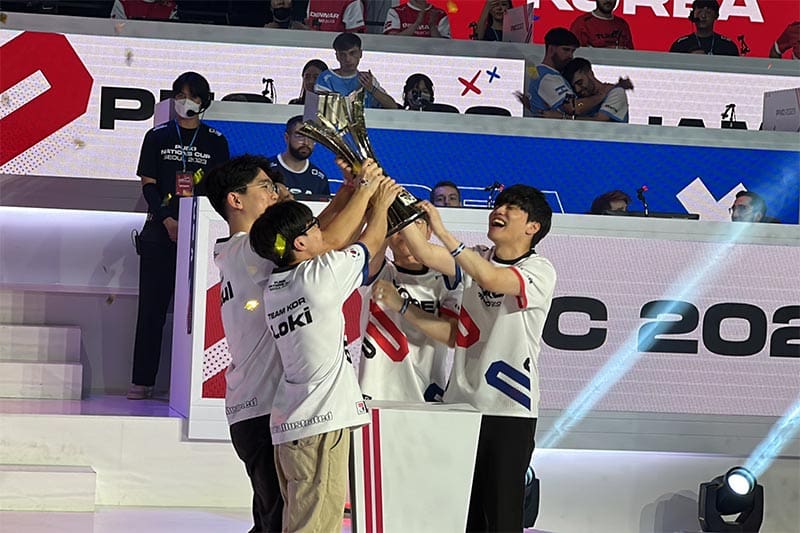 by in
Team Korea emerged victorious in the PUBG Nations Cup, securing their first-ever win at the Sangam Afreeca Colosseum in Seoul on Sunday.
This win holds special significance for Team Korea, with it coming four years after a near-miss at the same tournament.
The PUBG Nations Cup is a premier Esports event that draws 16 top-tier teams to compete in Player Unknown's Battlegrounds (PUBG).
In this high-stakes player-versus-player shooter game, up to 100 participants vie for survival in an intense battle, after being dropped out of a plane.
Kicking off the event on Friday, Team Korea set the stage alight from the get-go, consistently delivering strong performances. The team, comprising of players Cho Gi-yeol, Park Jung-young, Na Hee-joo, and Kim Tae-sung and guided by coach Shin Myong-gwan, notched up 49 points on the inaugural day, placing them in fourth spot. They further upped their game the following day, amassing 58 points and claiming the top position.
The nail-biting finale witnessed Team Korea maintaining their position. In the 14th match, they stood out by ensuring all four of their players remained until the end. In a defining moment, they eliminated all four players from Team Thailand.
With an impressive tally of 172 points, Team Korea clinched the prestigious Nations Cup title. Cho Gi-yeol's outstanding performance, boasting 34 kills and a staggering 7,208 damage, earned him the MVP accolade for the tournament.
Defending champs, Team United Kingdom, had to settle for the second spot with 140 points, narrowly followed by Vietnam with 139 points. Argentina secured the fourth position with a total of 133 points.
This victory has provided Team Korea with a moment of redemption. In the 2019 edition, they faltered on the final day, relinquishing their leading position and allowing Russia to be crowned champions.
This latest triumph marks a significant achievement for Korean PUBG, as it's the first international title clinched by a Korean team since 2019 – the previous honor being the 2019 PUBG Global Championship, bagged by Gen. G.
The PUBG Nations Cup victory came with a hefty cash prize, with Team Korea pocketing $100,000 from the event's total prize pool of $300,000.