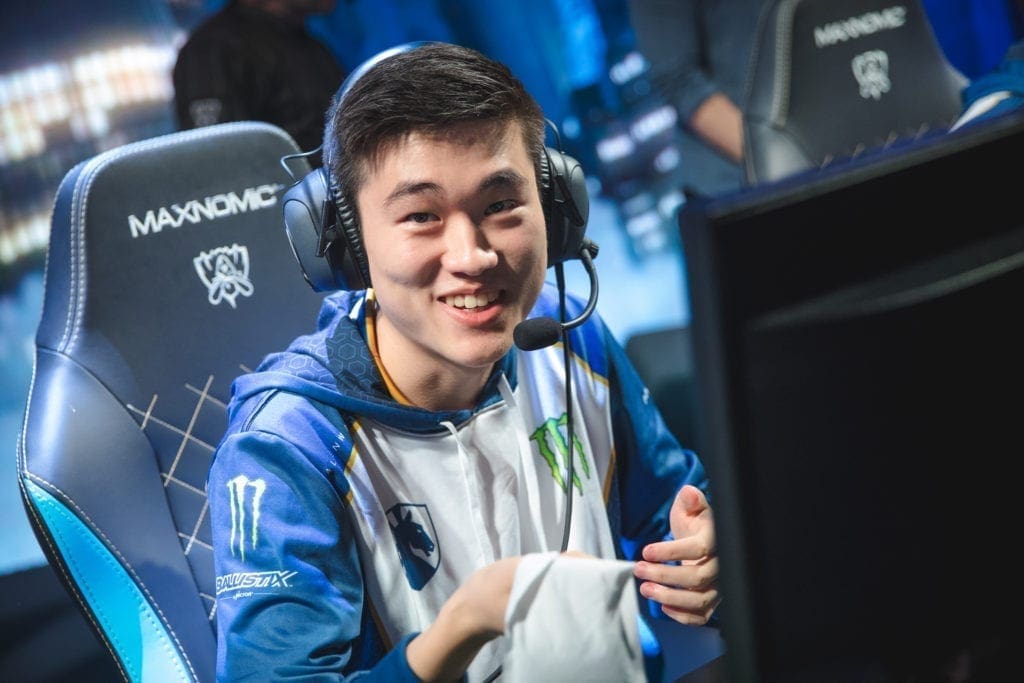 by in
Team Liquid have announced their former mid laner and current positional coach Eugene "Pobelter" Park as their temporary starting jungler for 2020 LCS Spring Split amidst the visa issues which could prevent Mads "Broxah" Brock-Pedersen from starting for the team in the opening stage of LCS.
As reported earlier this month, Team Liquid have found themselves in a predicament due to the ongoing visa issues which could prevent their new signing Broxah, Shern "Shernfire" Cherng Tai and their head coach Jang "Cain" Nu-ri from joining the team ahead of 2020 LCS season kick-off.
Since the team's co-owner Steve "LiQuiD112" Arhancet took the issue public on his Twitter, the League of Legends community offered Team Liquid a handful of solution for their problem – from signing their former member Christian "IWDominate" Rivera, to giving Julian "Tarzaned" Farokhian a chance to prove himself in the professional scene and even promoting Ashkan "TF Blade" Homayouni to the main roster. However, it seems like Team Liquid were not prepared for any drastic changes, and instead opted to relocate Pobelter to their active roster as their new temporary starting jungler.
Pobelter: Put me in coach@Pobelter: Ok pic.twitter.com/BxK3lKlgXO

— Team Liquid LoL (@TeamLiquidLoL) January 8, 2020
Pobelter is a former professional League of Legends player, who started his career as a top laner in August 2011, when he joined Team Curse. In June 2012, he moved to Meat Playground, where he took up the role of mid laner, which became his prefered role throughout his eight-year-long career.
In January 2013 he re-joined with Curse, but due to his young age, which prevented him from playing in the LCS, Pobelter was moved to Curse's academy team. Pobelter later played for several teams including Infinite Odds, Evil Geniuses, Winterfox, CLG, Immortals and Team Liquid. In December 2018, Pobelter joined FlyQuest where he competed in the 2019 LCS, but due to team's poor results, he got released in December 2019, leaving him without a team.
After his departure from FlyQuest, Pobelter struggled to find a new home, which ultimately led to his decision to not play in the 2020 LCS. The 23-year-old, however, has not declared retirement but instead expressed he is determined to one day make a return in the LCS and as it seems, he just might get that chance later this month as Team Liquid's new jungler for the 2020 LCS Spring Split.
While a surprising decision for Team Liquid to relocate Pobelter to a position he never played before, the move was already rumoured last weekend, when Team Liquid posted a Twitter post, showcasing Pobelter playing a jungle role on his stream. While that post was an obvious hint from TL, the LoL community did not take it very seriously, given that Pobelter has no experience in the said role.
Put me in Coach pic.twitter.com/9pKa1ZiVq4

— Team Liquid LoL (@TeamLiquidLoL) January 4, 2020
Whether we will get to see former mid laner turned coach try out as TL's new jungler, however, is not 100% confirmed as of yet. Team Liquid clarified that the situation is only temporary and that there is a possibility Broxah will get his visa sorted out before the start of the season.
As of today, however, no information about any progress on Broxah's visa has been announced and with 2020 LCS Spring Split just a couple of weeks away, the return of Pobelter seems like a very likely outcome.