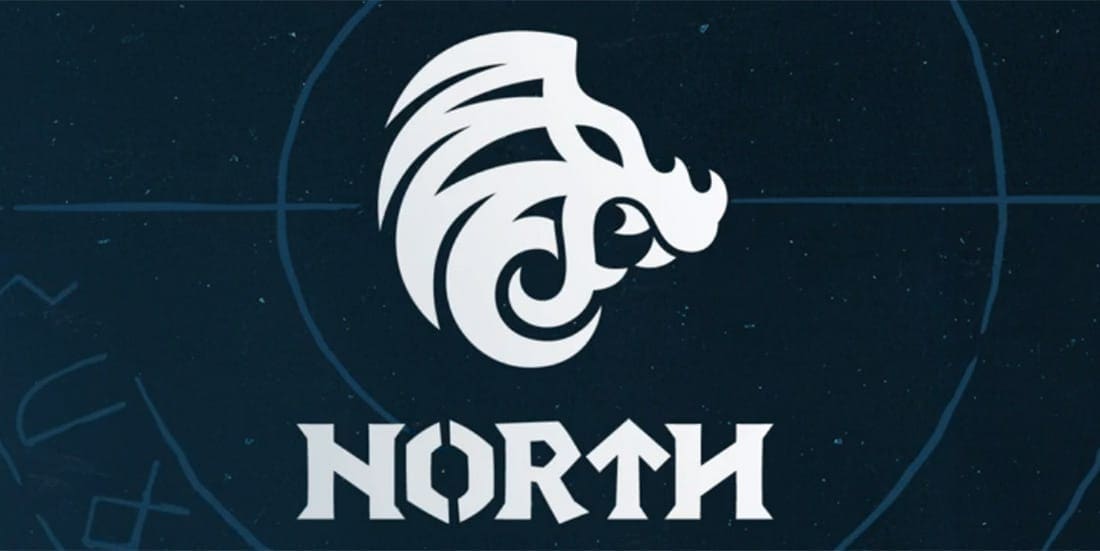 by in
North, one of the biggest Danish esports organizations, decided to start 2020 fresh with a complete rebranding that included a new logo and a wipe of all of their old content from social media.
North deleted all of their data from Twitter, YouTube and Facebook without notice, thus leaving many of their fans baffled. The organization even went so far to completely remove their official website, which showed a 404 error upon opening only yesterday.
Just as shocking as North's apparent disappearance from the face of the world was their reappearance this Tuesday when they took to Twitter to unveil the 'Dawn of North'. With that post they showcased a new logo, unveiled plans for the future and introduced several changes to their esports teams and executive staff.
On their official website, North have redefined their overall brand to emphasise the "new dawn" and pledged to become the "leading Scandinavian esports organization".
The rebrand comes shortly after the organization appointed new management, which took over in October 2019. While no announcements or hints about a rebrand surfaced earlier, North were expected to make some drastic changes sooner or later.
"We have looked closely at the company and the apparent opportunities that are present in our organization," said Christopher Håkonsson, new CEO of North.
"It became obvious that we needed to focus on a few critical elements in the very foundation of the organization that has been built. So we have changed the way we look at branding, marketing, and sports," said Alexander Pedersen, CMO at North.
As a part of the rebrand, North also added Christian Engell to help their esports athletes improve their performances. Engell is a performance coach who has previously worked with some of the biggest Danish athletes, such as eight-time Superligaen champion William Kvist and Leicester City goalkeeper Kasper Schmeichel.
"Performance optimization has existed in sports forever. It is not something we or any other esports organization has invented. Still, it is something we strive to implement in an even more refined way," said Håkonsson.
Apart of their organization personnel, North have also re-signed former Astralis member Markus "Kjaerbye" Kjærbye to their CS:GO esports team.
Perhaps the biggest announcement of North's rebrand comes in their introduction of a new roster that will participate in the Apex Legends Global Series.
Joining Can "Taisheen" Öztürk and Mikkel "mande" Hestbeck will be a Croatian player Dan "rpr" Ušić, who previously played for team SoaR. He will replace Matej "MaTaFe" Fekonja, who is currently without a team.
Rpr started his career as a professional Apex Legends esports player in March 2019 and has since made a name for himself with his 15th-place finish at the Apex Legends Preseason Invitational. That, however, is his only notable career achievement besides a couple of top-15 placements across Tier 2 and Tier 3 tournaments.
North have teams in CS:GO, Apex Legends and FIFA 20, but they are reportedly looking to venture into even more esports game titles in 2020 in a bid to become the biggest and best Scandinavian gaming organization.
"We are going to invest in more esport titles in 2020 and we're confident that the new players and the new staff behind the teams together will strengthen the organisation significantly," said Håkonsson.
Ending their rebranding announcement, North revealed some significant changes to their budgets and their brand-marketing. That raises some important questions regarding their plans for the CS:GO team, who endured a rather lacklustre 2019 season and have a lot of ground to make up on Astralis.