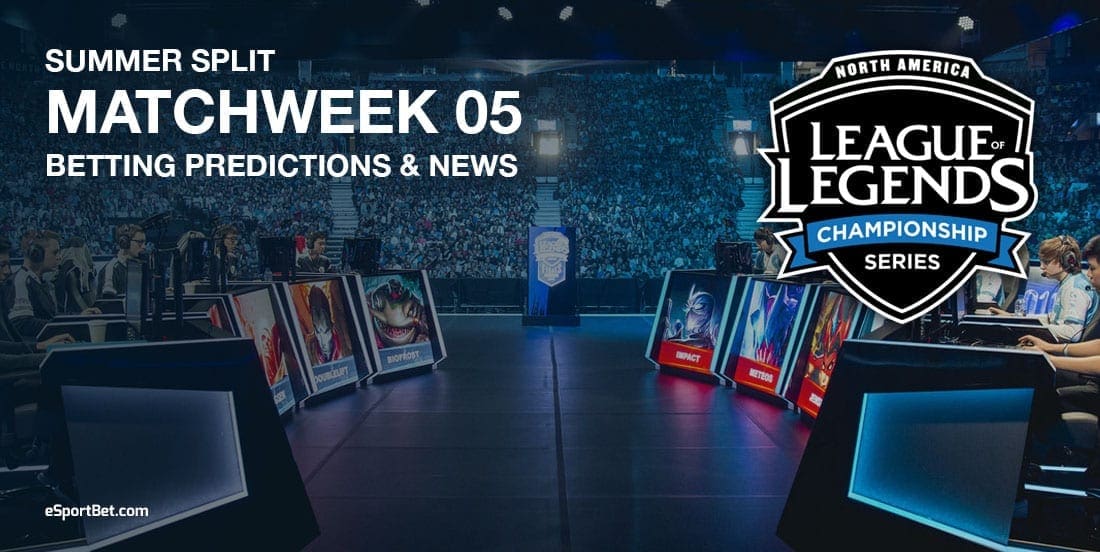 by in
Moving into Day 2 of the NA LCS, most of these matches will be breaking up any tie in records for most teams. A lot of top tier teams will be playing each other today as well as the lower tier teams trying to climb out of their rut. In terms of exciting matches to watch, today will hold the most explosive games that will spiral out of control quickly or turn into a slugfest for every single match.  

BETTING GUIDE: LEAGUE OF LEGENDS
PREDICTION HUB: CHECK OUR OTHER TIPS
Betting Predictions for Sunday July 22
Optic Gaming vs Cloud9
12pm PST / 3pm EST
In order to even be considered for playoffs, Cloud9 and Optic need to find their consistent path. Both of these teams have been struggling with their team identity, whether it be roster changes or win conditions, and have yet to completely wow onlookers with their subsequent matches.
The question becomes whether or not PoE or Arrow can pop off enough to match the powerful duo of Jensen and Sneaky. For PoE, that is a very possible route but for Arrow, divine intervention may be required. Whether the support is Zeyzal or Smoothie, both will tend to outrank either of OPT's supports. Licorice should also have a cakewalk in the toplane as both of OPT's top laners are average at best, but the jungle difference in terms of consistency will be called into question should C9 use their academy jungler.
Betting prediction:Cloud9 to win, paying -277.78 at BetOnline.
FlyQuest vs 100 Thieves
1pm PST / 4pm EST
The mid-tier FlyQuest will take on the top tier Thieves, although both teams are very close in standing should one look at their records. And boy, this game will either have a very smooth progression of events or look like hot garbage.
The reason for such a prediction is because FLY is a very 'under the radar' team, without a solid win condition and basically muddling their way through with whatever comes onto their plate. If Keane gets ahead, they will ride the Keane train and if WildTurtle springs forward, the Turtle Express is their next stop. Statistic wise, FLY isn't the most pronounced team in any mean compared to 100T. However, 100T has just traded Meteos for AndA and will have to continue synergizing with their new early game pressure point. Not only is synergy called into question, should the Thieves continue to experiment with their roster, results may be incredibly mixed. However, fundamentally 100T have a great advantage when it comes to powerful laners in the current meta in Cody Sun and Ssumday.
Betting prediction:100 Thieves (ONLY if Cody Sun plays) to win, paying -175.44 at BetOnline.
Team Liquid vs CounterLogic Gaming
2pm PST / 5pm EST
Perhaps the largest game of the day, a lot of LCS veterans and high caliber players will peak off in the middle game of the day. One of these titans will fall in a game surely to divide any fan of the NA LCS.
To put it simply, TL have an advantage in the bottom lane, toplane and midlane while CLG have an advantage in the jungle. It is a heavy advantage and although it looks the game is incredibly TL favored, CLG's Reignover is the saving grace. TL's games are short and sweet, snowballing quickly either way. If Reignover can pull off his consistent style to get his laners ahead, there is a good chance for CLG to delay the game enough for Stixxay and Huhi to scale. Against their counteparts and left to their own devices however, one can expect a TL snowball out of this world.
Betting prediction:Team Liquid to win, paying -175.44 at BetOnline.
Golden Guardians vs Echo Fox
4pm PST / 7pm EST
I hope we are all prepared for fireworks as this last game is going to be a clown fiesta, hands down. The middle game may have been the most hype in terms of competitiveness but this last game takes the cake for anything dumb, inspiring and overall a chaotic potluck.
Echo Fox were the first to start swapping Huni literally anywhere on the map and start the chaos style FOX is known for. Dardoch has followed suit, holding marksmen and carry champions in his back pocket to back up Huni's shenanigans. All the while the rest of FOX are left to play around and avoid the top side pressure that is surely to come from all the unorthodox picks. GGs have implemented a funnel composition, a standard composition, a top carry composition, anything you want. As a result, they have earned themselves multiple upsets and are finally looking like a team with synergy and a 'consistent' playstyle. Nothing will be easy to call in this game as the slightest lead can turn 180 degrees in a second, and as a result the match will be a wonder to watch.
Betting prediction:Golden Guardians to win, paying +162 at BetOnline.
Clutch Gaming vs Team Solomid
3pm PST / 6pm PST
Both CG and TSM have had their ups and downs this season, ending week 4 at the middle of the pack at 4-4 apiece. While TSM are the through and through laners at heart, CG have tried to innovate to mixed success. This match will be whether or not CG decide to outplay TSM at their own game or to pull off a feisty composition to create a new playing field.
TSM still rely on Zven and Mithy in the botlane to hold the team afloat with Bjergsen having a surprisingly average time in the midlane. TSM's early game is stable enough but when it comes to having the correct compositional rotations and teamfighting prowess, they fall quite short. That is in contrast with CG's memo where they boast decent teamfighting statistics (barring Solo) with both Febiven and Apollo as dual carries. If Darshan can exploit Solo's inability to judge the map pressure, which is quite possible, TSM will have an additional win condition in the split push as well. However, the true contest is the Grig vs LirA early game contest and which jungler has more early game pressure.
Betting prediction:Clutch Gaming to win, paying +120 at BetOnline.
Highest-rated NA LCS betting options

Best esports betting sites for your country

To keep up with the latest esports news and tips be sure to like the eSportbet facebook page and join our Discord server.