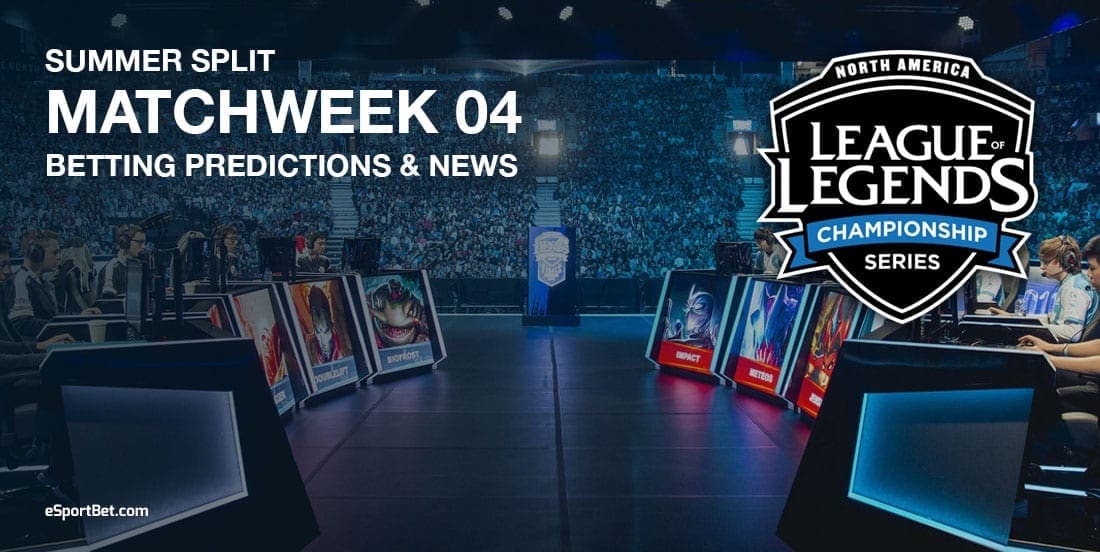 by in
North America will resume its exciting and unorthodox matches after waiting two weeks for Rift Rivals to conclude. Unfortunately for the three teams attending the international tournament, North America was not able to triumph against Europe. In addition, the region has had multiple weaknesses exposed at Rift Rivals, including funnel composition defenses, Heimerdinger and Aatrox picks and overall team flexibility.
Today's matches will have very predictable winners, but the possibility for an upset has been significantly higher this patch than others. Cloud9, one of the long standing titans of League, will have to patch themselves together to even be considered competitive. Meanwhile, a four way tie for first place will hopefully be broken by the end of todays matches.

BETTING GUIDE: LEAGUE OF LEGENDS
PREDICTION HUB: CHECK OUR OTHER TIPS
Betting Predictions for Saturday June 14
Echo Fox vs CounterLogic Gaming
2pm PST / 5pm EST
One of the teams that attended Rift Rivals, FOX try to take down the early game centric CLG in the first bout of the day. FOX stands at a 4-2 record, tied for first while CLG sits in the middle of the pack at 3-3.
When it comes to the early game, CLG has it made. Reignover is quite active roaming the map making plays and dropping wards while Huhi and Stixxay play conservatively, aiming to scale for late. Echo Fox has not had the best showing from Dardoch in the early game, nor Huni for that matter. FOX tend to draft their champions towards the midgame powerspike, including picks such as Irelia, Renekton and the such. The question becomes whether and FOX lane can accelerate the rate of the game to throw CLG off their game.
Betting prediction: Echo Fox to win, paying -163.93 at BetOnline.
100 Thieves vs Team SoloMid
3pm PST / 6pm EST
The Thieves have made their dangerous trade of Meteos for Anda, but have started Brandini and Levi at Rift Rivals. TSM has not strayed far from their standard roster, utilizing Grig instead of MikeYeung. Despite their records, each teams' playstyle will be heavily affected by such changes.
Funnel the Cody Sun was a great tactic that 100T implemented with much success domestically. Unfortunately, against EU, they were not able to replicate their previous victories. TSM on the other hand has always had a more calm and muddle through playstyle, piggybacking off Zven's fantastic performances and Bjergsen's consistency. The biggest change has to be Anda and his ability to gel with the rest of 100T. The new junglers will literally make or break the game, so whichever team gets rolling from the fog of war is the likelier one to win.
Betting prediction: Team SoloMid to win, paying -163.93 at BetOnline.
Clutch Gaming vs Golden Guardians
4pm PST / 7pm EST
After a great beginning from the Guardians, they have regressed backwards in the past week to fail significantly against some easy matchups. Clutch on the other hand have shown that they are possibly one of the most flexible teams considering the current patch and meta and will continue to do so.
GGs have tried multiple strategies. Standard, funnel Deftly, funnel Contractz and the kitchen sink. Sadly, they have been met with limited success on each strategy. Matt has improved since his showing last season while Mickey has accumulated a significantly average statline for his debut season. The team itself needs more coherent shotcalling and direction to progress in the state of the game. CG have not changed their roster and look incredibly powerful. Even in their losses, their ability to keep the game competitive looks promising, and with this match, an easy win is forecasted.
Betting prediction: Clutch Gaming to win, paying -250 at BetOnline.
Team Liquid vs Optic Gaming
5pm PST / 8pm EST
Another matchup that looks quite grim, the heavy favorite in this matchup is obvious. TL sits atop the throne at 4-2 with OPT at the reverse record at 2-4. Whether or not these teams will be able to make a competitive game relies heavily on OPT's ability to step up to the plate in every lane other than mid.
What was a great start for Allorim turned our in the third week of LCS after he was continually exploited and decimated. PoE in the midlane still holds the beacon of consistency and central playmaking for OPT, but Arrow and Big absolutely have to step up against Doublelift and Olleh. Even if PoE is able to shake Pobelter, the amount of talent TL has is incredibly high.
Betting prediction: Team Liquid to win, paying -500 at BetOnline.
Cloud9 vs FlyQuest
6pm PST / 9pm EST
Two weeks ago, everybody would have said this was an easy win for C9. Now, C9 sits at last place with FLY is ranked above them. The greatest part is that even though both teams are nearly last place, this game will prove to be a fiesta in its own accord.
C9 has made substitutions in Keith and Zeyzal for Jensen and Smoothie. This has proven positive for the most part as Jensen still performs at a high level, but putting Goldenglue in the botlane has mixed effects for the ADC position. Svenskeren and Licorice used to be the pillars that held up C9 when Keith, Zeyzal and GG subbed in but now there have regressed to being average players at their lanes. FLY has had a decent showing from Keane in the midlane, a standard showing from Flame in the toplane and overall a…mediocre showing from everywhere else. Although C9 have yet to find their synergy, FLY has also struggled to turn their leads into a large advantage, and with Meteos competing with Santorin, the pressure is on.
Betting prediction:Cloud9 to win, paying -200 at BetOnline.
Highest-rated NA LCS betting options

Best esports betting sites for your country

To keep up with the latest esports news and tips be sure to like the eSportbet facebook page and join our Discord server.