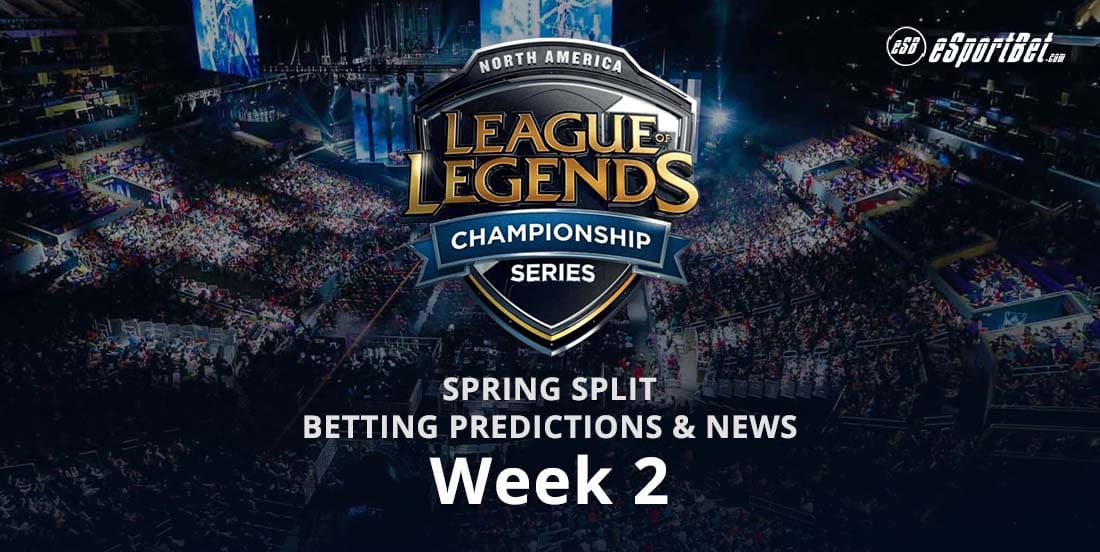 by in
All eyes are on Team Liquid as it attempts to continue its resurrection in week 2 of the North American League of Legends Championship Series (NA LCS), starting this Saturday.
Team Liquid was the major surprise packet on the opening weekend with a 2-0 record and with renewed confidence in their abilities comes expectation; we wait with baited breath.
Cloud9 and Echo Fox have achieved equally impressive sweeps, but we're most invested in watching promising underdog FlyQuest continue to rise to the occasion.
Here are our picks for Week 2 of the 2018 League of Legends NA LCS Spring Split.
NA LCS Spring Split – Parlay of the Week with BetOnline.ag
Clutch Gaming to beat Counter Logic Gaming: +114 ($2.14)
Echo Fox to beat Cloud9: -112 ($1.60)
Team Liquid to beat 100 Thieves: -167 ($1.58)
FlyQuest to beat Golden Guardians: -172 ($1.89)
BetOnline parlay bet pays $10.22
If you haven't signed up to BetOnline.ag already and want to earn additional bonuses to put towards your League of Legends esports betting, make sure to register via our links and enter the promo code 'NEW2500' at the BetOnline cashier while making your deposit to get a 50% welcome bonus (minimum $25 required) up to $2,500 on your first deposit.
Clutch Gaming vs. Counter Logic Gaming
Game 1, Saturday, January 27 – 5pm EST
Clutch Gaming have a great jungler/AD carry sometimes let down by some poor macro play and mid-game map control.
They took Echo Fox right down to the wire with their play-making, particularly Apollo 'Apollo' Price racking up half of the total kills with Tristana and surviving until the end of the match.
However, they too often fell for gank bait and let themselves get dragged away from the objectives until it was too late.
Meanwhile, Counter Logic Gaming demonstrated decent macro play and target focus, but lack team cohesion, arguably the bigger weakness going into Week 2.
The team's indecisiveness snowballed into catastrophe, like when they delayed buying a quicksilver sash to counter 100 Thieves' Malzahar until the match was effectively done.
Both teams need more time to iron out their problems before they can properly face the top-tier, but against each other, we're backing Clutch's better communication and early-game picks.
Clutch Gaming to win +114 ($2.14) at BetOnline
Echo Fox vs. Cloud9
Game 3, Saturday, January 27 – 7pm EST

The top-lane bully and the comeback kid promise the most entertaining match for the entire weekend.
Echo Fox brought the pain straight out of the gate last week, all thanks to their acquisition of former SK Telecom top laner Seunghoon 'Huni' Heo, which has paid dividends so far.
Huni absolutely dominated the top-lane with Lucian, while jungler Joshua 'Dardoch' Hartnett fed off the carry to claim first tower gold within 10 minutes in both their matches.
Cloud9 shut down haters with well-executed teamfights and ultimate timing to secure both matches slow and steady.
But Echo Fox's hard-and-fast top-lane dominance, along with the consistent pressure mid-laner Kim 'Fenix' Jae-hun dishes out, should stonewall the team still finding their feet.
Cloud9 will put up a decent fight, but Echo Fox will hit them where it hurts before they can establish a long-game.
Echo Fox to win -167 ($1.58) at BetOnline
100 Thieves vs Team Liquid
Game 4, Saturday, January 27 – 8pm EST
The superstar roster of 100 Thieves mostly lived up to expectations in opening week, but some perplexing decisions left us less confident to back them in their face-off with Team Liquid.
Mid-lane crowd favourite Yoo 'Ryu' Sang-wook and company methodically dismantled CLG with calm coordination and smart positioning, but their win over OpTic Gaming revealed a sloppier side, one that abandons strategy in favour of careless and wasteful mid-lane brute force.
Team Liquid had an equally successful opening run, but their veteran roster, including star top laner Jun 'Impact' Eon-yeong and mid-lane carry Eugene 'Pobelter' Park, were more consistent with their early roaming and objective control.
They can more than handle the impatient plays and exceedingly aggressive positioning of their next foe, as demonstrated when they shut down OpTic, who tried and failed to emulate what worked for 100 Thieves the day before.
Based on their early-game domination with Gnar, Kalista and Malzahar, we expect some slow and steady lane suffocation from Liquid here that will put 100 back in their place.
Team Liquid to win -167 ($1.58) at BetOnline
Golden Guardians vs. FlyQuest
Game 5, Saturday, January 27 – 9pm EST
Golden Guardians have only one trump card and that is mid laner and shot-caller Hai 'Hai' Lam, who has proven insufficient for getting his overly passive team-mates to make better plays.
FlyQuest suffered an opening loss last week but found ample redemption when they took TSM down a peg even without mid lane star Yongjun 'Fly' Song, who couldn't play due to Visa issues.
FQ's players deserve props for the sharp turnaround – whether it was Jang 'Keane' Lae-young pulling off some sweet Emperor's Divides or top laner Lee 'Flame' Ho-jong ruining TSM's late-game composition with Gnar, the improvements in communication were instantly noticeable.
Overall, both outfits still have a lot more improving to do to properly play with the big dogs, but against each other, FlyQuest should easily pick up a mid-lane snowball against the weakest team in the NA League.
FlyQuest to win -172 ($1.89) at BetOnline
Where can I watch the NA LCS esports?
It's easy and free to watch the North American League of Legends Championship Series on your desktop or mobile device via the official LoL esports website.
BetOnline.ag also provides direct streams to every match you place a bet on, just by clicking the camera icon on the left-hand side of the betting markets for each match.
Best bookies for North American League betting

Best esports betting sites for your country
See also: