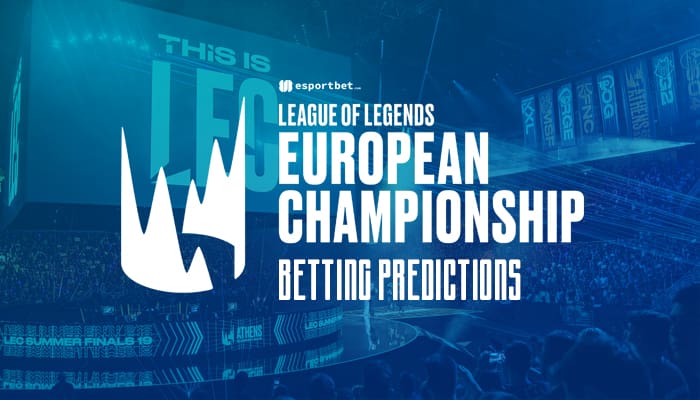 by in
ESB brings you free League of Legends betting predictions for two LoL EMEA Championship (LEC) 2023 Spring Groups elimination matches on Saturday, April 15. Here are our picks for Fnatic vs MAD Lions and SK Gaming vs G2 Esports, with esports betting odds courtesy of BetOnline.
---
FNATIC vs MAD LIONS LoL BETTING & MATCH DETAILS

Best Odds:
Fnatic +100 at BetOnline | MAD -138.89 at BetOnline
When:
April 15, 2023 | 18:00 CEST
Watch Live:
Lolesports, Twitch
Fnatic lost their opening match of LEC 2023 Spring Groups against Astralis; however, they played the series relatively well, proving that their late-season resurgence was more than luck. But as we look closer at Fnatic, they have some glaring weaknesses.
Their bottom lane is very limited since Henk "Advienne" Reijenga can't play ranged supports that well, making it harder for Fnatic to draft. On a more positive note, Fnatic's mid lane is extremely stable, thanks to Marek "Humanoid" Brázda's ability to adapt to the team composition and his opponent.
Still, there's a lot of variance in the top and jungle roles. Iván "Razork" Martín Díaz can be a bit of a hit-or-miss (depending on the day), while Óscar "Oscarinin" Muñoz Jiménez is a complete wildcard.
MAD Lions were solid in LEC 2023 Winter but haven't shown the same form in LEC 2023 Spring, mainly because they don't seem to understand the meta, which usually leads to tough bot lane matchups. They are also a bit reckless in games where they have a lead and often force a finish, only for it to turn around and bite them.
This looks like a very scrappy game in the making, and if we had to pick a side, Fnatic look more appealing. Still, we're getting a solid offer on over 2.5 maps which is a much safer choice given inconsistent both teams are.
---
SK GAMING vs G2 ESPORTS LoL BETTING & MATCH DETAILS

Best Odds:
SK +333 at BetOnline | G2 -500 at BetOnline
When:
April 15, 2023 | 20:00 CEST
Watch Live:
Lolesports, Twitch
SK Gaming are arguably the weakest team remaining in the race for LEC 2023 Spring Playoffs spot. They have a solid bottom lane, but elsewhere, SK Gaming are mediocre at best. Jungler Mark "Markoon" van Woensel could be the difference-maker, but he has been very inconsistent this split, and he'll face one of the best European junglers, so it's tough to expect too much from him.
G2 Esports suffered a huge upset defeat in the opening match of Group B when they lost against KOI (1-2). But losing one game doesn't change the fact that G2 are still the leading candidates to win the league and rightly so.
G2 are strong in every position with the best (or second-best) players in every role, and had they not slipped against KOI, no one would doubt their chances to defeat SK Gaming. This should be a quick 2-0 sweep for G2 Esports.